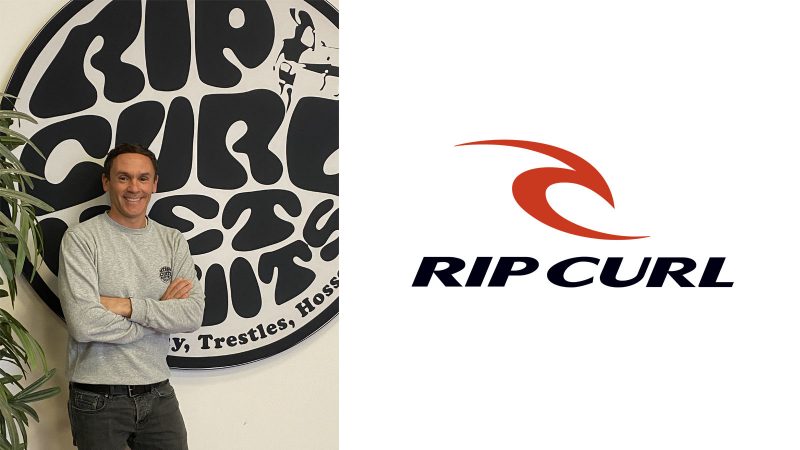 Rip Curl Europe President Mathieu Lefin On A Strong 2020/21, Kathmandu & The WSL
It's been a big year for Rip Curl; signing as sponsors for the WSL Championship Tour final and 3 tour stops in Australia, being acquired by Kathmandu Group, the special edition Citroen Berlingo, and of course the boom in surf due to the COVID-19.

Rip Curl have had a fantastic year since being integrated into the Kathmandu Group with  strong sales and pre-orders above pre-COVID levels and the Australian leg of the CT is well underway. To get a better insight into how things have been over at Rip Curl, SOURCE caught up with European President, Mathieu Lefin.
Mathieu, please tell us how the past 12 months have been for Rip Curl?
It's been such a rollercoaster. What an amazing and challenging year we've had… and it's definitely been one we will remember. We all have navigated through challenging and emotional times, professionally and personally, over the last months. Despite these very unprecedented times, our crew, our brand, and our business have shown to be very resilient. And as a manager, I am truly fortunate to work with such an amazing and committed crew.
Even though COVID-19 continues to impact trading in many of our markets, we delivered an outstanding half-year result (Note: our fiscal year goes from August 1 to July 31). Benefiting from increased participation in surfing, we achieved strong sales and profits despite stores closures.
What have you done to overcome supply chain issues?
Since summer '20, demand has been much higher than expected. There have been styles that we sold out of and some key sellers that we wanted more inventory on. But all in all, I think we did a really good job.
For example, we responded quickly to demand for wetsuits and related surfing products, as participation in surfing increased. Owning our own wetsuit manufacturing facility has proven to be a powerful competitive advantage during this period.
What product categories are you pushing this summer and are there any you are stepping back from?
We are not stepping back from any product categories. Rather, we will further invest in creativity and innovation, and bring technical, differentiated, and sustainable products to the market.
There are many examples showing our focus on exceeding the expectations of our consumers. In short, the new "Mirage 3-2-1" boardshort, The E-Bomb E7 we launched in June last year, and more recently a new jacket design utilising technology from our successful "Heatseeker" wetsuit program.
Also, we keep pushing the women's segment, which we've done through the launch of a brand-new global women's campaign including 50 of our international team riders ("Summer Looks Good On You").
Great to see Rip Curl sponsoring 3 of the 4 Oz tour stops. Please can you tell us how The Search at Rottness will differ from the other 2 in terms of marketing and PR? How will Rip Curl be activating around those events?
When Rip Curl Pro Bells was cancelled, we had the opportunity to sponsor one or more events elsewhere – basically we asked WSL "What have you got?". We wanted to see pro surfing come back big and they needed our support, so we said, "We'll take the lot!". It was very easy.
We are category partners at Margarets – as it already had a title sponsor in Boost Mobile – but we took it anyway as it locked our competitors out. Not that any of them were interested. We had three clear narratives and naming points of difference and we worked with WSL to shape the "Aussie Quaddie" leg around points of difference in the trophy and the history of the events. Newcastle became a "Cup". Narrabeen retained the "Classic" from when it was on tour back in the 90s and Rottnest became "The Search" following on from when we did The Search events in St Leu, Mexico, Chile, Bali, USA etc… The content is different. Rottnest – or Wadjemup as it is known in its indigenous name – will have strong local content but will be isolated from crowds, so that will be all about the broadcast. We have sold a huge amount of event merchandise at each of the city events. And have activated with local surf shops making sure that the event benefits their accounts. The digital output is consistent over 8 weeks and we have used the events as a platform to launch two new films "In The Band" with Tom Curren, Mason Ho and Conner Coffin and "Fiji Perspective" with Brisa Hennessy. It's all about taking the engaged audience from one place to another online, in store, or on the beach.
Also, we are very proud to be the naming rights sponsor of the WSL Finals for the next three years.
What have been the most noticeable differences since being incorporated into the Kathmandu umbrella?
We are a now part of a bigger Group underpinned by iconic brands, technical products and a focus on sustainability.
The Group is investing significantly in an ongoing digital transformation programme, and there are many activities underway to support our crew and customers experiences with world-class digital infrastructure, including loyalty management, merchandise planning, personalisation using data algorithms, data driven insights into consumer preferences, ERP and point of sale upgrades.
Otherwise, Rip Curl remains a pure and authentic surfing brand. It is very important for us to respect our history and legacy. Rip Curl was born and grew as a surfing company and will always remain a surfing company. We know what we're doing and that we're doing it for the right reasons.
How do you the see the boardsports market over the next 3 years?
It is undeniable the demand for surf and beach products has significantly increased over the past few months. All around the globe, and certainly in Europe, we are seeing more and more surfers in the lineup, skate parks are very busy, and I am sure snow activities will boom again when skiing and snowboarding are allowed. The pandemic has accelerated people's appetite for outdoor activities, and I do believe that this is going to be a long-term trend. There are tremendous opportunities out there for the boardsports industry.
As far as I'm concerned, I do think our brand is well positioned to capitalise on increased participation in beach and surfing activities. We are ready for it.
Then to conclude, I would like to thank my team for their ongoing hard work, resilience, and passion for the brand, and look forward to ongoing success for the coming months and years.