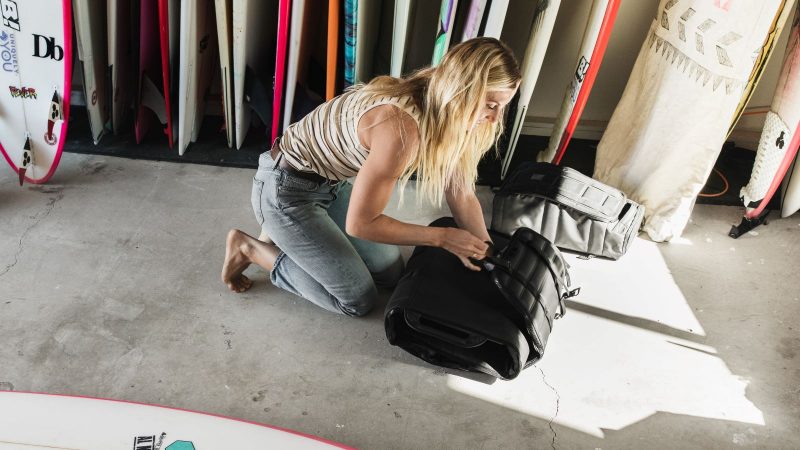 Making Waves In The Surf Market: Db Talks New Surfboard Bags
Launched 9 years ago in Norway, Db has revolutionised travel equipment with clever solutions and unique innovations. We reached out to Db's surf category manager Wes Schaftenaar to talk about their new line of surfboard bags. Wes tells us all about their new design which reduces damage and makes travelling with your surfboard effortless.
Can you tell us a little about the history of DB, and what was Jon and Truls' idea behind the company?
Db was founded in Norway in 2009 by freeski legend Jon Olsson and product engineer Truls Brataas with the goal of redefining travel gear to enable better journeys. The two met while surfing and both had extensive experience with insufficient travel gear for their surfboard, skis, and snowboards. Their first mission was to solve this problem. The brand officially launched in 2012.
What is the brand's USP?
Db is a Scandinavian brand that makes clever travel gear to help people on the move to be ready for anything.
What are the key innovations that helped develop Db travel equipment?
Our product philosophy is that strong innovations are the result of solid design and development processes. In Db, we understand the users' challenges (we are amongst them), and we probably spend more time and resources on solving them, than most other brands in our category. The result is simple solutions to complex problems that often lead to PCT Patents, due to their unique designs.
You have recently launched a line of surfboard bags; can you tell us about the process leading up to that?
That's actually a long story with an early vision from the founders Truls and Jon. There's been a bunch of experimenting since 2012, including several prototypes nicknamed the "Surf Burrito".
Fast forward to 2019 and Truls employed Håkon Tønnesen (Product Marketing Manager) and myself to work specifically on the Surf Category. We took some of the ideas from the original concept and built on that. It was a real team effort developing the original concept into what the final product is today.
We have done extensive market research from looking at everything already existing to working closely with professional surfers. Db investor Jordy Smith has been involved from early on in the development phase and we also had feedback from the industry contacts and surf retailers. We worked closely with airport baggage handlers to identify best handle placement to minimise the board bags being thrown around and reducing potential damaged boards.
What sets Db bags aside from other surfboard bags on the market?
We believe we have identified a few key problems and missing features with traditional board bags. We have incorporated; rib cage protection, smart integrated packbags, compression for easy storage and Db's very own Hook-up Compatible system for hooking-up Db luggage and backpacks to The Bunker board bag, so you can easily wheel it along. A system which might just save you a trip to the Physio to get your shoulder or back realigned.
Can you walk us through the design features and fabrics?
We have introduced to our surfline two bags; "The Bunker" for transporting 3-4 boards and "The Shelter" for one.
The Bunker surfboard bag has Db's integrated 360 Rib Cage Technology™ (PCT Patent Pending), which is lighter and stronger than traditional padding and maximizes space efficiency. This helps protect against both impact and static load applied to any side of the board bag. It also comes with Db's patented Hook-Up System™ that allows you to attach the Bunker to any of our roller bags, and any of our other bags to The Bunker itself. No other luggage system can transport this amount of volume with only one hand. Regardless of the weight of other bags hooked up to the system on The Bunker, the load is transferred to the wheels, not to your arms, making your journey effortless and comfortable.
Our integrated pre-shaped pack bags allow you to add your soft items in smartly designated spaces to create form-fitting protection for your board's most vulnerable areas. That is what we call smart protection for your board's nose and tail.
One of The Bunkers main challenges in developing was to carry forward the Db legacy of compressible products. Despite the product's complex construction and large size, The Bunker was meticulously designed with perfectly placed panels, designated materials, zipper openings, rib cage hinges and seam lines that allow it to be easily folded and stored when not in use. The same compression system applies to The Shelter.
Now the main fabric and reinforcement fabric of the board bags are made of 100% chemically recycled polyester from post-consumer waste and are GRS certified to guarantee the origin of the waste streams. The main fabric's fibre is dope dyed which significantly reduces the use of water, chemicals, and energy in the production process.
For The Shelter, we have used the Length Adjustment System lets you place any board from 5'3" to 6'4" inside and cinch it tight so there's no wiggle room. The snugger the fit, the safer your board.
What has been the most popular product in the whole line and why?
We design products for specific purposes, so every bag is "the most popular" for its own use. However, we see that our unique design aesthetic that you will find especially in our backpack range has a strong fan base around the world. Our products are always better when combined, so we see a strong popularity towards combining an equipment bag (like The Bunker) with a luggage piece (like The Bastard) with a backpack (like The Hugger). With a setup like that you can travel to Indo or Hawaii with ease.
Will you be expanding the brand into other categories?
If it feels right… and we find meaningful problems that we can solve in a much better way, then potentially yes.
New surfboard bag line now available on dbjourney.com