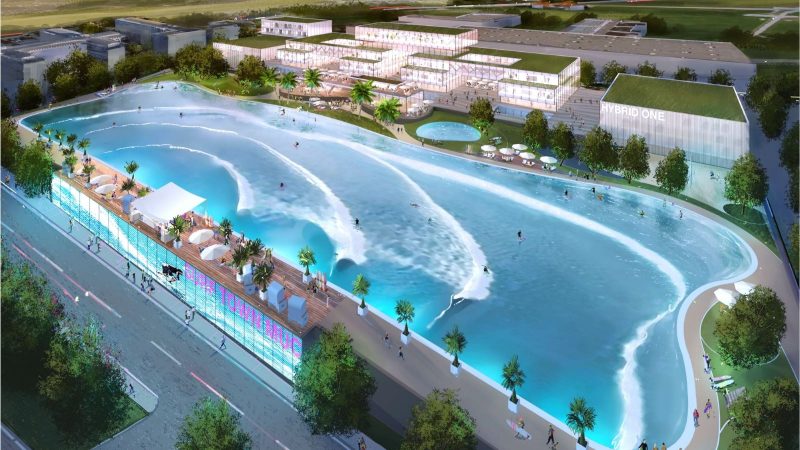 Huge Wave Pool, Leisure & Office Complex Planned For Hallbergmoos, Near Munich
Coming in to Hallbergmoos, Germany in 2023: Surftown MUC! Surftown MUC will combine a wave pool, retail, various hospitality opportunities, offices for work & business, childcare and a leisure centre… all within close distance to Munich, local sightseeing opportunities and the airport.

Press Release:
Europe's largest surf park: Germany's surfing experience of the future will be located near Munich
SURFTOWN® MUC – Hallbergmoos municipality adopts the development plan for Work-Life Quartiers
Groundbreaking planned for autumn 2021, opening in 2023
Founders and initiators focus on sport with sustainability and energy efficiency
Multifunctional building "Hybrid One" with office, catering and retail concept completes surf park
The way is paved for Munich's new surf park in a class of its own: The municipality of Hallbergmoos has approved the development plan for the construction project SURFTOWN® MUC. Adjacent to the surf park, the project developer Rock Capital Group is planning a 29,000 square meters multifunctional hybrid building with offices, catering and retail under the name "Hybrid One". The goal is a unique work-life quarter, where the municipality of Hallbergmoos combines work and leisure as a prime example.
By 2023, a 20,000-square-meter surfing facility will be built, which is unique in its form in Europe. In the basin, "peeling" waves can be generated every 10 seconds over a length of 180 meters with a size of more than two meters, which, in contrast to "standing" waves, are very similar to the surfing experience in the ocean. The wave pool offers capacity for up to 700 active surfers daily – Meanwhile, accompanying persons can use an outdoor fitness area, have their kids entertained in the childcare center and relax in sunbathing- and lounge-areas. The facility is designed for both professional surfers and beginners – the focus is for everyone to enjoy surfing as well as the typical surf lifestyle.
Munich, the secret surf capital
Word has spread that Munich not only has mountains, but also attracts surfers from all over the world: The world-famous river wave at the Eisbach is an iconic site of Munich. The initiator and founder of SURFTOWN® MUC Chris Boehm-Tettelbach met his co-founders through the Munich surf scene and bundled their respective competences for the mega project. Chris Boehm-Tettelbach is the founder and CEO of planworx AG, an agency specialized on live marketing. He also managed the event area of Munich´s Praterinsel for many years. Conrad Albert looks back on a long management career in the media industry and today, as CEO & shareholder of Ocean Peak Asset Management GmbH, invests in sectors related to sports, lifestyle and sustainability, among others. At the age of 16, Michi Mohr discovered the Eisbach for himself and worked his way up to surfing big waves step by step. He spent his entire professional career in management for sports retail & e-commerce. At SURFTOWN®  MUC he is responsible for the sports and surf-related topics. "With our different biographies, we complement each other perfectly," says Chris Boehm-Tettelbach. "Besides all being surfers, we are also united by the absolute conviction that a project like SURFTOWN® MUC can only be innovative, if it is designed to be sustainable and climate-neutral." Other shareholders of SURFTOWN Hallbergmoos GmbH are Gerfried Schuller, who built up the boardsports and lifestyle chain Blue Tomato to an international level, and the financial experts Dr. Jan Ehrhardt (DJE Kapital), Dr. Thomas Heinrich and Erik Dahl, with their expertise for the expansion into further locations.
Offices with surf connection and promenade
The initiators also rely on an urban combination of leisure, work, trade and quality of stay in Hallbergmoos. In line with SURFTOWN® MUC, the project developer Rock Capital Group is planning a casual and sustainable hybrid building. On 29,000 square meters, in conjunction with SURFTOWN® MUC, it is intended to offer a unique combination of modern work environment and trendy recreation. "The complex addresses progressive companies and visitors, especially with flexible and modern office forms, intelligent building technology and attractive open spaces," says Andreas Wißmeier, Managing Director at Rock Capital. Additional companies from the biotech and life sciences sectors will also be approached by feasible laboratory areas. The idea of the new world of work is completed by high-quality catering and shopping opportunities for the general public.
Riding the green wave with SURFTOWN® MUC
The artificial waves are generated by a pneumatic chamber system – i.e. the conversion of overpressure into wave energy – in collaboration with the Canadian company WhiteWater West Inc.. The entire system of the facility is designed to be CO2 neutral. At the same time, all electricity will be generated from renewable sources – 80 percent even from the company's photovoltaic systems. Another aspect: While Germany's approximately 2.500.000 active surfers often fly around the globe to go surfing, they will soon find a high performance wave at the gateway to Munich.
Hallbergmoos: An international location
The site for the new surf facility is located in immediate proximity to the airport and has already been approved for redevelopment by the municipality in 2019. The SURFTOWN® concept was able to prevail for several reasons: Not only one will have a unique view of the surfpark during the landing approach to MUC airport. Above all, the aspects of sport and sustainability tipped the scales significantly. Josef Niedermair, First Mayor of the municipality of Hallbergmoos: "The project is intended to not only provide added value for tourists and surfers, but also for the employees of the surrounding office park and for our residents. Working, strolling, surfing, shopping and relaxing: With this project, we want to create quality of life for everybody. Hallbergmoos already has many offerings that are unparalleled for a municipality of this size – such as the sports and amusement park, the Goldachpark, the Cultural Summer event or the more than 80 local associations."
The municipality also expects additional stimulus for the economy. "Through courageous decisions, we have succeeded in bringing this unique selling point to Hallbergmoos. When it comes to settlements, we can score with both the hard and soft location factors, as more than 1,600 resident companies prove. With the holistic SURFTOWN® MUC concept, we can once again combine tradition and vision for a better quality of life in the future," says Alexander Mademann, in charge of economic development for the municipality of Hallbergmoos. National and international audiences attend to the village, that was founded less than 200 years ago and is located next to Munich Airport. Currently, people from almost 100 nations live in Hallbergmoos.
"The cooperation with the municipality of Hallbergmoos has been very constructive and professional right from the start," says Conrad Albert. "I am delighted that we have found a location where the enthusiasm for our project is fully shared." SURFTOWN® MUC is being built at Lilienthalstrasse 12 in Hallbergmoos. Groundbreaking is scheduled for fall 2021, so that the facility can open its doors in early summer 2023.