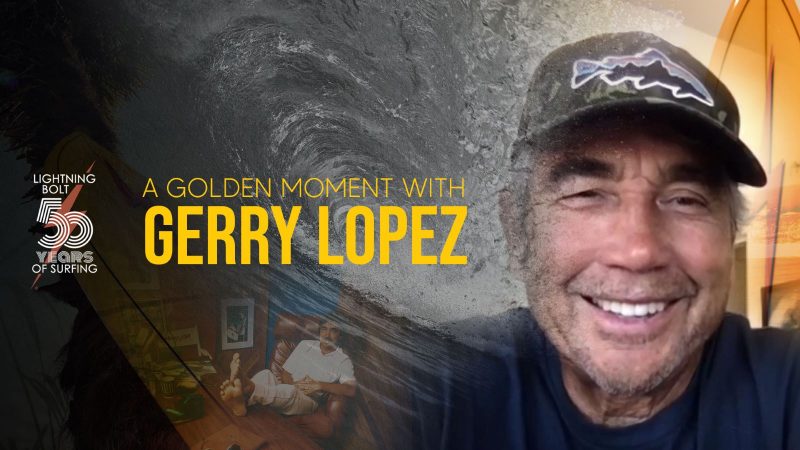 50 Years Of Lightning Bolt: 'A Golden Moment With Gerry Lopez'
Lightning Bolt has been riding the waves for half a century and for their 50th year, are celebrating their history and sharing their stories. In 'a golden moment with Gerry Lopez', the co-founder tells of how he & Jack Shipley took Lightning Bolt from a single shop in Hawaii to being a globally recognised brand.
Press Release:
For Lightning Bolt, a universal lifestyle symbol, these 5 decades represent a golden era. 50 years of history, built with real experiences and consolidated in a pure connection with its origins. A meaningful existence.
This golden era could only begin to be told by the '70s: the decade of the foundation of Lightning Bolt and the golden years of surfing. Gerry Lopez, the co-founder of the brand and a legendary surfer/shaper, shares these stories in the first person.
An informal conversation via video call – a recognition of a new reality imposed by the pandemic, but also a tool to connect worldwide – and the question "How did Lightning Bolt start?" were the starting point! "A golden moment with Gerry Lopez" is the result.
Respecting and recognizing the philosophy of collective construction, the celebration of the anniversary is a moment to celebrate the achievements and legacy of everyone who is part of Lightning Bolt's history and life.
After this first video with Gerry Lopez, follows another one with legendary Rory Russell.
New website
Living the present and planning the future with respect for the past is the focus of the brand, which is why Lightning Bolt has also just launched a new website. Following technological developments and digital trends, particularly in the "new" normality imposed by the pandemic context, the Lightning Bolt website is now faster and more intuitive.