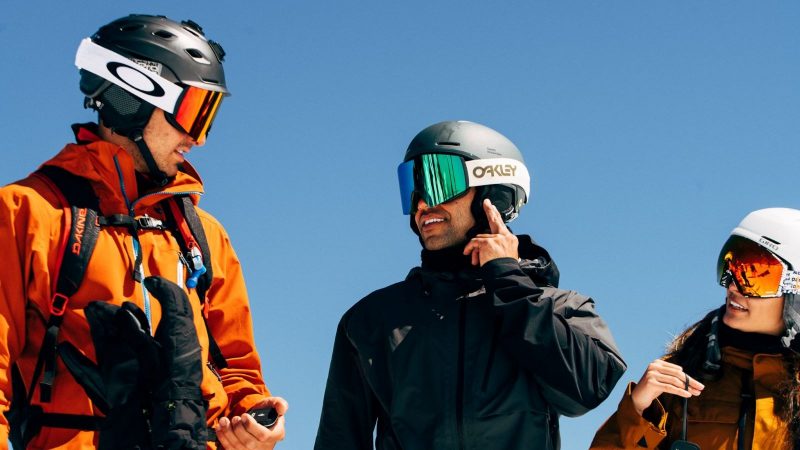 Audio & Communication On The Mountains With Aleck 006 & Go! App
Aleck is an award-winning technology company with a mission to become the most widely used audio and communications solution for action sports. In their first year on the market (2020), the brand jumped several aging incumbents, taking the #1 snow helmet audio position in North America. They are now moving towards global distribution with a quickly growing product line.
How did Aleck get started and what was the idea behind it?
Aleck was founded in 2014, born directly from the frustration of not being able to easily listen to music and communicate with your group on the hill whilst skiing. Our founder Stephen noticed that helmet audio devices hadn't progressed much over 5+ years and could do way more. We all were being marketed these expensive, yet basic, Bluetooth headphones with sub-par audio for our helmets. There was a noticeable market gap for premium audio and easy group communication – so leveraging modern tech capabilities the Aleck 006 was born.
Who are the founders and managers of the business?
Aleck's team is headed up by Founder and CEO Stephen Catterson – the man responsible for that initial lightbulb moment on a chairlift in the French Alps. As well as boasting a strong Board of Directors, the key management players are COO Scott Goldhawk, and sports industry veteran Adam Janecka as our Global VP of Sales.
Tell us about your product and the development process?
The Aleck 006 is a huge leap forward in the snow helmet tech space. Essentially it brings premium wireless audio & push-to-talk group communication to any audio-ready snow helmet. Fitting inside the helmet's ear pads, the slim unit has glove-friendly buttons, allowing for full control without needing to pull out your phone. In addition to music, volume, phone call, and voice assistant, there are loads of other features in the accompanying Aleck GO! app, like a custom audio equaliser, and group mapping. We really aimed for only useful features, while minimising the feeling that you are using "technology". The Aleck 006 is the result of years of R&D and some major product pivots. It wasn't always easy, but the advantage of having the app to "drive" the technology, really allows for constant improvements and updates even after someone has purchased it. Wouldn't it be great if all of our gear got upgraded every season?
Can you walk us through the Aleck GO! app?
The Aleck GO! App (for iOS and Android) unlocks the full potential of the Aleck 006 to create a seamless communication experience for your group. The app lets you easily create and add people to a group. Then just press and talk, like a walkie-talkie.
With real-time GPS tracking in the Aleck GO! app, you can then see the location of everyone in your crew on the resort map. And while the Aleck 006 hardware is tuned for optimal helmet audio, you can nail your signature sound using the in-app EQ.
Who is your target user?
The Aleck 006 simply meets a number of resort ski/snowboard profiles, from the "recreationalist", to the "hard-charger". It can be a solo skier lapping the mountain, a relaxed group of friends in the park, or a family all over the mountain, it doesn't matter. The entertainment, communication and location features enhance almost any kind of day.
We hear congratulations are in order, as one of the winners of the 2021 ISPO Award, what does that mean for your business?
We're absolutely thrilled to receive such prestigious recognition from ISPO. We've worked hard to provide the snowsports market something new and useful. We feel that this award is confirmation that the hard work and dedication is paying off.
You have teamed up with Smith helmets, tell us more about that?
We announced our partnership with Smith Optics back at the start of 2020 as their exclusive snow helmet audio partner. Smith recognised that Aleck's approach to innovation was a natural pairing for them since they themselves always seek to elevate their own product line. The future is certainly bright with a partner like Smith.
Aleck 006 is designed for a snow helmet, are you looking into developing headphones for other sports in the future?
Watch this space…