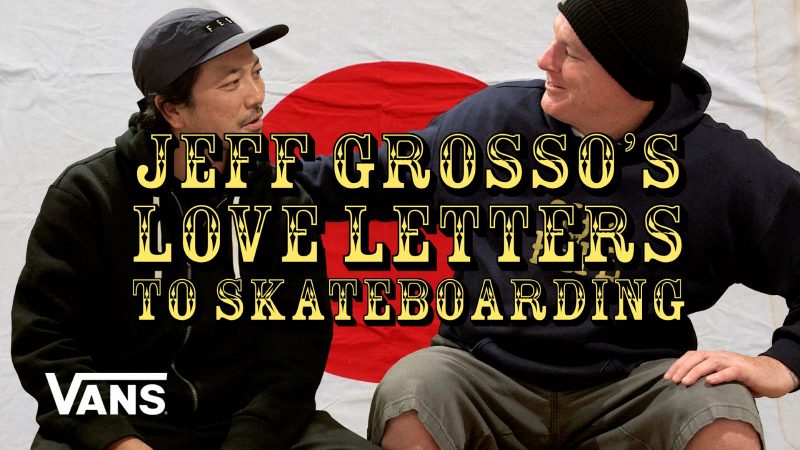 Grosso Forever: Loveletter Explores Skateboarding Within Olympic Host Country
Vans will drop a 'Love Note' episode every Friday over the coming month, with each episode delving deeper into the stories featured in "Grosso Forever: Loveletter To Japan". This latest loveletter episode gives an insight into the rich history and culture of skateboarding in Japan, the country hosting skateboarding's Olympic debut.
Press Release:
Jeff Grosso's Love Letters to Skateboarding Presents an Authentic Look Inside Japan's Skateboarding Community
New episodes chronicle the final Love Letters before Grosso's passing
Vans, the original action sports footwear and apparel brand, is proud to present the second instalment of the Grosso Forever Trilogy, Jeff Grosso's Love Letters to Skateboarding: Japan, an episode that documents the final trip that the Love Letters crew took with Vans' beloved Jeff Grosso before his passing. The episode chronicles Jeff and the crew as they experience the vibrant skate community first-hand, meeting up with Japanese skaters from every generation.
Japan has a long and radical history when it comes to skateboarding, and a skate scene that's worth celebrating and championing. With all eyes on Tokyo this year, Vans wanted to ensure that the rich skate culture and history didn't get lost in the hype.
"Jeff Grosso wanted this episode to come out during the Olympics," said Tony Hawk. "Jeff was very opinionated about skateboarding but especially about the Olympics. He wanted this episode to honor the skate scene and the skaters in Japan."
From highlighting Japan's pioneering skate legends, to the women's skate scene and DIY skate spots, this wide ranging episode lives up to Grosso's hope of celebrating the personalities, places and historical moments that have shaped Japanese skate culture over the years.
Five shorter Love Note episodes will dive deeper into these stories, including pioneers Aki Akiyama and Nishi, "Joy and Sorrow" women's skate filmer Yuri Murai, Far East Skate Network founder and Japanese skater Takahiro Morita, the Japanese DIY skate spot builders, and a spotlight on Japan's street skating scene featuring Tokyo legend Shin Okada and the T13 crew. Episodes will drop each Friday over the next month on Vans' YouTube channel.
Watch the Love Letters to Skateboarding: Japan episode now. Find more information at Vans.eu/skate.