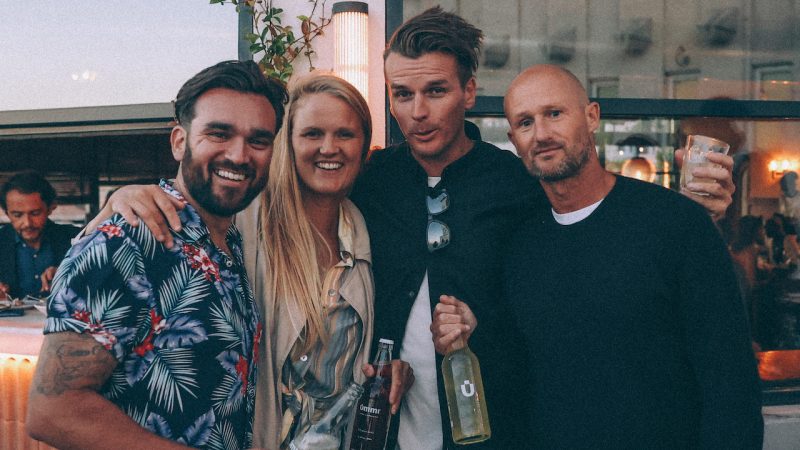 ūmmi: Industry Pros On Starting New Hard Kombucha Brand in Europe
Pictured above: Management team (minus Marlon & Chris). L-R, Tiago, Laura, Jon & Greg
If you've been living under a stone or not been on Instagram for the past couple of months, you may not have seen the ūmmi hard kombucha hype gaining momentum. Started by a solid crew of people with roots in the action sports industry and now fronted by an increasingly impressive swathe of high-profile surfers, skaters, snowboarders, musicians and artists we catch up with co-founder Jonathan Weaver (formerly of Nike & Burton, now at DB) to talk biz.
Tell us about the people on the management/advisory team at ūmmi.
So the team leading the charge is headed up by our GM Laura Briesenick who started Copenhagen Coffee Lab and managed Comoba café in Lisbon before ūmmi. Then we have Greg Martin partner of Friday (production and talent management) who also founded Comoba (with Marlon Lipke), Chris Hotell who started Alex Bottle (ex Oakley and adidas), Tiago Rodrigues Jorge from Mercearia da Mila, Marlon Liple pro surfer, and Jonathan Weaver ex Nike, Burton and now at DB.
And who are the 'owners' of the brand?
It's funny as we have all worked at various brands before, put together teams before and on January 1st, when we started having conversations with people I don't think in our wildest dreams we would have ever got this crew together but thankfully they all recognise what we stand for, believe in the potential of the product and the collective we have pulled together. We're co-owned by Ben Howard, Nina Brooke, Mia Rose, Mikey February, Kepa Acero, Oski, Lucas Puig, Arthur Longo, David Djite, Kevin Backstrom, Tor Lundstrom and adding a few more as we speak.  Behind the scenes we then have investors and advisors from the hotel, restaurant, creative, sport and lifestyle space helping us with our growth. You'll likely realise who they are soon enough as they'll be turning up to events with 6 packs of ūmmi to share.
Talk to us about your distribution strategy in Portugal and France.
Again another interesting story. We had some advisors telling us we needed to scale and plan for mass distribution quickly but we've been able to hand selected bars, restaurants and markets we wanted to be in and 99% have taken ūmmi as they see consumer preferences changing in the alcohol space and wanting a healthier alternative to beer and wine. Additionally, the story behind the company and our way of doing things a little differently has been spiking interest and a sense of loyalty right off the gates. So at the moment it's about walking in to bars, having conversations with people working there and building a relationship. As it is a completely new category, we see both a need and a massive potential in getting bar managers, owners and staff in general excited about the drink which gets carried through our new consumers, we wouldn't want it any other way.
Tell us about the product and flavours.
We brew the kombucha using green tea from the Azores from Europe's only remaining tea farm. It is brewed near Porto and so it's Portuguese end-to-end. The drink itself is organic, gluten free, vegan, with low sugar content meaning that you don't feel bloated and helps reduce the hangovers. We have two flavours, Lemon Ginger and a second Hibiscus Berry. The ginger lemon has a zing from the lemon and that signature acidity from the kombucha combined with some sharpness from the ginger, it's a classic. For a more rounded flavour experience, the hibiscus berry combines the summer sweetness from blueberry, raspberry and strawberry with brewed hibiscus flowers.
How are you marketing the drink?
At the moment one of the key things is word of mouth, getting drinks in hand and educating people at the category. A lot of people in Europe know about Kombucha and its benefits, but so far not many have tried a "hard" version.
What's the 12, 24 and 36 month plan?
I mean, at this point we're building this plane as it's flying so 12 weeks is quite a way off but ideally we will add flavors and get retail in the UK, Germany, Scandinavia as the next steps after Portugal, France and Spain. However we will remain very selective about distribution and ensure that we are working with partners who believe in the category and the team.
Follow along on Instagram https://www.instagram.com/ummi_kombucha/ & https://ummikombucha.com 
For any questions reach out to [email protected]