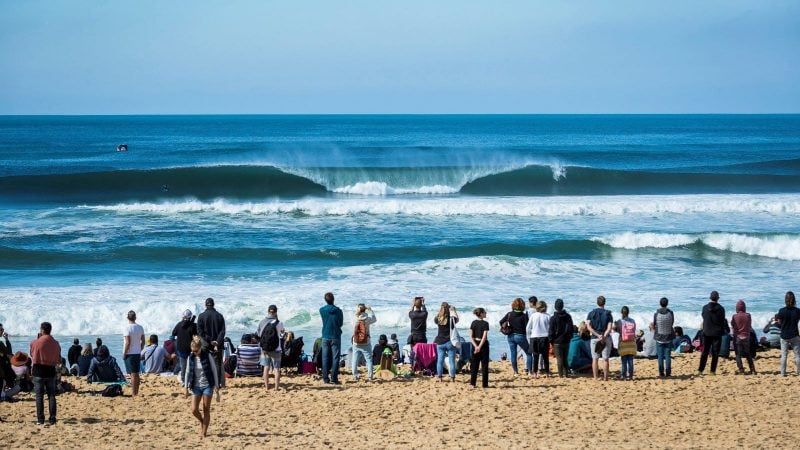 Schedule & Qualifiers For 2021 WSL Challenger Series Announced
Press Release:
World Surf League Europe Announces 2021 Challenger Series Schedule and Qualifiers
Surfers Will Battle to Qualify for 2022 Championship Tour
Condensed Season with Events in California, Portugal, France and Hawaii
More Available at WorldSurfLeague.com
The World Surf League (WSL) announces the calendar for the upcoming 2021 Challenger Series, the ultimate battleground for surfers to showcase their talents for the chance to qualify for the following season of the elite-level Championship Tour (CT). The Challenger Series will include four stops this condensed season with events in California, Portugal, France and Hawaii.
"We're very excited to bring the Challenger Series to life in 2021," said WSL CEO, Erik Logan. "These four events will not only provide an enhanced showcase for the up and coming surfers, but will also allow those who fail to requalify through the CT the opportunity to perform well and requalify for the 2022 Championship Tour."
The 2021 Challenger Series will kick off with the US Open of Surfing from September 20 – 26 in Huntington Beach, California. The WSL, Vans, and IMG look forward to returning the Vans US Open to its regularly scheduled spot in August 2022. Surfers will then head to Europe for the MEO Pro Ericeira, scheduled for October 2 – 10 in Portugal, followed by the Quiksilver and ROXY Pro France, from October 16 – 24 in the Landes. The season will wrap in Hawaii, at the Haleiwa Challenger, from November 25 to December 7.
"This new level of competition will provide greater opportunity for CT qualification as well as give visibility to the next generation of surfers," said Jessi Miley-Dyer, SVP of Tours and Head of Competition. "I can't wait to see who will qualify for the tour in 2022."
The 2021 Challenger Series calendar will run as follows*:
– US Open of Surfing: Huntington Beach, California, USA
September 20 – 26, 2021
– MEO Pro Ericeira: Ericeira, Portugal
October 2 – 10, 2021
– Quiksilver/ROXY Pro France: Capbreton/Hossegor/Seignosse, Landes, France
October 16 – 24, 2021
– Haleiwa Challenger: Haleiwa, Hawaii, USA
November 25 – December 7, 2021
*All tour stops and dates are subject to change due to applicable COVID-19 related restrictions, including global travel restrictions
The Challenger Series field will include 96 men and 64 women, made up of 34 men and 17 women from the CT, 58 men and 44 women that are allocated by the WSL regions, two men's and women's World Junior wildcards, and two men's and one women's wildcards. Any unused CT spots will become wildcards.
This season, athletes will be able to roll over points from their best Qualifying Series event in 2020. The 2021 Challenger Series rankings will be comprised of a surfer's best three results out of five events, the four 2021 events and one 2020 event.
WSL Europe Unveils Qualifiers List
Following three successful events in the 2020/21 Qualifying Series season, the Estrella Galicia Santa Cruz Pro pres. by Noah Surf House, the Estrella Galicia Caparica Surf Fest and the ABANCA Pantin Classic Galicia Pro, the European region has qualified 10 men and 8 women for this year's Challenger Series events.
Men's European Top10:
1 – Vasco Ribeiro (PRT)
2 – Leonardo Fioravanti (ITA) // CT Qualifier**
3 – Joan Duru (FRA)
4 – Ramzi Boukhiam (MAR)
5 – Kauli Vaast (FRA)
6 – Timothée Bisso (FRA)
7 – Tristan Guilbaud (FRA)
8 – Charly Quivront (FRA)
9 – Ruben Vitoria (FRA)
10 – Maxime Huscenot (FRA)
11 – Charles Martin (FRA)
Women's European Top8:
1 – Leticia Canales Bilbao (ESP)
2 – Pauline Ado (FRA)
3 – Vahine Fierro (FRA)
4 – Maud Le Car (FRA)
5 – Johanne Defay (FRA) // CT Qualifier**
6 – Eveline Hooft (NLD)
7 – Teresa Bonvalot (PRT)
8 – Garazi Sanchez Ortun (EUK)
9 – Rachel Presti (DEU)
** Championship Tour athletes automatically have a spot on the Challenger Series and do not require the regional allocation.
COVID-19 Protocols
The health and safety of our athletes, staff, and the local community are of the utmost importance and the WSL has a robust set of procedures in place to keep everyone safe. These plans are unique to each event and include measures like testing for athletes and essential staff, masks and strict physical distancing measures, temperature checks, and minimal personnel on-site.
For more information, please visit WorldSurfLeague.com