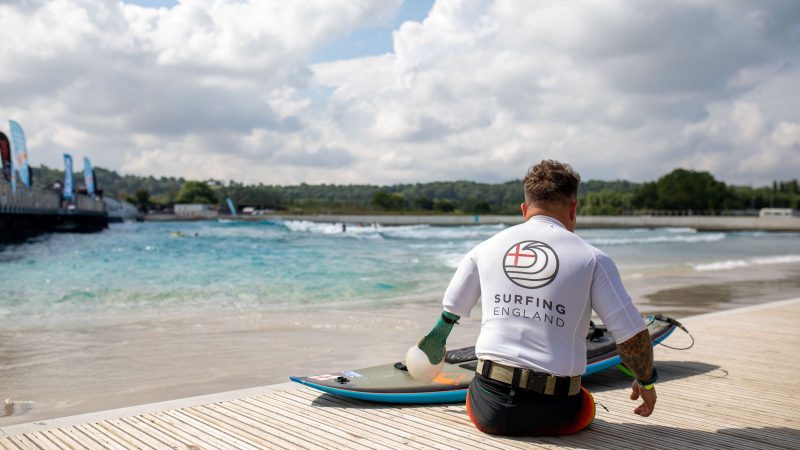 The Wave, Bristol: Adaptive Surfing Open, Wave Tech & The Camp
The 2nd Adaptive Surf Open at The Wave took place on July 8. SOURCE Sub-Editor Sydney ventured down to Bristol to watch and find out more about Adaptive Surfing, the Wave facility itself, and to see how the Wave have been getting on after an incredibly tough first year.
This year's Dryrobe Adaptive Open saw surfers come from all over; one team had journeyed from Israel. However, many international competitors were unable to travel (due to reasons you can probably guess), for example, Team USA were notably absent.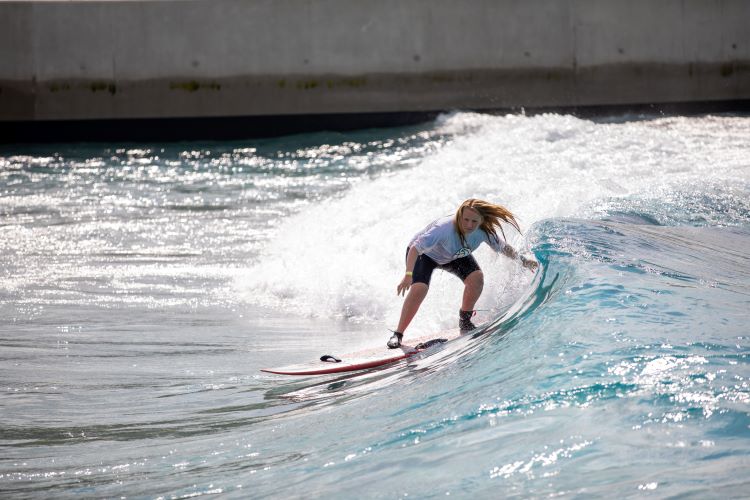 The event was split into a Men's and a Women's Open; each were then broken down into Assisted, Sitting/Kneeling and Standing categories. Although these classifications would account for most disabilities, further classifications would be required for a larger, higher profile competition (ie the Paralympics). The day consisted of multiple sessions: Morning heats, Waikiki participation session, and afternoon heats. Scores for each run were totalled and were used to calculate the overall winner. Waves were rolled out on the advanced setting.
Conditions were good, although by the afternoon, the wind had picked up. On the righthand side of the lagoon, wind lifted noses and dumped surfers; however, after quick tactic and technique adjustment, surfers were back on top form. Check out the final standings and a full event recap here.
Most, if not all, of the surfers that were in attendance are self-funded as there is very little funding allocated by Surfing England and the sport has little input from national/international businesses/charities. This absence of funding is the main reason why adaptive surfing will not be in the Paralympics.
Now, following that quick event recap, let's take a look at the host venue itself. Abby Richardson, Senior PR & Communications Manager, gave me a tour.
Nestled in the village of Easter Compton, Bristol, The Wave is near the Severn Bridge (you can see it from the top of the nearby hill) and around 3hrs from London. The facility is built on Green Belt land, so is heavily restricted in terms of planning permission; the car park is 800m from the entrance as permission for another, closer one wasn't granted. This also affected what was allowed in terms of accommodation facilities – permission allowed for tents, so that's what's been put up (they're more in the realms of glamping, but more on accommodation later).
First, I learnt more about The Wave itself. The 26 million litre lagoon took 10 days to fill with water; water that only contains a small amount of chlorine, so is nearly, completely fresh. Surprisingly, the water contains no salt. So how is the pool kept crystal clear and sparkling blue? The Wave employs a full-time, in-house maintenance team who ensure the built-in triple filtration system is in full working order, test the pH balance and undertake manual cleaning to remove any marks/ algae. The triple filtration system relies on the waves (therefore, when forced to close last year, there were mild build ups of algae and dirt that needed a combination of both the filter and manual cleaning to UV light. The water is then mildly chlorinated as the 3rd element of the system. Some manual cleaning takes place but ultimately, it's the filtration system that keeps the water impressively blue. And no, there's no they haven't cheated by using blue flooring or blue colouring… the water is just that clean.
Now onto the wave machine. The Wave is Bristol is powered by Wavegarden – the first manmade surf lagoon in the world. A simple push of a button selects wave difficulty (Waikiki, Beginner, Intermediate, Advanced Plus and Expert) and gets the waves rolling. Giant paddles push the water outwards from the centre to both sides of the lagoon in a mirror image, with waves ranging from 50m to 2m which caters to all surfers of all abilities. Even the youngsters can experience the stoke, with The Wave's new 'Play in the Bay' session, where kids under 6 get in the water and have some fun. So, there really is something for everyone.
Earlier I briefly touched on The Wave's newly opened campsite glampsite. And it truly is. Each tent sleeps 8, a small kitchen (sink, cupboards and gas ring)/ dining area, a wood burner for those cold winter months, a toilet (there's no flushing so be prepared to line with a bag), seating area and a veranda. For flushing toilets and showers, there a communal block just outside the accommodation area. Each tent is named after a beach, which definitely fits the theme.
The Camp should've opened last year, however due to obvious reasons it couldn't, and opening was delayed until May 17 this year. Despite this, the accommodation has been a big hit and is fully booked throughout July and August (so are all beginner surf sessions). Although not in place yet, there are plans for a live acoustic music area and a BBQ area (personal BBQs are not allowed around the tents as there's a lot of wood and canvas) which will definitely add a deeper community feel to the site. There are also plans to put a woodland walk or something similar in place next to the accommodation, for the kiddies and for an extra thing to do when you're not out on the waves.
And if you were wondering, no you can't go for a midnight surf. I asked. The Wave has to follow strict rules in regard to safety and permissions so the latest surf sessions in the summer end at 9PM.
Overall, it was a great day out. Bring on next year's Adaptive Surf Open!