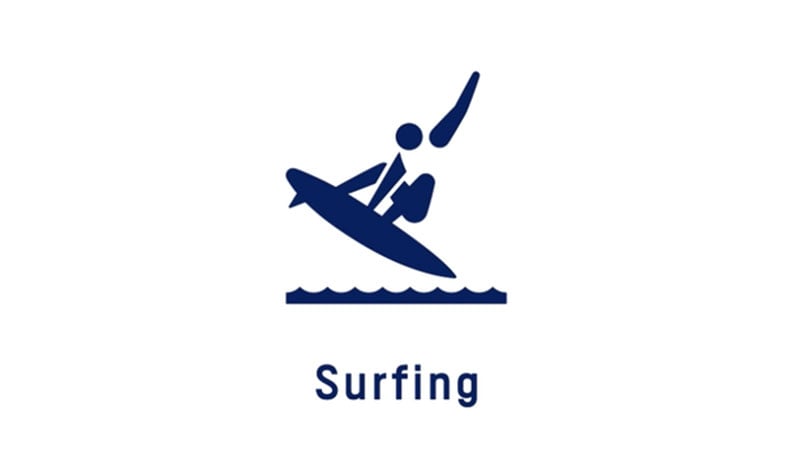 Surfing At The Olympics, The Time Has Come
Starting at midnight (CET), surfers will begin their campaigns for the first-ever surfing Gold medal at the 2021 Tokyo Olympic games. The Men's and Women's surfing competitions will take place during an 8-day window from July 25 – August 1.
In total, there will be 20 men and 20 women competing from 17 different nations at Tsurigasaki beach. Unfortunately, Portugal's Frederico Morais has just withdrawn from the event taking to Instagram earlier today, he announced he's tested positive for Covid. He is  replaced by Costa Rica's Carlos Muñoz
Competitors:
Qualified Men:
(ARG) Leandro Usuna
(AUS) Owen Wright and Julian Wilson
(CR) Carlos Munoz
(BRA) Gabriel Medina and Italo Ferreira
(CHI) Manuel Selman
(FRA) Jeremy Flores and Michel Bourez
(GER) Leon Glatzer
(IND) Rio Waida
(ITL) Leo Fioravanti
(JPN) Kanoa Igarashi and Hiroto Ohhara
(MAR) Ramzi Boukhiam
(NZL) Billy Stairmand
(PER) Miguel Tudela and Lucca Mesinas
(POR) Frederico Morais
(USA) Kolohe Andino and John John Florence
Qualified Women:
(AUS) Stephanie Gilmore and Sally Fitzgibbons
(BRA) Tatiana Weston-Webb and Silvana Lima
(CRC) Brisa Hennessy and Leilani McGonagle
(ECU) Dominic Barona
(FRA) Pauline Ado and Johanne Defay
(ISR) Anat Lelior
(JPN) Mahina Maeda and Amuro Tsuzuki
(PER) Sofia Mulanovich and Daniella Rosas
(POR) Yolanda Sequeria and Teresa Bonvalot
(NZL) Ella Williams
(USA) Carissa Moore and Caroline Marks
(RSA) Bianca Buitendag
 Competition Format
The contest site is Tsurigasaki Beach located about 40 miles (64 km) outside of Tokyo in Ichinomiya, Chiba. To ensure quality surf, the contest will feature a waiting period of 16 days. Once the event runs, it will take two days to finish the competitions.
Due to the abbreviated, irregular size of the competitive field, the Olympic surf competition will feature a unique format that includes four-person, five-person, and two-person heats. Round 1 will involve 4 – 5 person heats, with the top two in each heat advancing straight to round three.
Round two will serve as the repechage round, with the 3rd and 4th placed competitors from the round 1 heats surfing two five-person elimination heats. The top three surfers from each round 2 heat advance to round 3, while the bottom two in each heat are eliminated.
Round 3 features eight two-person elimination heats, and is followed by the quarterfinals, which features four two-person elimination heats, per usual. The four winners surf the semi-finals (again, two-person heats), with the winners advancing to the gold/silver medal final and the losers surfing against each other for bronze.
A panel of judges will determine each rider's performance from wave to wave, scoring from one to ten with two decimals. e.g. 8.51. Scores are based on the difficulty of maneuvers performed.
This process will be the same for both events.
Schedule
Schedule is as follows, weather permitting:
Early Rounds
Start July 25 from 7:00 – 16:20 and continue on July 26 from 7:00 – 16:40, (CET time from midnight)
Quarterfinals and Semi-finals (July 27)
From 7:00 – 14:20 (CET from midnight)
Finals (July 28)
The bronze-medal and gold-medal matches from 8:00 – 11:35 (CET time from 1AM).
For a more detailed schedule go to: https://olympics.com/tokyo-2020/olympic-games/en/results/surfing/olympic-schedule-and-results.htm
TV Coverage
Eurosport will be broadcasting the surfing competition in the following European countries: Bulgaria, Czech Republic, Denmark, England, Finland, France, Germany, Greece, Hungary, Italy, Netherlands, Norway, Poland, Portugal, Romania, Serbia, Spain, Sweden, and Turkey.