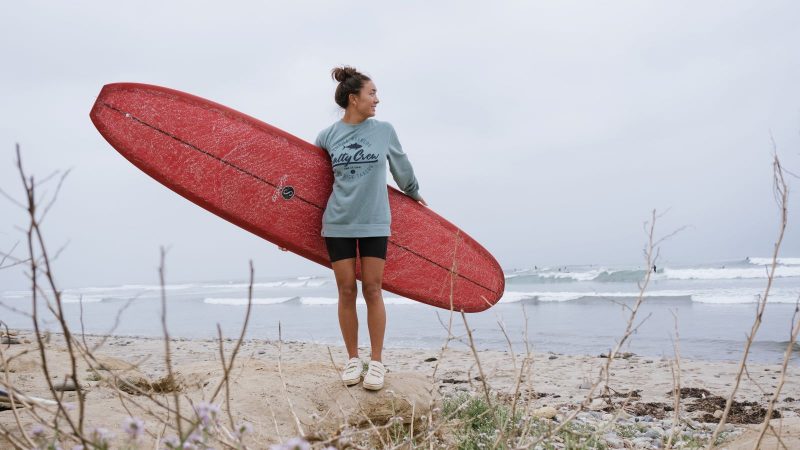 Salty Crew Launches 1st Women's Collection
Salty Crew are expanding their product offering to include a women's range. The new collections acknowledge the women currently in Salty's customer base and the interest from social media so that women who follow the 'Salty' lifestyle can get product that have been designed for women, in terms of fit, cut, design/graphics, colourways and styles. We got in touch with Global Sales Director, Tom Ruiz to learn more about Salty's first ever women's line.
What was the thinking behind the launch of the women's collection?
We'd found multiple reasons for Salty Crew to launch a women's range:
We have had our shops asking us for a women's range for the last 5 years because women have been shopping the men's product.
Consumers themselves were asking for a women's range through our social media as 20% of our followers are organically women that participate in the Salty Crew lifestyle.
And most importantly, adding women's felt right as a brand.
Please define the Salty Crew girl.
That's an important question. A question we dove deep into as a brand before we moved forward with the product concept. We found that there's a lot of women out there in this world today that embrace the same ethos as our men do. They are passionate about the same activities – surfing, fishing, diving, sailing, and enjoying the outdoors. They are thrill seekers and risk takers and they also find refuge in the sea… She fits the brand, and the brand fits her. And also, through this process, we found there was a niche in the market for this type of women's product. It made sense from a brand standpoint and from a business standpoint. The biggest question was "do we have the band width" to execute this venture properly.
Who are people behind the design of the line?
During lockdown last year, we finally decided it was go-time to launch the Salty Crew women's project. None of us were travelling so we had the time to work on it. The first thing we did is have our Creative Marketing Coordinator, Marion Beacham, long time surfer, Baja traveller and daughter of legendary, former women's world champ, Debbie Beacham, develop a storyboard of her interpretation of the Salty Crew women.
She did the research and created the storyboards and Marion was spot on. Now, at this point, we knew there was a demand, we knew Salty women existed and we knew it felt right for the brand. From there we started talking product. First, we needed a designer to bring the vision to life through product. At that time, unfortunately a lot of people had been furloughed in the industry. One of those people was Abbe Allen. Abbe was a Senior Women's Designer at Volcom and was part of one of the many people furloughed. We got lucky!
Abbe has years of experience and has a very strong sense of design, and more importantly, tailors her designs towards a brand. It didn't take her long to understand our brand's product directions. She has been a great asset and an awesome fit. Abbe's first line has been a major success.
Please give us an overview of this first collection.
The 'Season 1' '22 (spring/summer) collection is driven by the brand and carries similar characteristics to the men's line, only in a much more feminine way. Sun protection is a very important category for Salty Crew. Abbe did an excellent job of taking something that's been done a 1000 times before and making it our own. The LS crop top lycra is a great example of uniqueness. The one-piece lycra swimsuit is another great example. The Beacon shorts and the Camo leggings have been very strong and are also the backbone pieces which will carry forward into next season. Our midweight sun protection cover ups are important pieces in the collection. We have a big printables category in multiple bodies with varying graphics in a selection of fits that come in boyfriend tees, crop tees, skimmer tees and the classic fit. We offer an assorted selection of fleece that comes in over died pull over and hoodies, French terry sets and the Alpha fleece set. We tie back to the apparel with an assortment of hats and accessories.
When will the line be available in Europe to pre order and how many seasons will you be offering each year?
We will be producing 2 seasons a year. Season 1 will consist of Spring/Summer. Season 2 will be our Fall/Holiday line. We are currently in the middle of pre-booking Season 1 '22 and in the middle of sampling Season 2 '22 and now have started designing Season 1 '23. We will, be launching Season 2 '22 in November '22.