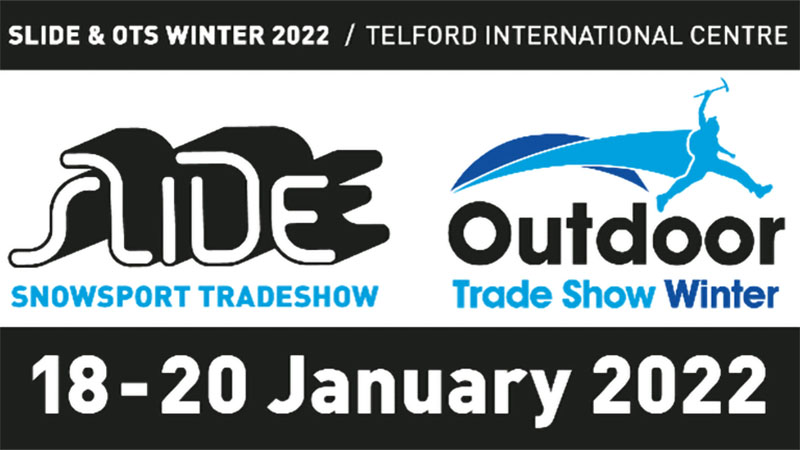 Rates For Exhibition Space at Slide x OTS Winter Increase From October 14
For January's combined Slide x OTS Winter tradeshow, exhibitors are advised to book early, ahead of October's price increase. October 14 onwards will see rates for spaces increase for both members & non-members. However, members (of SIGB and OIA) will still be able to book at a reduced rate to those who aren't members.
Press Release:
BEAT THE OCTOBER SPACE RATE INCREASE
Book Your Exhibition Stand Space at Slide & OTS Winter
Exhibitor bookings for Slide & OTS Winter are picking up in advance of the space rate increase which is due to take effect in October. Brands wishing to take advantage of the opportunity to present winter ranges to snowsports and outdoor retail buyers are encouraged to make a commitment in advance of the deadline of 14th October when rates are due to increase.
Over 66% of the available increased exhibition space has now been allocated with four months to go until the show which takes place in the exhibition halls at the Telford International Centre between the 18th & 20th January 2022.
Recent brands signing up to participate in the show include Briko, Nikwax, Storm, Extremities, Nordica, Páramo, Faction, FW, Odlo, Uphill Socks, Buff UK, Ski Exchange, Saxx, Dakine and Mervin MFG. Show organiser, Lesley Beck from Rare Management commented, "We are now two thirds full at the venue and I'm expecting a flurry of interest from brands who are keen to beat the October rate increase. The combined show represents a great opportunity for brands to showcase their latest ranges and for retailers to preview and place orders for their 2022/23 ranges of clothing, equipment and accessories. Cutting down on the need to chase around the country visiting showrooms or to visit international shows must be good for everyone's carbon footprint."
Members of the SIGB and the OIA all qualify for a preferential space rate in addition to the early booking incentive and details about booking can be found HERE on the website and the latest floorplan HERE.
Onsite hotels next to the exhibition centre have provided reduced rates for exhibitors and visitors who wish to stay in the area and further details can be found HERE.