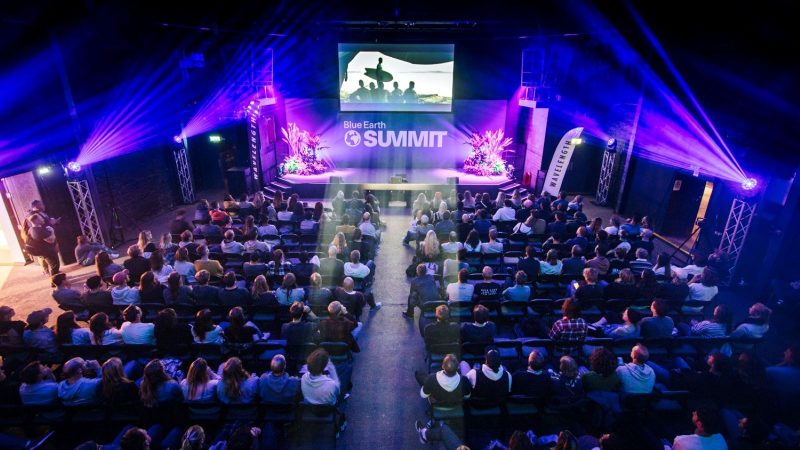 Industry Professionals & General Community Gather For Blue Earth Summit
Across October 16 and 17, athletes, industry professionals, individuals, and organisations ventured down to The Marble Factory and The Wave in Bristol for Blue Earth Summit. The Summit focused on teaching, sharing information and highlighting important issues regarding climate change and taking positive climate action. Read the full summary below and find the event's photo journal here.
Press Release:
Blue Earth Summit delivers a packed, expert-filled programme of over 50 speakers to an 800+ live audience over two days, reaching an estimated 10m so far since day 1
As the Blue Earth Summit team draw breath, we look back on the last two days filled with huge optimism, gratitude and the absolute fulfilment of a dream to bring this one-of-a-kind event to life. The many organisations and individuals who committed time, budget and energy all placed their faith in us and, judging by the overwhelmingly positive feedback, we are very happy to say it worked. The numbers speak for themselves but more importantly, the overall community of outdoor-loving people driving positive climate action has decisively put our Blue Earth Summit on the map for years to come.
Day 1
Her Majesty's Lord-Lieutenant of the County and City of Bristol, the esteemed Peaches Golding OBE, commenced the inaugural Blue Earth Summit to a packed venue on Wednesday at Bristol's Marble Factory. Our main stage host Keme Nzerem expertly led proceedings from there on.
"I feel energised, hopeful and inspired after hosting a keynote stage packed with optimists and changemakers. The event is so timely and relevant with COP around the corner. Roll on 2022!" Keme Nzerem.
Following an impassioned welcome by Blue Earth's own Linley Lewis, the programme began with a discussion turned self-styled rant by the phenomenal Tim Smit. The environmental juggernaut spoke at length around the experiences and difficulties indigenous peoples face when fighting the growing climate crisis and the Eden Project's role in assisting such groups before launching into a diatribe on all things faux-environmentalism; the low bar set by brands and governments in combating carbon emissions; the failure of performative activism in fighting climate change and the need to invest in renewable energies now. Channeling the mentality and vision of Isambard Kingdom Brunel, Tim left us with three words. Anything is possible.
Tim was followed by the ardent Hugo Tagholm, CEO of the SAS – that is, Surfers Against Sewage. Hugo implored everyone, everywhere, to do what they can to combat plastic pollution in coastal and river regions here and abroad, a resource many of us take for granted. Though Surfers Against Sewage have been instrumental in challenging the issues responsible for declining water quality through frequent
campaigning, educating and cleaning initiatives, Hugo remarked that too little is being done too late – it is the burden of everybody to combat their single-use plastic use and pressure governments to enact greater legislation too.
Beyond the mainstage, Lucy Siegle and Keme Nzerem played conductors to a variety of exciting panel discussions at the Campfire stage. Paralympian Melissa Reid joined us for Who Owns the Outdoors, alongside the engaging Amira Patel, Kelly Smith and Phil Young. The panelists discussed the problems restricting widespread engagement in the environmental movement – the inability to properly experience the outdoors and engage in sustainable living, whether it be inhibited by lack of transport, lack of disability infrastructure or a lack of diversity (amongst others). Such issues, argued the panel, must be challenged, else the movement risks leaving swathes of passionate individuals behind.
Breitling's ambassador Bertrand Piccard joined us on the mainstage to discuss the Pioneering Spirit for Inventing the Future. The adventurer and fervent environmentalist gave insights into his escapades with Breitling, including his role in spearheading the first non-stop balloon circumnavigation of the globe, the Breitling Orbiter. Bertrand stressed the need for pioneers to challenge the established paradigms of innovation – in his words, it is not the people selling the candle that want to invent the lightbulb – it is upon the individual to challenge the status quo.
Nuudgum, Pixii, Vivolife and CanCan pitched to our panel of business investors at the Pitch Tent, seeking investment for their unique and pathbreaking businesses, combining both major commercial appeal and a drive toward a sustainable planet. All four hope to secure the necessary funds to drive their projects forward and revolutionise their individual product markets.
The hubbub of the summit was palpable throughout the Marble Factory, with investors, environmental experts and a range of others engaging in all that Blue Earth has to offer. More news to come around Day 1.
Day 2
We kicked off Day 2 with a 7am swim at The Wave, our gloriously warm and friendly home for the day. The surf action promptly followed with our first groups of attendees and Blue Earth staff hitting an expert setting with panache and aplomb.
Our key partner Breitling hosted brunch and led us in to an emotionally-powerful talk from Andrew Cotton, big wave maestro, recounting his experiences at Nazaré and the west coast of Ireland. The Wave founder and visionary Nick Hounsfield then gave a fascinated crowd the genesis story of The Wave and exciting plans for the future including solar array installation here in Bristol and nascent plans for the London arm of the evolving dream in 2024 all being well. Local councillor and key partner for Bristol project rounded off a great morning's programme.
Whilst all this was happening runners embarked on 7k trail runs with Maverick Race and Trek left with a group of bikers to explore a route chosen by Trash Free Trails to pick litter and blow the cobwebs away.
The final flourish saw Breitling's squad of surf talent alongside other UK elite talent including big wave pioneer Gabe Davies to push themselves onto a unique pro setting wave to wow us with their skill and creativity.
For more information contact: [email protected]
TICKETS are now available for OCT 12-13 2022, WITH A 30% discount until end of Oct 21. SAVE THE DATE!