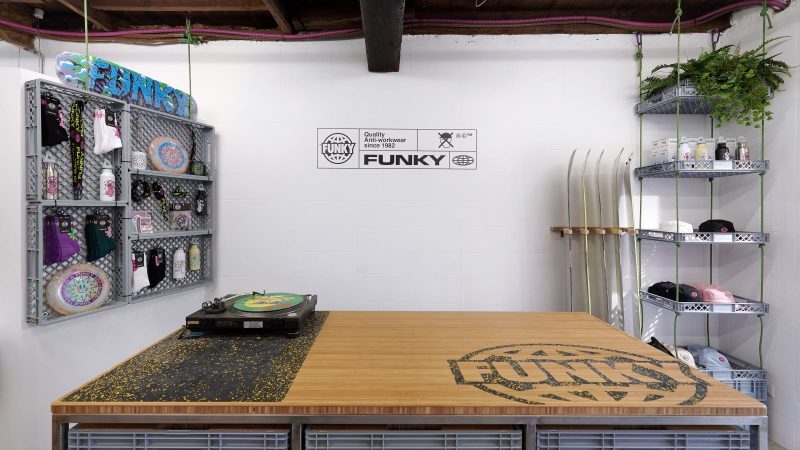 Italy's Funky Snowboards Sets Up Shop in Milan
We've caught up with the guys over at Funky Snowboards to talk about the opening of their first flagship store, the pandemic and its effect on the snowboard industry, and what the future will bring. Dig in to see what these industry pioneers have to say.
Tell us about the history of the brand?
So it all started in the 80s in Como, Italy. A group of young lads with a huge passion for extreme sports and a cassette (if you remember those) full of funky tracks. With the stereo blasting as loud as possible, these guys would design, experiment, and build snowboards of all kinds. That's what we know as the first chapter of our long history of pioneering in the world of snowboard, skateboard, windsurf and surf. The first snowboard ever built by Lucio Longoni (Godfather of Funky) was named Preistoria (prehistory), a board measuring 120cm in height, made entirely of wood with a slightly turned up nose. In just a few years the Italian company became one of the leading brands in Europe. But Funky was extinguished nearly as quickly as it had reached greatness, and the workshop once filled with passion and ideas was sadly forced to close down. But it wasn't long before those great ideas rose from the ashes.
15 years later, we decided to bring life back to a brand with such heritage and relaunch whilst still staying true to its original spirit and philosophy.
Friendship, innovation, passion, and a dash of healthy fuckaroundness are fundamental elements of the Funky spirit. Despite the latter aspect, when it comes to boards, we mean business. The products we offer are the result of painstaking design work, followed by the best materials and technologies, handcrafted in the Funky factory. The athletes on our team certainly don't keep their mouth shut when it comes to something they deem needs to be improved, and therefore are a fundamental part in the development process of each model of the Funky boards line.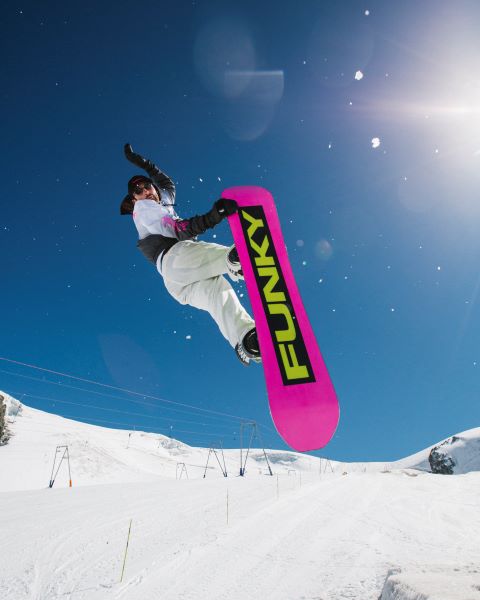 Who are the key people in the company?
The company couldn't exist without Isacco and Luca, Funky's partners. The essence of the brand comes from the perfect mix of their ideas and personalities, both artistically and commercially speaking.
Collaborators are an important part of the Funky family; they help us reach our company goals and grow within the market space.
How has the pandemic affected your business?
Due to the pandemic most of the ski resorts in Europe stayed closed, which meant the shops weren't stocking hardware due to a lack of demand.
Despite the slow winter, we put our "free time" to good use. Focusing our time on apparel, increasing the quality of the products, expanding the variety of items, and studying the consumer demand.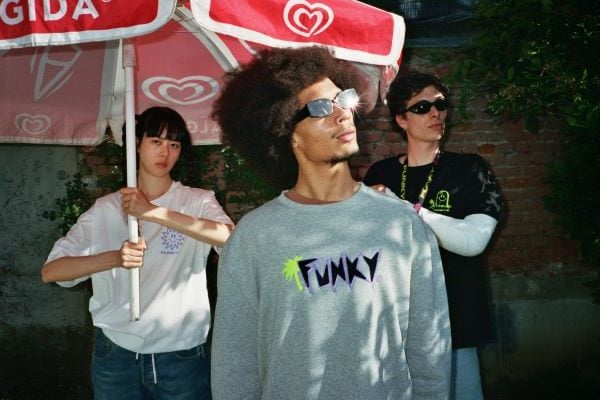 I hear congratulations are in order, you have just opened your first flagship store, can you tell us more about that?
We are very happy about the opening of our first flagship store in Milan, it's a very important phase for our business. We saw an opportunity and grabbed it straight away. It took us a couple months to organise it all, from the interior design to the production, to the operations and to the management side of the store.
What was the thinking behind opening the store?
Opening the store is hugely for marketing purposes – having a place where people can actually see and try on our products definitely gives us more credibility.
It's very important to have direct feedback from all our customers, it makes it easier for us to know their needs and what improvements we can make on our side. It is important to us to have input from our consumers, which we'll use to grow as a company.
How important is social media marketing for your brand?
In this day and age, I think social media is essential to promoting and sharing the image of our brand. Through social platforms we can reach consumers that would otherwise be physically impossible, and we can convey our message and core values to users.
It gives us an opportunity to have direct contact with our customers. We get a lot of photos and videos sent to us. It is a great way for fast interaction and a more practical channel for customer care.
We have seen a massive boom in skateboarding and surfing, do you think snowboarding will catch up with that?
We are sure that snowboarding will catch up with the boom the board sports are currently experiencing. It's getting back to being the lifestyle we know and love, a lifestyle which more and more people are embracing. We want to show that snowboarding can be for everyone; it's fun, full of adrenaline and a way to spend time with friends outdoors!
How do you see the snowboard market developing in the next few years?
As previously said, we believe that demand for all board sports will increase. We feel like the pandemic has actually helped push people to spend their free time outdoors.