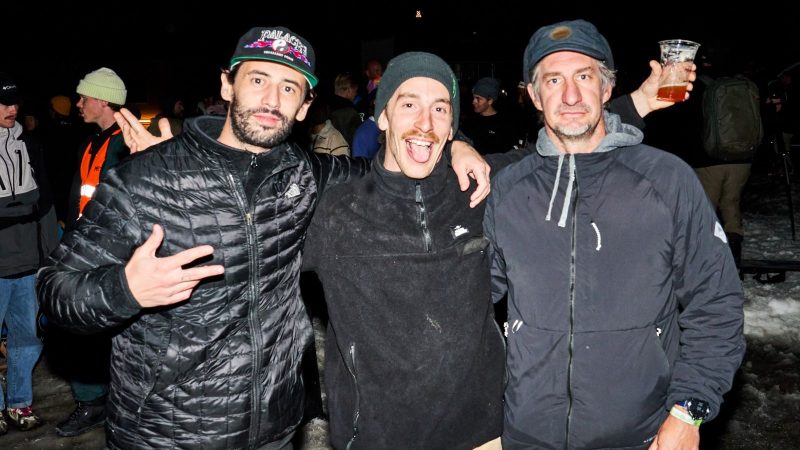 Method Mag's Chris McAlpine Explains Barnstorming Success Behind Inaugural STRT JAM, Innsbruck
Pictured L-R, Thomas Baumann, Ethan Morgan & Chris McAlpine. Photo: Ryan Scardigli
There isn't a corner of the snowboarding world that didn't see the raucous scenes beamed across Instagram from Innsbruck and the inaugural STRT JAM this past weekend. Method Mag helped bring pro snowboarder Ethan Morgan & Thomas Baumann (EMEA Category Manager Skate, Snowboard & Ski @ Monster)'s idea to life along with a solid team of shapers, brands, resorts, booze and the city itself.

What Method Mag's been doing for 'the scene' in recent years hasn't gone unnoticed and in their typically inclusive style, they invited all media and brands to attend and the result was a hugely successful (and riotous) weekend of street snowboarding. A clip of 21-year-old American rider Zeb Powell threading the needle, at high speed through the narrowest of gaps has already seen over 1 million views in just a matter of 48 hours. Other top highlights included flame engulfed rail riding, unthinkable acid drops – and the climb to get there – and the list goes on. Check out DIYX & Method Mag's Instagram tagged page for the top highlights. Also make sure to check out Method Mag's Day One & Day Two highlight edits as well.
We spoke with Method Mag Publisher Chris "Chriso" McAlpine for the full lowdown on what went into making the event such a success.

Tell us how the idea of DIYX IBK came about...
We wanted to re-create a street session. It was the brainchild of Ethan Morgan and Thomas Baumann (Monster Energy) from the beginning, and they asked me to get involved. I spoke with Ethan's sponsors (Bataleon, Northwave and Horsefeathers) to see if they were interested in supporting this project and they jumped at it. We also involved Blue Tomato, Soundboks, Banger Park, Man and Wolf Beer, Khutai resort and the city of Innsbruck.
How easy was it to get IBK to give access to high profile spaces for such rowdy events?
That's a tricky question to answer. It definitely wasn't easy that's for sure. It was all about getting the right contacts and permission from the correct people. We had to navigate through a few hoops, but we got some help from Heidi who works at a marketing department in Innsbruck and the guys at Distillery really helped us out. We couldn't have done it without them.
Being on the ground for the weekend, what's your gauge of the mood in the snowboard world / industry right now?
Well, it was a pretty sketchy start. As soon as we all landed in Innsbruck and once all the riders, media, and crew turned up, there was a huge spike in Covid cases and rumours were flying around about a potential lockdown. But it was all good. The mood was electric. Straight off the bat, the Method Movie night turned into a full-on party which set the tone for the coming days, and it didn't stop until Sunday! Actually, some people are probably still going. Ha!
In general, the mood seems positive for sure, this was the first time in almost 2 years that a lot of the riders got to hang together (and not in a contest bubble) so the vibe was unreal. The common message I heard was "I think we all needed this".
What's the event taught you for upcoming activations and such events?
We need more gasoline. Ha!
Seriously though, we got so much positive feedback. I think the riders dug the format, the looseness, the creativity, the free beer and burgers, and the spots. No pressure to ride, no one telling you what or where to be, no judging, just a bunch of insane creative riders doing their thing.
We saw lots of media coverage from the event, something unusual for being organised by another media outlet…
This session wasn't about Method, it was us supporting Ethan's DIYX concept and we're the platform to push it. This was all about bringing the snowboard community back together after so long… after this hectic Covid period. And about doing something completely unique. We invited all media and every mag (European and International), and we invited brands to come and check it out and join us. We were really stoked that so many different outlets joined and had a blast.
What were the STRT JAM highlights?
Damn, where to begin? For me personally, it was that we managed to pull it off without any injuries or incidents. It's so tough trying to do these sorts of projects during these times, not with rules that are constantly changing, but the stars aligned for this one. The weather was insane for the first day and the rain held off until we finished on the second day.
The riding was so loose. Everyone really stepped up and sent it. Zeb Powell took it to another level. So many riders got so creative on the spots and hit stuff that when we built the course, we didn't even think of. Our winch broke on the first go so Alex Stewart, ripped out his dirt bike, took the back tire off and we made a makeshift winch. That's what the DIYX Strt Jam was all about.
But the biggest highlight for me was how everyone pulled together to make this happen, a special shout out to Jacco Bos, all the shapers and all the volunteers. Honestly, these guys/girls went above and beyond, worked tirelessly, digging, shaping, a truly momentous effort. Can't thank them enough. We tried to stoke them out by giving them each a brand new Bataleon board.
Gotta give a huge shout out to Ethan, Thomas, Ferdi and the Monster crew, Jacco, shapers, volunteers, Zoo Tapes, Tim and Nicco, Thor and Marco, Gumby, Tomas, Alex and Davide, Khutai, the Banger Park crew, the legends at Montagu, Caitlin, Agata, Will and Theo, Henry, Kuske and Skindog, all the media, Heidi and Flo and the City of Innsbruck for letting us put this on. I hope we are invited back, but lastly to all the riders for turning up and sending it – on and off their boards.