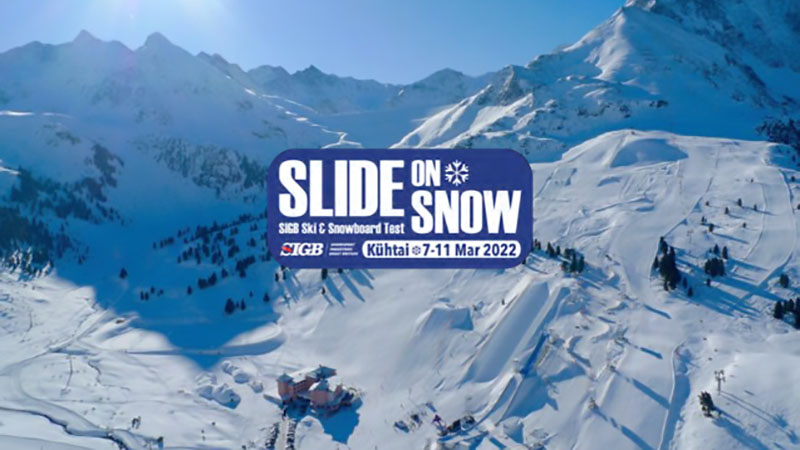 SIGB Snow Test Returns For 2022 in Kühtai, Austria
After 2 cancelled years, the SIGB Snow Test is making a grand return. The test is set to take place in Kühtai, Austria in March 2022. At the current point in time, SIGB are inviting people to complete a registration form and register their interest.
Press Release:
The test is back.
The UK snowsport industry needs to get back on snow, so the SIGB Snow Test will take place in Kühtai 6-11 March 2022.
The European Alps will be open for snowsport this winter whilst various surveys and anecdotal evidence point to a huge amount of pent-up desire from UK skiers and snowboarders to hit the slopes.
It is therefore an important year to make a really positive statement about the return of snowsport and a brighter future.
However, based on current regulations in Austria, it will be difficult to attend the Test unless fully vaccinated. https://sigb.org.uk/new-rules-for-winter-vacations-in-tirol-significant-restrictions-on-unvaccinated/
Based on the survey of brands, retailers and media back in 2020 and taking into account the virtual cancellation of the 2021 season, the SIGB has decided that there should be a Test that has the most chance of delivering the best possible experience for all involved:
The Test will return to Kühtai, regarded as the benchmark for test venues. Everyone knows it delivers. Most viable alternatives have been investigated thoroughly.
This will reinforce the fact that the Alps are open and accessible to UK skiers and snowboarders with the trade leading by example, showing confidence in a return to the Alps.
A review will take place at Slide & OTS Winter, when there will be greater understanding of the state of the market.
A Scottish based test is not feasible, unless organised at very short notice (as in 2019).
As regards Kühtai, accommodation prices are at the upper end in resort – BUT there are better options lower down the valley towards Oetz and Sellrain, involving a 15-20 minute drive. There are also universally much more realistic cancellation terms with all accommodation providers throughout the Alps.
The SIGB hopes everyone will support this return of the test after such a challenging period. Indications of everyone's intentions would be appreciated.
Please complete the online form https://sigb.org.uk/ski-snowboard-test/ or return the attached registration (fillable pdf) if you are considering participation – Please note, there will be a participation fee of £25pp, with a maximum charge of £100 for media organisations. No invoices will be raised until after Slide.