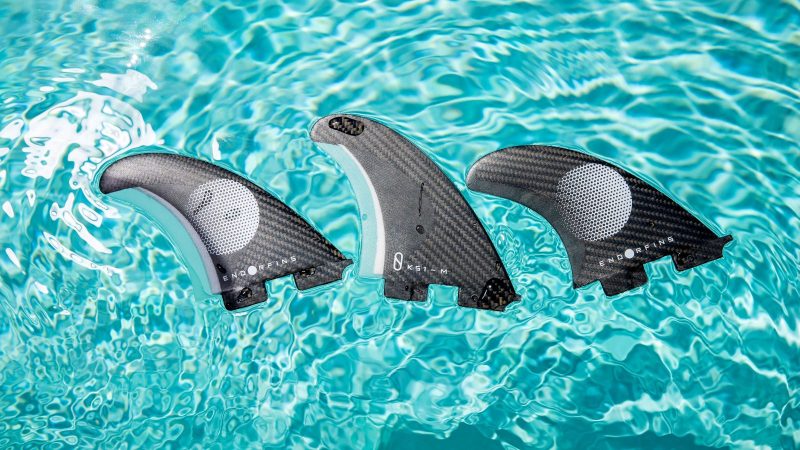 Kelly Slater Adds Fin Brand 'Endorfins' to Portfolio
Kelly Slater is back with his latest brand venture: Endorfins, a brand that is focussed on reducing the number of fins lost to the waves and destined to live the remainder of their life on the ocean floor. To discover the game plan behind this idea, we got in touch with the Endorfins team.
Tell us about the thinking behind the launch of the brand.
Kelly has always had a deep relationship with, and passion for, fins – being that they are a critical component of board design and performance. We wanted to bring this to life by launching a fin brand driven by Kelly's vision of performance and eco responsibility. We believe that, as surfers, we have a responsibility to make fins as eco-friendly as possible and to ensure we keep our ocean floor free from "lost and broken fins". Fins litter our oceans floors, so in response, Endorfins are designed to be screwed into the fin box to secure the flex point and work as intended. In addition, we have also designed the fins to float so they can be retrieved from the ocean if needed.
Who are the people behind the launch?
Endorfins is a Kelly Slater Brand, but for the brand to have control of the quality, eco standards and capacity requirements, we partnered with and bought the majority share of Scarfini Fins in South Africa. They are well respected and very experienced in fin manufacturing, and we believe that they have the best team to secure a bright future for the brand. Manufacturing in South Africa where the waves crank all day long is a great benefit to testing and allows us to have a diverse manufacturing portfolio.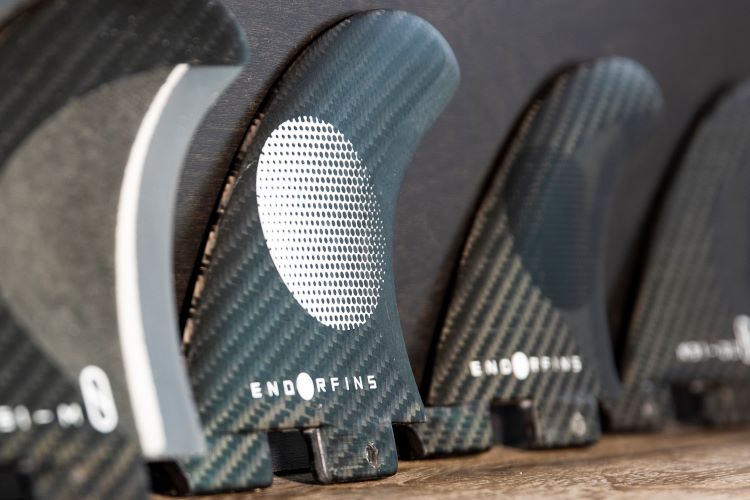 How will you differentiate yourself in the market?
It's simple… and always is with Kelly. We promise to outperform all other fins and to always respect our ocean with best practices in eco product design and manufacturing.
Please tell us about Kelly's/Slater Design's involvement and what that looks like? Company owner, founder, shareholder, etc.?
The founder of the brand is Kelly Slater.
Kelly has essentially been 'designing' these fins throughout his storied career through experience with so many templates and designs. That knowledge, coupled with the continued testing and refining over the past year and a half, have led to the launch of the ideal fins.
The design of these fins are the culmination of Kelly's many years and extensive experience with a variety of designs and templates. This unique flex pattern is created by a carbon twill, layered with an ultralight carbon veil over a P.E.T core. The P.E.T core is 90% air resulting in fins so light they float on water. Combining that knowledge, and several rounds of testing and adjusting over the past year and a half, we are excited to present Endorfins to the world.
Tell us how you're helping retailers with the launch.
This launch is all about the consumer, and while we believe we have the best retailer partners supporting our Brands, we are laser focused on what the consumers' needs are first and foremost. If we succeed with the consumers, then everyone wins.
For brick-and-mortar retailers, we have created a dual purpose fin display and a robust marketing campaign. We pride ourselves on creating fun, educational, and consumer engaging platforms powered by rich content and gamification. We are introducing an online game exploring the story of the world's greatest surfer and his relationship with fins. We'll drive online traffic to a microsite containing a virtual scavenger hunt of questions that web visitors can answer for a shot at winning free fins.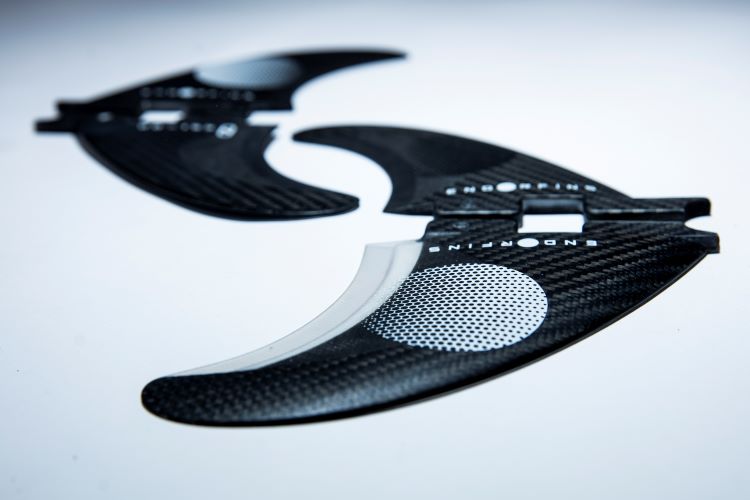 Talk to us about fin box compatibility: FCS vs Futures.
Each set is built with a base that is compatible with either FCSII or Futures boxes. The Futures compatible base on Endorfins will work just like a fin built by Futures with a Futures base. The FCSII compatible base will require two screws that will come with the fins. Endorfins with FCSII compatible bases will not click in and click out.
Any new product ambassadors in the pipeline?
Rob Machado has joined the team and will be working on fins in the coming months.
How will you be getting your sustainability message across?
We are a sustainably minded company, so it's in everything we do daily. "Screw your fins, not your ocean". Kelly has a hobby of collecting fins from the reef in front of his home in Hawaii. These fins are trash, abandoned on the ocean floor. By screwing our fins into our surfboards – and with the fact that these can float – we prevent this from happening. We are additionally continuing our commitment to Sea Trees – 'wiping' the yearly carbon footprint of our fin production through conserving kelp forest in California, protecting rain forest in Africa, and planting mangrove trees in Indonesia.
Last but not least – who thought up the Brand name?
Kelly Slater. "Endorfins – The Natural High"