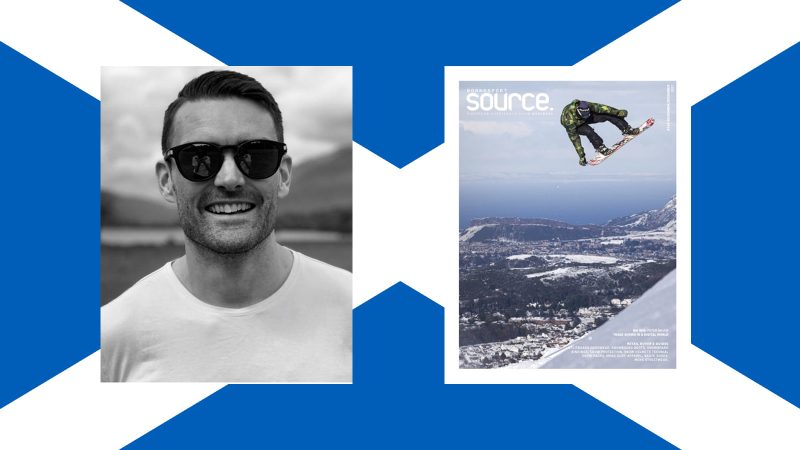 Issue 109 Front Cover Interview: Oakley's Scott McMorris
SOURCE Issue 109's cover is a special one, as it's the first cover we've featured shot in Scotland. Scotland has some great mountain ranges, but look closely and you'll see the iconic Arthur's Seat and the Firth of Forth in the background. The cover star is Scott McMorris from Oakley, who rode pro until 2010, when he hung up his pro boots to work in marketing for the eyewear giants. Now heading up Sports Marketing & Communications Manager for Northern Europe, Scott sat down with us to speak about his career and just how he bagged our latest cover shot above his hometown of Edinburgh.
Scott, tell us about your history in snowboarding. How did you start out and where did it take you?
Wow, this is going back a few years. My mum is a very keen skier and has been since the late 50's and I suppose when myself and my two older brothers arrived, she made it one of her goals to get us skiing. So when I turned 3, like her, I started skiing at Glencoe and we were shredding most weekends during the winter. Fast forward 8 years and I tried snowboarding on a family ski holiday in St Anton where my older brothers, who were already snowboarding, showed me the basics and that was it… Instantly hooked! After a couple of years riding in the winter there was a scene brewing at the dryslope in Hillend, which a few of us joined and it felt like we were there 2-3 times a week at one point. It's really all I could think about and when I turned 16, I was lucky enough to pick up a few sponsors through a local UK distributor and that's when it all started. I chased the UK/National Dryslope circuit up and down the country and when I turned 18 (1999) I moved to Whistler where I spent for 4 years training and honing my skills on Blackcomb Snow Park and exploring the backcountry on Whistler before setting up a more permanent base in Morzine within the Porte Du Soleil for 6 more winters. I chased the slopestyle/big air circuit (TTR back then), filmed with Lockdown Projects and shot various magazine articles/front covers for the likes of Method, Transworld, Whitelines, Onboard, Document Snow etc and was lucky enough to be sponsored by Oakley, Red Bull, Ride Snowboards, Vans and Nixon before hanging up my boots professionally in 2010.
Tell us about your working career. Where was your first job in the industry?
My journey has been slightly unconventional in that I retired from professional snowboarding to join Oakley as their UK Sports Marketing Manager overseeing all Action Sports. My Oakley contact at the time, Kelly Parsons, was leaving to pursue a new career and a huge thanks to her and then Marketing Director, Tom Cartmale, who gave me an amazing opportunity to join Oakley. 10 years later I'm still working for the brand, however my role and territory has expanded.
Tell us about your current role at Oakley.
My current role is Sports Marketing & Communications Manager for North Europe (UK, Nordics & Benelux). I oversee the development of grassroots and existing athletes across all sports pillars from young guns to Olympic champions covering Cycling (Road & MTB), Snow (Ski, SNB & XC Ski), Skate, Golf, Two Wheel Motorsport and Triathlon. I also manage and oversee all event and sponsorship activations that we execute throughout the year from a small trade show like Slide, Vatternrundan in Sweden and manage 3x ski resort partnerships across Norway and Sweden that contribute to the growth of the Oakley business in the Nordics. From a Communications perspective I oversee the strategic direction of media buying/planning across North Europe with a key focus on the UK market. This varies across digital, OOH and endemic media partnerships across summer and winter brand campaigns to help increase brand visibility. I also work very closely with our PR agency, Canoe Inc, across all new product launches, product seeding and bespoke activities focusing on the Oakley Collective members.
What stand-out partnerships and activations have you worked on in the past 12 months?
From a media perspective I conceptulised the UK's 'Be Who You Are' campaign ft lead athlete England Cricketer Jofra Archer alongside other members of the UK Collective, pro skater Tom Knox and cyclist Shuhena Islam. The overarching theme is to celebrate self-expression and encourage people to believe in themselves, to 'Be Who You Are' and to feature 3 different sports and personalities all sharing the same vision was really inspiring. I executed a full 360 degree campaign covering digital, social and OOH across the UK all going live simultaneously. Across partnerships I was able to expand the on snow presence with SkiStar and Vassfjellet with our 'Prizm Tour' activation which sees a custom branded 30ft shipping container travel throughout the Nordics from January until April providing various experiential activities such as free product testing for consumers, athlete engagement with 'Ride With A Pro' and full branding rights across 6 snow parks where Oakley is the title sponsor. The same model has been applied to Dyfi Bike Park in Wales where we have partnered with the Atherton siblings to expand on our existing athlete relationship and implement a custom built trail for the MTB community to enjoy.
What's upcoming for the next 6 months?
I am expanding the on snow presence across the Nordics and have become the 'official eyewear partner' of Klappen ski resort in Sweden where we will do similar activities as SkiStar and Vassfjellet. I'll be working with a large number of sports organisations in cycling (Vatternrundan), MTB (UCI World Cup Ft William) and Cross Country Ski (Vasaloppet) to become the official brand partner to help increase visibility with our target consumer. In February we will start to work on the new 'Be Who You Are' brand campaign launch that is aimed to go live in May 2022 so lots of exciting projects on the horizon.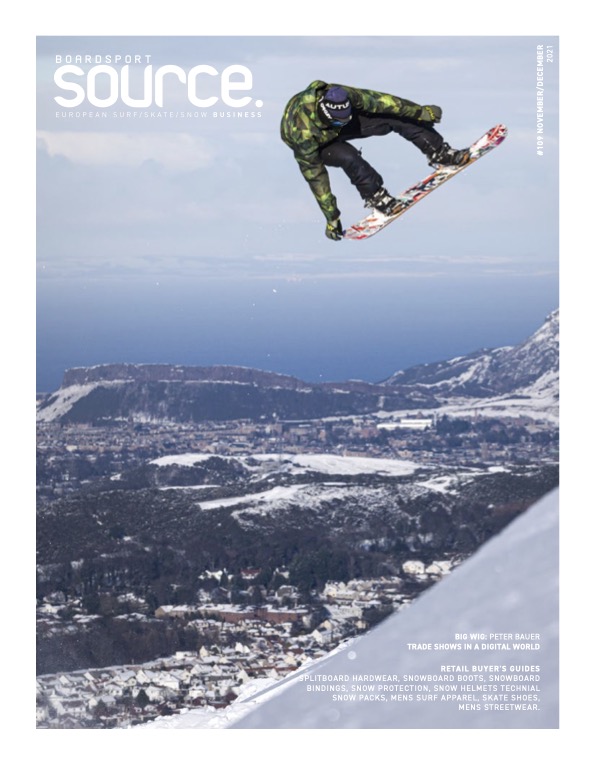 Tell us about the cover shot… where, when, how?
I live in the centre of Edinburgh and this winter gone saw the most amount of snow I have ever seen in the city. The air temp kept consistently low and it felt it was snowing for weeks. Out of the blue my mate, Will Nangle, a filmer/photographer by trade who also lives in Edinburgh phoned me up and asked if I wanted to hit up the Pentlands and try and build a feature that had a backdrop of Arthur's Seat or the Castle to which I agreed. Bearing in mind my pro shooting days were quite far behind me at this point and I really wasn't expecting to deliver anything worthy of a decent photo but that said I was keen! After a failed attempt at building a jump slightly higher up we moved down through the Pentlands searching for an aspect that had a decent run-in, landing and take-off opportunities and then we stumbled across the 'The Swan'. After approx. 10-15 mins of building and carving out a take-off I walked into the landing to test how deep it was and – no joke – the snow was up to my waste! After a few run ins to test out the speed and a couple of hits we knew we were onto something quite special. Will had suggested that I try a back 1 tail as it would give a great angle with me facing up the hill travelling backwards with Arthur's Seat and the Firth of Forth in the background. The first attempt was a complete disaster, however my lucky stars aligned, and my inner Devon Walsh came through for attempt no.2. This brought back a lot of great memories from my pro days so let's hope the snow gods are good to us this year!
Any shout outs?
I feel a huge thanks are in order to BoardSport Source for running this pic as a cover. I still can't really believe it to be honest as my last cover was on Whitelines in 2009… Obviously Will Nangle for dragging me up the Pentlands that day as this would never have happened in the first place and finally Oakley for giving me such an amazing opportunity back in 2010!
Read the Magazine Online