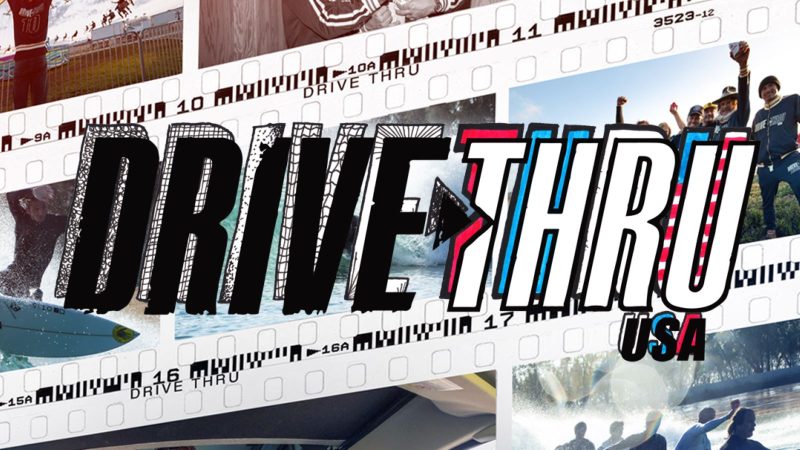 Fuel TV Premieres Weekly Episodes of 10th Series of "The Drive Thru"
The 10th season of "The Drive Thru" premieres on Thursday, December 30, worldwide on Fuel TV. New episodes will premiere every Monday, starting on the west coast of the USA in Santa Cruz, the series will take viewers along the east and wests coasts and into some of America's wavepools.
Press Release:
THE DRIVE THRU IS BACK
Season 10 of Legendary Surf Travel Series Premiers on December 30th on FUEL TV
Legendary surf travel series "The Drive Thru" is back for its 10th season, premiering on Thursday December 30th on FUEL TV around the world, it was announced today by series producers Greg Browning and Taylor Steele.
"After a whole bunch of conversations with all kinds of people about 'Drive Thru 10' I couldn't have asked for anything more." said Browning in making the announcement.  "I am so stoked to have Donavon and Benji back behind the wheel to lead this crew of surfers. It was another trip of a lifetime for me." he concluded.
"We've talked about it for years" said Steele. "Everything that led up to getting Season 10 done has just added to the legend, and we can't wait to show this next generation what all the excitement is about."
For this much awaited return, the Drive Thru crew, consisting of main cast members Donavon Frankenreiter, Hendrix Frankenreiter, Benji Weatherley, Parker Coffin, Griffin Colapinto, and Eric Geiselman, hit destinations on on both the east and west coasts, as well as making stops at some of the world's best wave pools.
They were joined along the way by some of the best surfers in the world, including Dane Reynolds, Eithan Osborne, Kelly Slater, Pete Mel, John Mel, Anthony Ruffo, Cole Houshmand, Jett Schilling, Caroline Marks, Carissa Moore, Evan Geiselman, and Michael Dunphy.
"This is a dream come true for us at FUEL TV" said Fernando Figueiredo, president and CEO of FUEL TV. "To have Greg and Taylor steering the project, and with Donavon and Benji behind the wheel, we are thrilled to have the Drive Thru return to where it all started."
Episode 1 premiers on FUEL TV on Thursday December 30th, with new episodes premiering each Monday throughout January.
To find FUEL TV in your area visit https://fuel.tv/find-us/) or catch episodes early with a 90-day free trial of FUEL TV+ https://plus.fuel.tv/drivethru