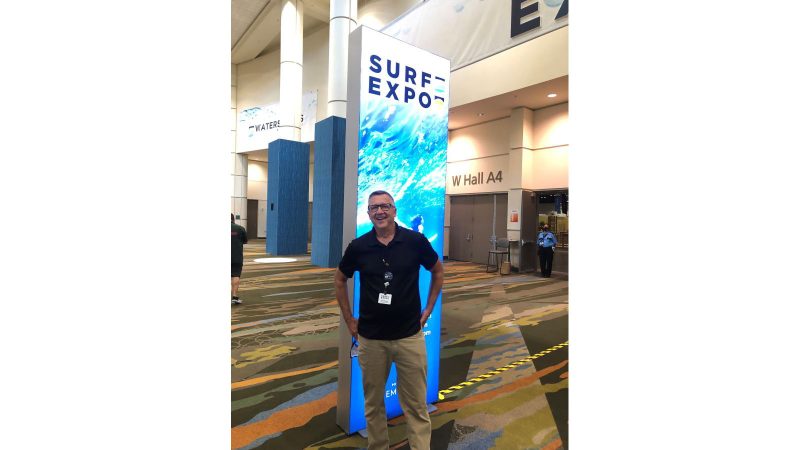 Surf Expo 2022 Brings Brands Together in Florida, Starting January 5
Off the back of two successful shows last year, Surf Expo is back at the Orange County Convention Center for Surf Expo 2022. Starting on January 5, brands will be introducing retailers to their 2022/23 product catalogues, giving retailers an opportunity to experience the product before purchase. With buyers and attendees coming from the US, Europe and other global markets, the show is set to be a key date for surf and watersport retailers. Roy Turner, Surf Expo's SVP and Show Director, gave us a run down of the schedule.
What's new for the 2022 January show? Are exhibitors chomping at the bit after last January's cancelled show?
Actually, we held a show in January 2021 and September 2021.
Brands are stoked about the continued efforts to get business back on track, they love the opportunity to get in front of retailers… actual face-to-face meetings to show off their product, get the buyers to study and feel the fabric. Both buyers and sellers are exhausted from ZOOM calls and catalogues!
In-person gatherings allow us to build and strengthen relationships, discover, and learn new things, launch ideas, and often careers.
Tell us about the key focus of the January show.
The key focus is assembling the best products and newest brands for our buyers.
We're featuring a great array of surfboards and hardgoods brands like Vissla, Rusty Surfboards, Tahe, Sic Maui, Corbin, RnD by Ricky Carroll, Savage Primitive, JB Boards, and Little Bay Boards to name a few.
We've got an all-new skate ramp from Instaramps making a debut at this show and have a Shop Battle with teams from all across the country, and Bangers 4 Bucks taking place on Friday. We'll have the Shape Off, in honour of Ron Heavyside, Founder of Nomad Surf Shop in Florida. Shapers include Stu Sharpe, Tony Iannarone, Brett Prinz, Ken White, David Freidank and Skye A. Richards.
The first night closes with the East Coast Surfing Hall of Fame, who are inducting their class of 2022. We've also got a new event special to this show, the Vintage Board Auction, featuring a large collection of vintage surfboards both on display and on the auction block. Attendees will see boards like Bear Surfboards' BIG WEDNESDAY, Greg Noll's Kahanamoku Hawaii Noserider, a Dewey Weber Performer, and a Ben Aipa board shaped for Ricky Gregg plus many, many more amazing boards.
Please tell us about some of the boardsports brands new to Surf Expo.
HLC Skate, from Spain, will be making its US debut featuring PlanB, Jart, Cruzade, YOW & Long Island Longboards. The Board Factory will be exhibiting their products from SUNOVA, Suns, Christian Fletcher Surfboards, GenRation, and Casey. Christian Fletcher will be at the show to showcase his range of surfboards and answer any questions throughout the show period. Legendary waterman James Casey will be joining live from Australia each day at 4pm to talk about his brand 'Casey' and all that it encompasses.
Tahe will be showing their 2022 line-up of kayaks, surfboards, and SUP's.
Clean Ocean Surfboards is unveiling a new model for pro team rider Trent (Tarpits) Phillips. Alongside this, a couple of legendary brands are making a comeback—Plastic Fantastic Surfboards and Dusty Rhodes Surfboards, both of which were started back in the mid 1960's, ran through the 1970's and are now making a comeback in 2022 at Surf Expo!
What are the most important product categories for boardsports retailers at the show and why?
We have seen an explosion in surf retail over the past 2 years covering all categories. All products categories are important and with supply chain issues still affecting the US and Europe, buyers will be focused on finding new vendors as well as expanding their relationships with the growing, emerging brands we are seeing in the market. Surf Expo gives new and veteran brands alike the ability to talk with retailers about how their product can fit into existing open-to-buy programs, as well as how to become key resources for filling in where others cannot supply.
Buyers are chomping at the bit to return to some semblance of "normal"! They just want to be together, see samples with their own eyes, feel the fabric, check the seam. Cabin fever, from a buying perspective, is quickly going away with the return of trade shows. They want it ALL, and they want it in their hands to make the best buying decisions.
Please tell us about Bluewater and The Neighbourhood.
Surf Expo features everything related to the water lifestyle, whether you're on, in or around it. Bluewater is an area dedicated to featuring inshore/offshore fishing, marine lifestyle apparel and accessories from brands like HUK, Pure Lure, MANG and the new brand Bajio. We've introduced a new part of Bluewater which we're calling "The Shoreline". The idea behind The Shoreline is that this is the is one thing that all bodies of water have in common – where the outdoors connects with the water – so we've made an area dedicated to activities that take place on the shoreline, e.g., camping, day tripping, etc… We're featuring brands like RUMPL's high performance blankets made from 100% post-consumer recycled material, Fireside Outdoor's popup fire pits and grills, Zootility pocket tools, Kahuna Wagons, Kelly Slater's Outerknown, Bumruk rucksacks and more.
Please talk us through any interesting events running alongside the show.
As mentioned above, the events include:
East Coast Surfing Hall of Fame 2022 Induction Ceremony.
Inductees include:
Legends: Jeannie Chesser (FL) Bill Hixon (FL), Spyder Wright (MD)
Women: Kristy Murphy (FL)
Men: Danny Melhado (FL), Eric Penny (NY), CJ Hobgood (FL)
Industry: John Parton (FL),
Media: Matt Walker (NC)
Culture: Chris Lundy (FL)
Cecil Lear President's Award recipient: Kathy Phillips (MD)
Skate Park, featuring a pro- ramp from Instaramps with a Bangers 4 Bucks contest, Shop Battle and plus flat ground and best trick contests daily.
The Florida Shape Off presented by VISSLA: The top shapers from across the country will compete in the Florida Shape Off at Surf Expo this January. The Florida Shape-Off at Surf Expo is an annual surfboard shaping contest and exhibition that promotes the craftmanship and craftsmen of hand-made surfboard shaping.
The competition is in honour of the South Florida Legend Ron Heavyside, Founder of Nomad Surf Shop. Shapers include:
Skye A. Richard- SAR Surf
Brett Prinz from Crowd Control Surfboards
Tony Iannarone from Clean Ocean surfboards
Ken White-Ken White Surfboards
Dave Freidank from Blue Earth Surfboards
Stu Sharpe from Sharpe Surfboards
2:30 Awards
The Vintage Board Auction: A very large collection of vintage surfboards, most of which are being offered for the first time, will be on display and on the auction block at Surf Expo. With the celebration of East Coast Surfing Hall of Fame's 25th anniversary and the tribute for Greg Noll and Mike Miggs, Surf Legends have been working tirelessly to assemble this collection of boards. Boards can be viewed at NJVSA.com
Why is it important for European retailers to attend?
Specialty retailers are always looking for ways to differentiate themselves. Surf Expo offers European retailers the ability to "take a look under the hood" of the US market. Forward thinking retailers are able to make connections, hook onto trend ideas, and find products that can help them to differentiate themselves from their competitors.
For that return to normalcy that we spoke of. The influx and return to a global "surf village". Surf manufacturers need events like Surf Expo to get themselves in front of retailers from around the world to spread their product and message! Consumers are seeing all of this on social media, but the buyers need to feel confident about bringing the goods into their stores. Seeing that product at Surf Expo helps in that delivery.
Finally, what's the current deal with exhibition Covid regulations?
One thing we have learned over the past 2 years is that people want to meet face to face. We are once again committed to creating an event experience where our customers, partners, and employees can safely and effectively conduct business and the health and safety of our customers, team members and communities is our #1 priority.
Surf Expo held two safe and successful shows in 2021 (January and September) at the Orange County Convention Center, which is among one of the safest venues in the country. It has achieved Global Biorisk Advisory Council (GBAC) accreditation and follows the highest standards for cleaning and sanitisation.
Face masks will be required at all times.