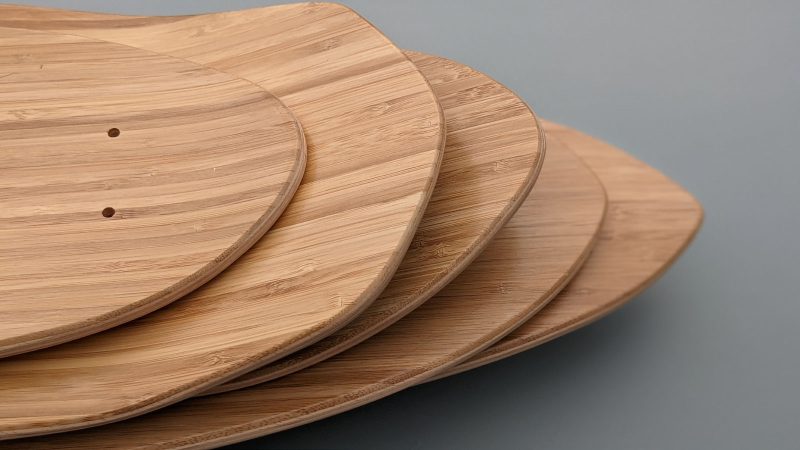 Borealis 'Drop In' to Skateboard Market This Spring With New 5-Model Line
Handmade in the EU, French snowboard brand Borealis is sliding into the skateboard market this coming spring. The 2022/23 line features 5 skateboards, each made with 7-ply construction – 5 layers of beech sandwiched between 2 layers of natural 100% recyclable bamboo. Borealis' owner Ben Hall told us more about this new venture.
Please give us a short history of Borealis and why you started the brand?
Borealis Snowboards is a French snowboard brand created in 2013 by Ben Hall, a French-English snowboarder who grew up between Geneva and the French Mont-Blanc Region. Our unique hand-made equipment is built with premium sustainable materials such as natural bamboo, bio-based resin, sustainable wood and other alternative solutions. 
Who are the people behind the brand?
Ben Hall – Owner, snowboarder, skateboarder, shaper, graphics designer, brand manager.
Why have you decided to expand into other product categories?
We're not just snowboarders, we're also skateboarders, so we wanted to offer something different, something we can ride in summer.
And your new skate offering?
For spring-summer 2022, we're offering 5 models, all a part of the same Season #1 line:
3 cruisers: Titan 32" (beast with funky shape), Nightrider 31" (thin and stealthy) and Icarus 26" (small carry-everywhere deck)
1 surfskate: Monsoon 30"
1 longboard: Soulsurfer 43"
All are available as decks alone or as complete boards (ABEC 9 bearings, 78A wheels, quality trucks/bushings, grip tape and hardware).
How important is sustainability to your brand ethos?
Very important therefore all our skateboards are handmade in the EU by an experienced team of skateboarders-carpenters. They're made with passion, and we play very close attention to detail. Our boards are crafted from FSC-certified wood and bamboo.
Why should retailers stock your brand?
Excellent quality, handmade in the EU, cool alternative shapes, beautiful finish, minimalistic yet efficient graphics and high-performance exclusive double-concave design created by skateboarders for skateboarders (our boards are very comfortable to ride).