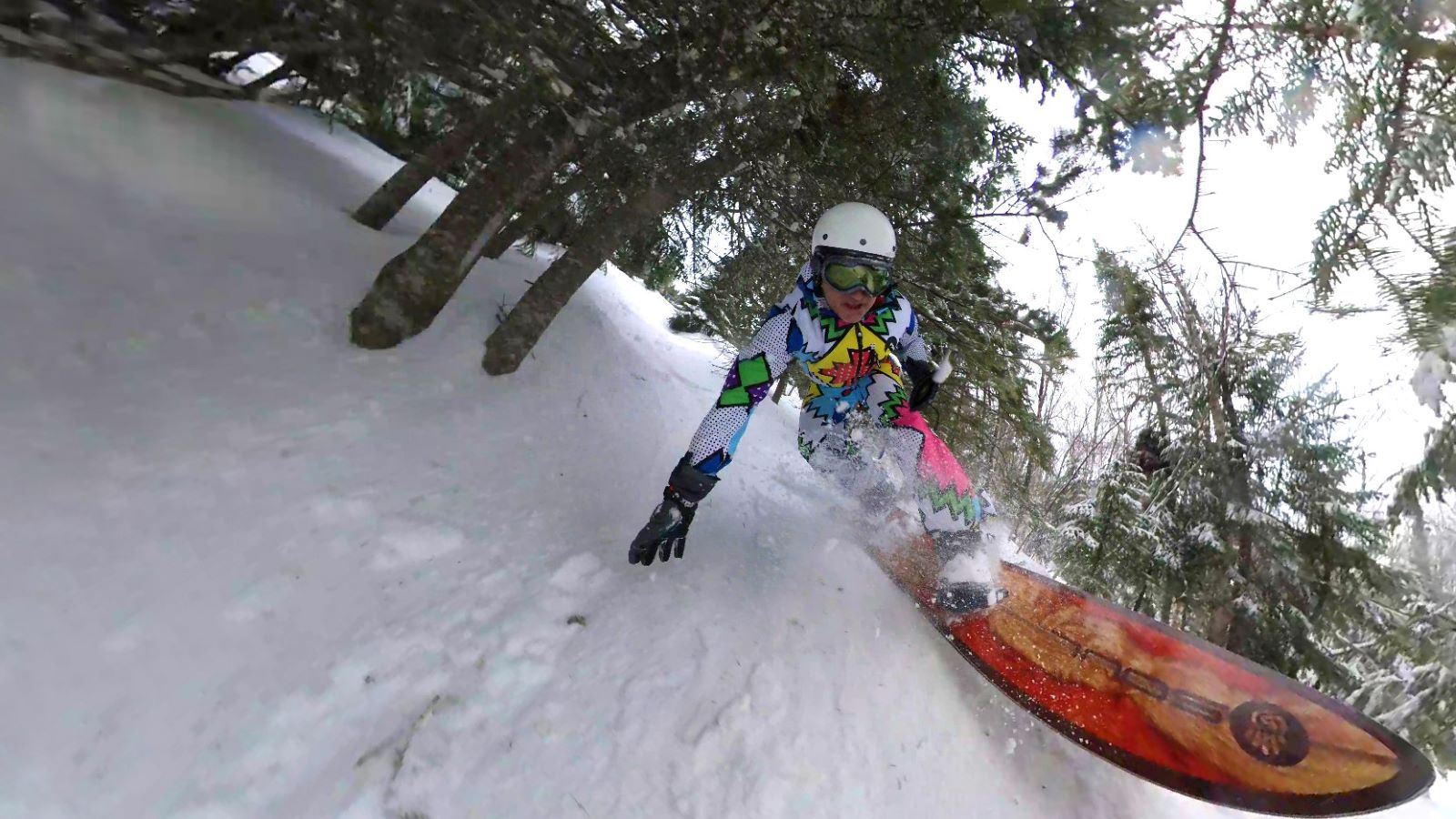 Taking Surfing to the Mountains: Soul Waterman Talks Snowboards
Combining his pro experience in snowboarding, kayak and SUP, plus multiple years as a surf coach with 30 years of designing and shaping, Corran Addison tells us about how his boutique brand – Soul Waterman – got started and the creative process behind his snowboard line.
Please tell us about the brand and how you got started.
I was a sponsored racer all through the 1990's until I started to make my own boards in 2000 under the brand 'Riot'. They were high-end carbon Kevlar builds and expensive, but it was a different market back then – kind of the time when all the "off brands" were being weeded out and the industry was falling in behind a few dozen big players. In 2004 we closed down the line. Then, in about 2009, I got onto an Original Sin 4807 volume shifted directional board, and it was a shazam moment. The following year I moved to California and was really focused on competing on the SUP Surfing World Cup, but when I returned to Canada in 2015, I knew that I wanted to adapt my snowboarding to snow surfing. I tried a whole bunch of boards, some I liked and some not so much, but all had some personality and uniqueness to them.
But here where I live it's often icy, and mostly crowded, so these perfect powder condition boards were not doing it for me. So, I designed and built one for myself. The goal was a board that I could "surf" on groomers as well as I could on powder. That was the Pitch Wing 155. Several friends tried it, loved it, and they all pushed me to produce it, so I did.
We started off with just the one design and making them ourselves, but we quickly outgrew our capacity to do that, and so the hunt began for somewhere that could make them to the same standards we were accustomed to.
Tell us about your product family.
It really grew organically, and honestly, quite selfishly. My son was just 3 when I started Soul Stick, and he was struggling on his rockered, curved base twin tip. I realised that a smaller version of the board I was on (in concept, not specific design) would help him stop his helicopter-to-crash sequence every time he tried to turn, and so I made him this little 105 swallowtail (that had a shorter edge length than his 90cm twin). The same thing happened when other parents put their kids on it and they progressed immediately, so we put that in the line.
Then my wife wanted a board – she was also an ex-hard booter and likes to carve, but she's also a surfer and wanted those sensations too, but she didn't gel with the 150 Pitch Wing that I was by then making, so I did the Girl Powder.
Slowly as my son grew and his skills with it, he needed new boards, and as my bag of tricks and how I was snow surfing grew, I wanted more specific boards for certain conditions or moods, and the line just got a life of its own.
Of course, eventually as we got more and more retailers, and they started to ask for specific designs, we started to develop boards that were not necessarily just want we wanted, but boards that could take our company focus and style to a broader range of users.
What sets you aside from other multi-boardsport businesses on the market?
We make surfboards, and paddleboards, and WW kayaks and snowboards. I was an Olympic kayaker, a sponsored snowboarder for a decade and have competed in the world cup for SUP surfing. So, I think the fact that as the shaper/designer for Soul, my experience at a top level in each of these categories, but all under one roof, gives a level of "expertise" combined with a constant vision and feel that few other companies have. They can hire experts, but there isn't necessarily one person in charge that is an expert in all those fields.
How did Covid 19 affect your business and distribution, especially in winter goods?
As sad as Covid is, and the devastating toll it's had on millions of families around the world, from a purely business perspective, it was good for us. It arrived right at the moment where we had the distribution, the line, and the experience to produce and distribute our boards; this preparation allowed us to take advantage of the massive explosion in outdoor sales. If it had arrived a year earlier, we would have been passed by. Instead, we've grown as a company by 200% across our summer and winter lines. The lion's share of this has been our kayak line, but the snowboards are a close second.
Why should retailers stock Soul Waterman?
We are unique. Our story is unique, our boards are unique. They're not for everyone, and we're not trying to be. We're a high end, performance focused brand whose vision is steadfastly on taking the surfing experience to the mountain, be it groomer or powder. If you have customers that are looking for that experience, then I believe we're one of the better options out there.