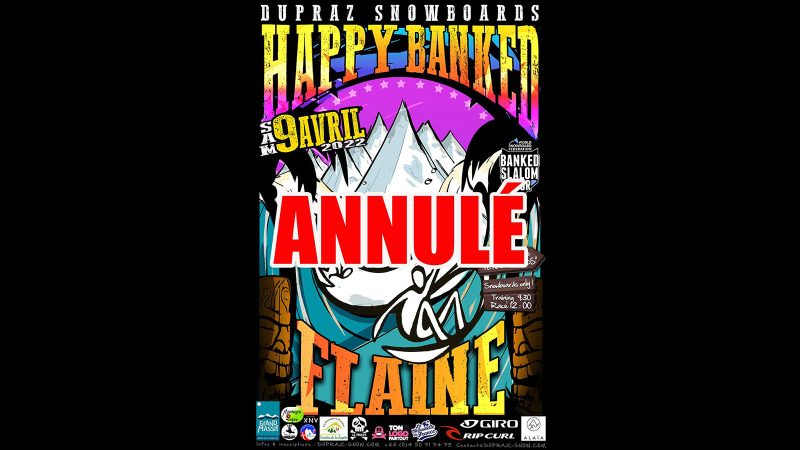 Poor Weather Forces Dupraz Happy Banked Slalom 2022 Cancellation
The weather isn't on Dupraz' side in France this weekend and as a result, they've decided to cancel 2022's comeback Happy Banked Slalom.

From the founder of Dupraz Snowboards, Serge Dupraz:
It really hurts deeply to cancel an event that gathers our snowboard community for a day of fun, especially considering that we had no race last year either due to the pandemic. We just had a great day in Leysin Switzerland on the first stop of the Dupraz Happy Banked Slalom race a few weeks ago. Lifts are spinning again this season in France and we have been super excited to return to Flaine to see our friends again after the race got cancelled in 2020 due to the Covid-19 pandemic.
We already had more that 120 riders registered but unfortunately the weather gods are not with us this year and we feel it's better to cancel this years race. We prefer to do a world class event instead of forcing through a mediocre race course with bad conditions and ultimately a bad experience for the riders.
It's a shame because our staff at Dupraz snowboards and the le Corbaks crew had worked hard in the planning of this years "comeback" to the resort of Flaine in France on Saturday April 9th 2022.
But after checking the weather forecasts and following a site inspection yesterday it was clear that it would be very challenging to create the race course needed and with heavy snow and rain in the forecast the decision had to be made to cancel this years edition.
The resort of Flaine has been a great partner over the years. Since our first Dupraz Happy Banked Slalom back in 2007 we have done 7 successful Banked Slalom races in Flaine and we look forward to coming back stronger next season.
The Banked Slalom discipline is race that combines the basics of three boardsports, mixing the techniques of snowboarding with those of surfing and skateboarding, staying fluid and fast is key to finding the fastest line and winning the race while enjoying the sensation of the ride down the course. The Dupraz Happy Banked Slalom offers a friendly format accessible to all riders of all skills for maximum fun and we look forward to seeing all riders next season.
Not only is Serge Dupraz credited by the global snowboard industry with inventing the sidecut for better turns and control, ultimately inventing carving, Serge also helped resurrect the Banked Slalom race scene in europe with creating events and shaping "best in class" race courses for the past 15 years.
With Serge Dupraz's experience as a snowboard shaper and banked slalom course designer with more than 50 banked slalom courses shaped during the past 2 decades, the Dupraz Happy Banked Slalom courses is a guarantee to give riders and spectators a great experience testing their skills in the race against the clock, riding the hand shaped course with twisty curves and banked turns.
Thanks to our partners the tourist office and ski lifts of Flaine, Rip'Curl Europe, Giro snow, Alaïa Group, La Chaussette de France, TonLogoPartout, LePoulpe, La Fruitière de La Chapelle and the WSF.
For a recap from this year's event in Leysin (where both the mens winner and women's second and third were riding Dupraz D1 snowboards) please click this link: https://dupraz-snow.com/en/report-dupraz-happy-banked-leysin-2022/