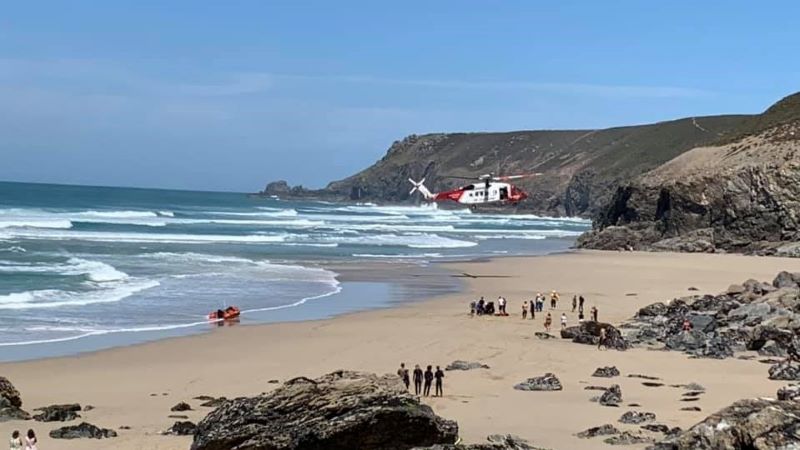 Carve Magazine's Steve England + 6 Surfers Receive National Bravery & Life Saving Award
Steve England, Editor of Carve Magazine, his son and 5 others have been awarded national bravery and life saving honours by the Royal Humane Society for saving the life of a fellow surfer. The guys will be given their certificates on April 29.
Press Release:
TOP NATIONAL HONOURS FOR SEVEN CORNISH LIFE-SAVERS WHO FORMED IMPROMPTU SEA RESCUE TEAM
A lone surfer who was spotted face down and unconscious while out on his board off the North Cornish coast owes his life to seven Cornish heroes who formed an impromptu rescue team and dragged him unconscious back to the safety of the beach and then fought a life and death battle to bring him back from the brink of death.
The surfer, Jonathan Davies' close encounter with death happened on the afternoon of 25 May 2020 at Chapel Porth Beach.
Jonathan was out on the water which was running with a 12 ft swell when he lost consciousness and fell face down in the water.
However, Steve England and his son Alfie, 17, from St Agnes were also out surfing and Alfie spotted Jonathan in the water. They fought through a gap in the waves to reach Jonathan and then managed to get his head above water.
They were then joined by Joel Henthorn of St Agnes, Chris Ingram from Porthtowan, Jos Lawrence of Redruth, and Jason Ledger from Camborne. Between them they managed to administer rescue breaths to Jonathan as they pulled him back to shore through the swell.
By the time they got him on the shore he was blue, unconscious and had stopped breathing. Moss Thomas, an off-duty RNLI lifeguard then joined them and immediately began administering cardiac pulmonary resuscitation (CPR) while Teah Munro from St Agnes who had also rushed to the scene ran two kilometres to alert beach wardens and collect a first aid kit.
An air ambulance helicopter then arrived and paramedics took over, and thanks to the treatment he had already received Jonathan went on to recover from his ordeal after two days in hospital in an induced coma.
Now the seven rescue heroes have all been awarded national bravery and life-saving honours by the Royal Humane Society. Steve and Alfie England, Joel Henthorn, Chris Ingram, Jos Lawrence and Jason Leger have all been awarded Testimonials on Parchment.
Moss Thomas is to receive a Resuscitation Certificate and Teah Munro a Certificate of Commendation.
They have all, also won the praise of Andrew Chapman, Secretary of the Royal Humane Society for their "fantastic team work."
"They all got together and formed a team to save Jonathan," he said. "It was fantastic team work for seven people thrown together by an emergency and they did a superb job. Thanks to their swift action he was in the best possible condition when the paramedics arrived to take over and get him to hospital. And the reward was that his life was saved.
"They even had to give him rescue breaths as they pulled him through the heavy waves to get him back to the beach. That was an incredible fete in itself. If ever any-group of people deserved the awards they are to get they do. And of course they put themselves in harms way with during the pandemic with no thought for their own safety. Their only thought was to save Jonathan. They were all true heroes."
The roots of the Royal Humane Society stretch back more than two centuries. The Queen is its patron and its president is Princess Alexandra. It is the premier national body for honouring bravery in the saving of human life.
It was founded in 1774 by two of the day's eminent medical men, William Hawes and Thomas Cogan. Their primary motive was to promote techniques of resuscitation.
However, as it emerged that numerous people were prepared to put their own lives at risk to save others, the awards scheme evolved, and today a variety of awards are made depending on the bravery involved.
The Society also awards non health care professionals who perform a successful resuscitation. Since it was set up the Society has considered over 87,000 cases and made over 200,000 awards. The Society is a registered charity which receives no public funding and is dependent on voluntary donations.
It was one of a select number of organisations to receive a donation from the Patron's fund which was set up to acknowledge work done by organisations of which the Queen is the patron, to mark her 90th birthday.
"So happy Jonathan is alive today. I still can't quite believe we got him back," said Steve
"I'm very proud of Alfie. If he hadn't spotted Jonathan and immediately acted it would have been a completely different story. Alfie, Jonathan and I got pretty battered by a set, and it was pretty heavy for a while as Jonathan was unresponsive, blue in the face and had pretty much drowned. But we knew the crew were coming to back us up.
"Alfie and I would also like to thank Paul Elcocks and Sam Russell for their actions in the water and Ben Skinner, Dulcie Havers, and Dominque Kent for the help on land. It was a full team effort."
The awards will be presented at a ceremony April 29th 2022 at the China Fleet Club, Saltash, Devon by Shaun Sawyer, Chief Constable of Devon and Cornwall Police.
Steve and Alfie sprint towards Jonathan who is unconscious and face down (circled) as a set approaches.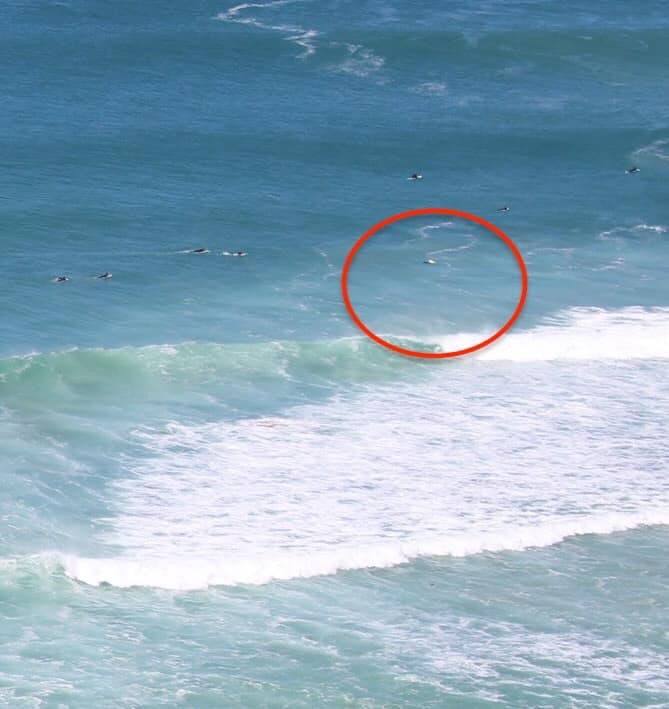 Coastguard helicopter turns up to take a now conscious but seriously ill Jonathan to intensive care.