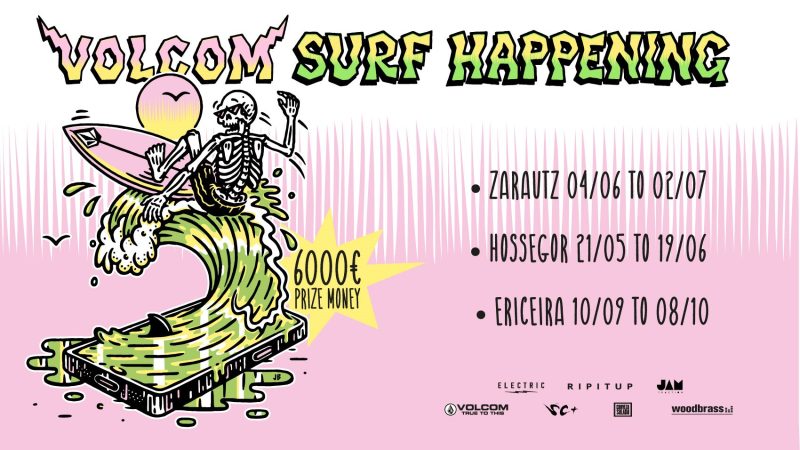 Volcom's Digital x Traditional Combo Contest 'Surf Happening' Returns for 2022
Volcom's hybrid in-person and digital competition is back! Surf Happening sees groms head to one of 3 locations, film their heat, and upload their best 2 waves to Insta where they'll be judged. Highest scorers then progress to the next round, with plenty of cash and gear prizes up for grabs for the winners.
Press Release:
VOLCOM SURF HAPPENING CONTEST SERIES FOR THE YOUTH!
Volcom is back with its contest series for the youth, combining the traditional surf competition heat format with the flexibility that modern digital tools offer!
The Volcom Surf Happening provides a proper and fair platform for competing surfers to battle it out at the most convenient location and time, as agreed upon by both competitors.
Follow @volcomhappening for contest updates and visit the VSH 2022 LANDING PAGE for more info!
For each division (Women and Men under 16 years old), and at each location, there are plenty of prizes up for grabs from Volcom, Jam Traction, Softboardcenter.com, Electric and Woodbrass, and Daddy Seal, plus 1000€ prize money, that's a 6000€ total!
HOSSEGOR | 21 MAY – 19 JUNE | registration is open and ends 19 MAY
ZARAUTZ | 4 JUNE – 2 JULY | registration starts 2 weeks before
ERICEIRA | 10 SEPTEMBER  – 8 OCTOBER | registration starts 2 weeks before