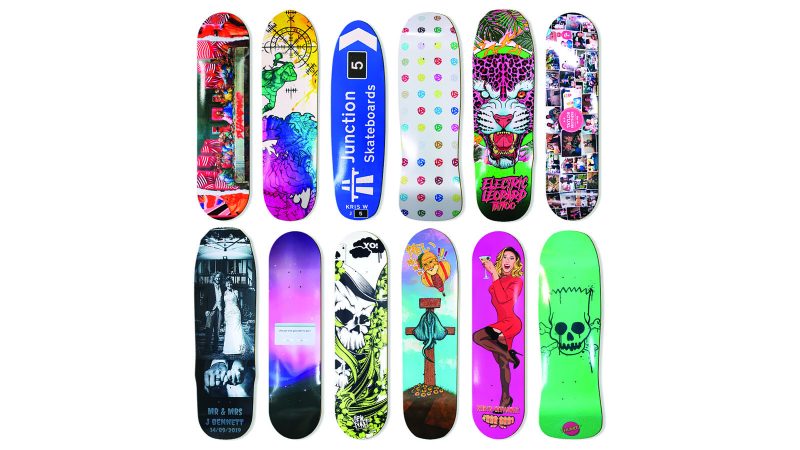 Not Just a Skate Distributor: I Five Runs D2C & B2B Deck Printing Services
UK-based i-Five Distribution have established themselves as one of Europe's finest skate distros and are now pushing the boundaries of what's possible in skateboard printing. We speak with company founder Adam Wood (who also started Karma Skateboards in 2002) about their cutting edge printing techniques and find out more about their setup.
Please could we have a history of I Five/skateboard printing and yourcustomskateboard.com
Growing up skateboarding, working in several skate shops and then as a buyer for a skateboard distribution company, it was a natural progression to start my own company in an area I already knew well. Subsequently, I Five Distribution was created in 2002. We started with importing unknown USA Skate brands like Capix, Randoms, Momentum & Colosseum. After a short while I saw there was room for another UK skate brand and created Karma Skateboards in late 2002 (now under different ownership). Over the years we had spent much time & money growing brands, importing, and distributing Deck Brands/Clothing Brands/Accessory Brands etc, but this version of our business model had some great success and a fair share of tough times too.
Why did you enter the skateboard deck printing market?
I decided to invest in our own printing equipment to run alongside the distribution operation as importing printed decks from the USA had become somewhat difficult. We wished to reduce errors and speed up customer order turnaround times. So by creating our own decks, we could control all production factors such as the deck quality, transfer printing and finishing. We now have much more flexibility and less money tied up in printed stock.
Tell us about your board printing set up.
We initially bought the first heat transfer machine in the UK back in 2007. This allowed us to create our own bulk/long run high-definition prints on our decks, and for our customers own brands of decks as well. In 2016 we were the first in Europe to develop a digital hybrid process which enabled us to print 'on demand' singular decks and short runs. We now have a B2B website www.skateboardprinting.co.uk and a B2C website www.yourcustomskateboard.com here's our 5 star rated trustpilot reviews. https://uk.trustpilot.com/review/yourcustomskateboard.co.uk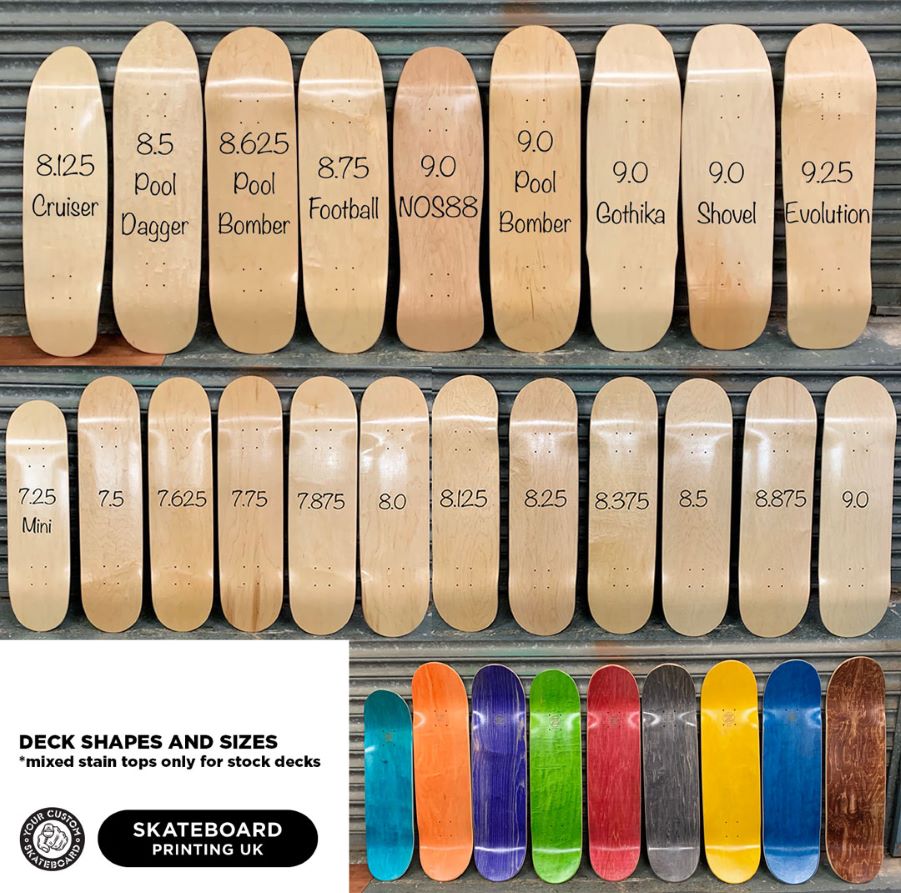 What printing options do you offer?
We have 23 shapes and sizes in 100% Canadian Hard Rock Maple. This consists of a full range of popsicle decks from a Kid's specific 7.25 mini popsicle deck right up to 9" popsicle, Old School shapes, Old school meets new school, 90's football shapes, Cruisers, Pool shapes etc. We also offer spot colour prints, CMYK Prints, Metallics, Full Digital Prints, Complete Skateboards, Stickers, Laser Cut Grip Tape, Printed Grip Tape, OEM Printed Wheels, OEM packets of Bolts. We also still distribute trucks, wheels, bolts, bearings, grip tape, T Tools etc.
Why do you feel this market has been so buoyant over the last couple of years?
Lockdown 2020 coincided with a long spell of great UK weather, bringing out all ages to try new activities, plus the old school skaters had the time and means to rekindle their love of skateboarding. The summer Olympics now featuring skateboarding were postponed to 2021 and this kept the momentum going through the dreary winter months. Sky Brown's popularity & influence attracting more girls & women to skate and 80's fashion & skate inspired clothing added to the revival. TV advertisements were and still are littered with positive messages such as the mental health benefits of skateboarding and primetime skate/BMX documentaries on terrestrial TV channels highlighting the inclusive culture of the skateboard community, create excellent positive messages.
What's the advantage for retailers and businesses to use your printing service?
Customers have confidence in our quality and attention to detail, as we sell only the very best decks. We have 20 plus years of industry experience and are still skater owned and work closely with our customers to ensure that their artwork is of the highest quality possible and make it easy for them to speak directly to us with any questions. We offer the option to purchase just 1 sample deck before committing to a bulk run. This is less scary particularly for someone for whom it's their first foray into getting their own brand of decks printed. On the green side our decks are pressed individually with an environmentally friendly water-based glue and our shrink wrap is fully recyclable. Finally, we have an exceptional eye for quality control and no duty for UK customers. We have (directly & indirectly) printed decks & completes for brands such as:
Sony, G-Shock, Virgin, 7UP, Mountain Dew, VICE, H & M, Jimmy Choo, Rolls Royce, DC Shoes, Cartoon Network, Uncommon, Universal Music (QUEEN 50th Anniversary) Hospital Records, Island Records, Sunday Brunch, Keith Lemon …to name a few.