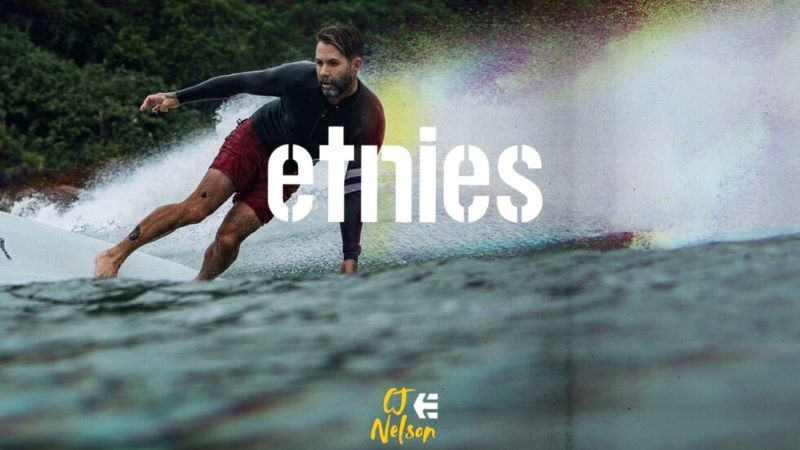 etnies Welcomes Mark "CJ" Nelson to Ambassador Team
The latest addition to the etnies ambassador team is CJ Nelson – a true Californian surfer. CJ and etnies will be working together on some exciting upcoming projects. 
Press Release:
ETNIES WELCOMES CJ NELSON
Today, etnies proudly welcomes Mark "CJ" Nelson to the team. While he is known for his surf career – there's a lot more to CJ than his ability to spend an unnatural amount of time riding the nose and his signature fast-and-unique style of wave riding is something to behold.
Born in Santa Cruz and raised by 90's skateboarding, CJ is also a designer, artist and business owner.
Surfing means everything to CJ, and from an early age he learned to keep fun as the number one priority. Influential surf videos that CJ had parts in during his career include _Sprout, The Present_ and _A Paradigm Shift_.
Known as a progressive long boarder – CJ remained inspired by skateboarding roots. He credits his skateboarding mentality and work ethic for his switch skate approach to nose riding.
Always interested in surfboard design, CJ was mentored and inspired by legendary shapers including Isreal Paskowitz, Herbie Fletcher, Darryl Butsko, Rich Harbor, Michel Junod and Bob Pearson. With more than 20 years as a professional surfer and designer, CJ combines his unique background in his design, art and creative work for brands.
He bleeds creativity coming from California's surf, skate and art culture. Similar to the etnies' DIY ethos as the first skateboarder-owned and operated footwear and apparel company, CJ is passionate about sharing the fun of surfing and offering others slices of his personal happiness through his surfboard shapes.
Look for more to news on projects between CJ and etnies arriving in time for summer.