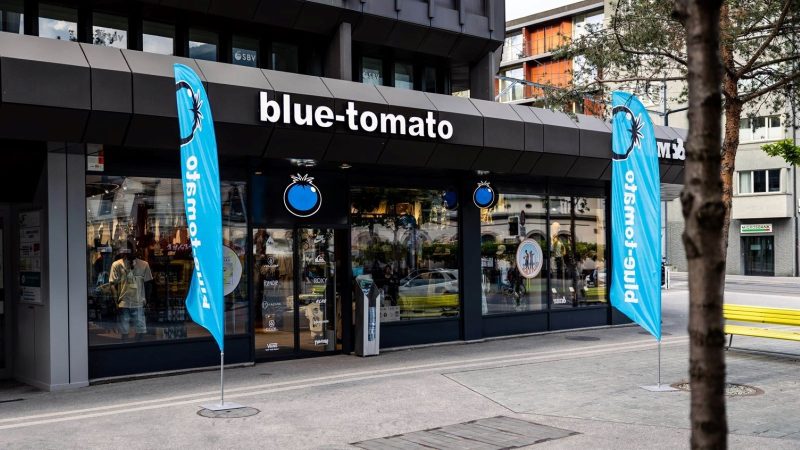 Blue Tomato Reaches 70-Store Milestone With New Store in Chur, Switzerland
Open 6 days a week (9AM to 7PM on weekdays and 9AM to 6PM on Saturdays), Blue Tomato has opened its 70th shop. The shop is in Chur, Switzerland – home to Blue Tomato's Best Foot Forward Tour 2022.
Press Release:
Blue Tomato opened its 70th shop

Austrian board sports and lifestyle specialist continues to expand – New, 230 square meter shop moved into Chur in eastern Switzerland – The omnichannel retailer operates locations in Germany, Austria, Finland, Norway, the Netherlands and Switzerland The international board sports and lifestyle specialist Blue Tomato (blue-tomato.com) continues to expand and has already opened its 70th shop in Chur. The Austrian company, headquartered in Schladming, moved into a sales area of ​​around 230 square meters in the center of the city in the eastern Swiss canton of Graubünden. With more than 450,000 products and over 600 employees, Blue Tomato is one of the world's largest online retailers in the snowboard, freeski, surf, skateboard and street style sectors. In recent years, the presence in stationary trade has also been greatly expanded.

"The opening of our 70th location is another milestone for us and of course something special," says CEO Adam Ellis about the new shop in Chur. "In addition to the successful expansion of our online presence, we are also constantly pushing ahead with the expansion of physical shops. Our goal is to be as close as possible to our customers, to promote personal contact and to offer a seamless shopping experience by connecting our web shop with our stationary stores."

Former European snowboard champion as company founder

Blue Tomato was founded in 1988. The former European snowboard champion Gerfried Schuller opened his first shop with products for snowboarders in the Schladming sports region. The Styrian soon recognized the great sales potential on the Internet and went online with his website blue-tomato.com in 1997 , which has since grown into one of the world's largest online shops with a huge selection of snowwear, streetwear, sneakers and accessories for women, men and women children as well as the right equipment for snowboarders, freeskiers, skateboarders and surfers.

Omnichannel retailer with a special service

The blue-tomato.com site registers up to 125,000 visitors a day – and the trend is rising. The web shop has long been available in 14 languages. You can also order via smartphone, via live chat with the international Blue Tomato Customer Service, or directly in a shop if the product is not in stock locally. Special service of the omnichannel retailer: Customers can optionally have their online order delivered to one of the Blue Tomato shops free of charge and pick it up there. If an item does not fit, the order will be exchanged immediately in the shop.

New shop right next to the train station

Tillmann Ruprecht, Director of Sales & Service, is delighted with the opening of the new, 230 square meter store at Steinbockstraße 2, right next to the lively Bahnhofplatz: "The hip styles from top brands like Burton, Volcom, Thrasher, adidas Skateboarding, Vans , Nike SB, Globe or Rip Curl transform our new shop into a true paradise for everyone who shares our passion for snowboarding, freeskiing, skateboarding, surfing and street style. We offer the best selection of fashion and the right equipment for our sports." In addition to shop manager Francisco Couto, four employees will be employed in the new shop in Chur. In addition to the locations in Basel, Bern, Fribourg, Geneva, Lausanne, Lucerne, St. Gallen,

All information about the new shop in Chur is available online at: www.blue-tomato.com/shop/chur, www.facebook.com/bluetomatoshopchur,
instagram.com/bluetomatoshopchur .

By the way: Chur is also a venue for the big "Best Foot Forward Tour 2022". On July 2nd, the largest amateur skate contest in Europe will be held in the Betongarta skate park. All information is available at www.blue-tomato.com/bff .