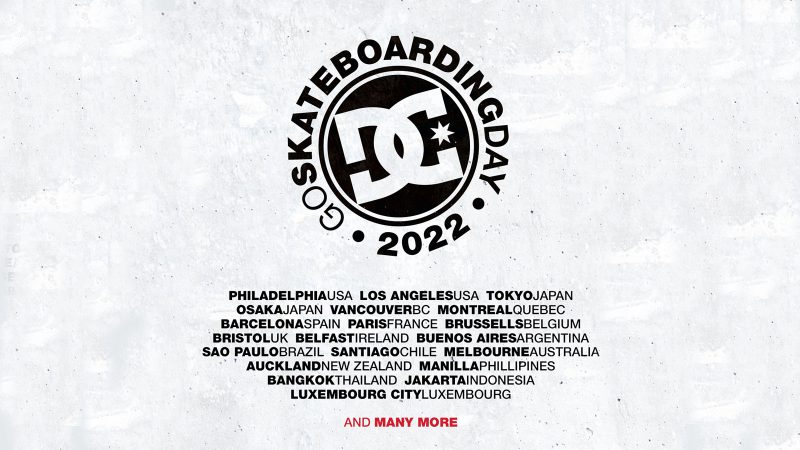 Worldwide DC Treasure Hunt for Go Skateboarding Day 2022
DC is celebrating Go Skateboarding Day 2022 by doing a massive, worldwide treasure hunt. Find a voucher hidden in a participating city & win a pair of shoes.
On June 21, in partnership with selected accounts, the DC team will be hiding a selection of vouchers for gear and cool DC stuff in many streets around the world.
Simply check the list to see which cities are taking part, then take your board and get searching. It could be a skatepark, an iconic skate spot, or could be near your closest skate shop.
If it's your lucky day, take your voucher to the local skate shop and choose your fav pair of DC shoes, then share a pic of your winnings on your social with the tags:
#DCGSD22
#GoSkateboardingDay2022
#GSD
@dc_skateboarding
International Cities
Auckland, New Zealand / Melbourne, Australia / Tokyo, Japan / Osaka, Japan/  Barcelona, Spain/ Paris, France / Luxembourg City, Luxembourg / Bruxelles, Belgium / Bristol, UK / Belfast, Ireland / Philadelphia, PA, USA / Los Angeles, CA, USA / Vancouver, BC / Montreal, Canada / Manilla, Phillipines / Bangkok, Thailand/ Jakarta, Indonesia / Santiago, Chile / Sao Paulo, Brazil / Buenos Aires, Argentina
European Cities
GERMANY
Straubing, Fulda, Wurzburg, Worthsee, Grafenwohr
AUSTRIA
Wien, Linz
SWITZERLAND
Zurich, Geneva
SPAIN
Barcelona
FRANCE
Bordeaux, Saint Jean de Luz, La Rochelle, Limoges, Angouleme, Avignon, Marseille, Aix en Provence, Nice, Six Fours, Paris, Nantes, Brest, Cherbourg, Lorient, Epinal, Reims, Besançon, Lyon, Strasbourg
BENELUX
Luxembourg
Luxembourg City
Belgium
Antwerp, Kortrijk, Namur,Bruxelles, Bruges, Gent, Oostduinkerke, Mechelen, Saint Ghislain, Hasslet, Leuven, Tournai, Oudenaarde, Louvain La Neuve, Mons, Knokke, La Louvière, Oostende
Netherlands
Nijmegen, Breda, Amsterdam, Haarlem
UK
Bristol, Newquay, Leeds, Brighton, Nottingham, Colchester, Dundee Ireland /Belfast, Dublin
ITALY
Torino, Florence, Roma, Sassari
And more ..