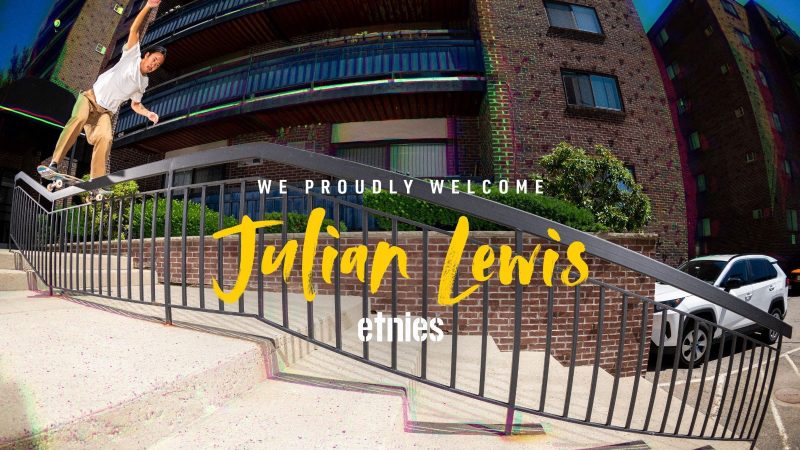 Julian Lewis Newest Member of etnies Skate Team
From the East to the West, Julian Lewis has developed his style in the USA's most popular coasts. He's also the newest member of the etnies skate team.
Press Release:
ETNIES PROUDLY WELCOMES JULIAN LEWIS
Today, etnies proudly welcomes Julian Lewis to the skate team.
Watch Julian skating the etnies Marana Slip XLT in his Welcome to the Team edit here:
"I've been skating with Julian for years and he's about as gnarly as it gets when it comes to skating rails."
– Jake Wooten
"From colossal kickers to crusty alleyways Julian's got it all under his belt, his name is one to remember."
– Aidan Campbell, etnies team manager
Originally from the East Coast, Julian is currently living in Long Beach, CA – a place with lots of friends to meet up with and skate. It's obvious he's been taking full advantage of the great West Coast weather and filming non-stop. Julian had the opening part in Foundation's Star & Moon, and followed that up with the heavy closing part in the latest Foundation Splendor video.
Julian is in good company joining this squad. The etnies team is Aidan Campbell (team manager), Andy Anderson, Aurelien Giraud, Barney Page, Chris Joslin, Jake Wooten, Matt Berger, Nassim Lachhab, Nick Garcia, Ryan Sheckler and Trevor McClung.
To keep up with etnies, be sure to follow and like:
https://www.etnies.com
Instagram
Facebook
YouTube