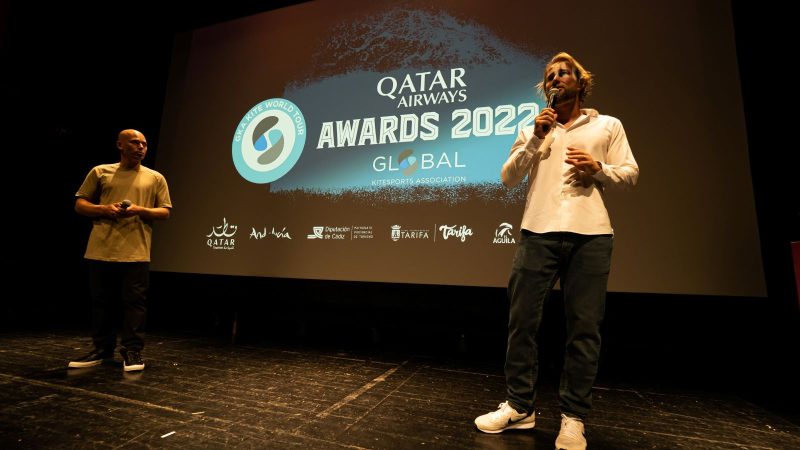 Qatar Airways Global Kiteboard Association (GKA) Awards 2022
Saturday June 25 saw the Qatar Airways GKA Awards night with nearly 300 industry representatives, riders and special guests gathered together at a  red-carpet event in Tarifa to celebrate some of the greatest achievements of  kiteboarding in 21/22. The awards ceremony took place during the Qatar Airways GKA Big Air World Championships event window in Tarifa. This awards event was a very important night for the GKA  and the whole kite industry as it marked the official beginning of the partnership with Qatar Airways as headline sponsor of the GKA Kite World Tour.
The award voting format was as follows:
After a survey of the kiteboarding industry to build a list of nominees, the public voting phase ran into early June and counted towards 33% of the overall vote. A specialist legends & media committee made up another 33% of the vote and, finally, the GKA Kite World Tour judges and crew cast the remaining third of the vote on the final contenders. The exception was the Rookie of the Year award which was exclusively voted on by GKA judges and world tour crew.
The five awards and winners were:
Women's Move of the Year
Mikaili Sol with a Slim 7
Men's Move of the Year
Giel Vlugt's S-Loop
Rookie of the Year
Finn Flugel
Best Social Contribution of the Year
Willow River Tonkin
Female Rider of the Year
Mikaili Sol
Male Rider of the Year
Giel Vlugt
As a special bonus, both the Rider of the Year winners also received two business class return tickets each to Doha, courtesy of Qatar Airways, where they will have the chance to visit the brand new Fuwairit Kite Beach resort that's opening in the autumn!
A full list of awards nominees can be found here.