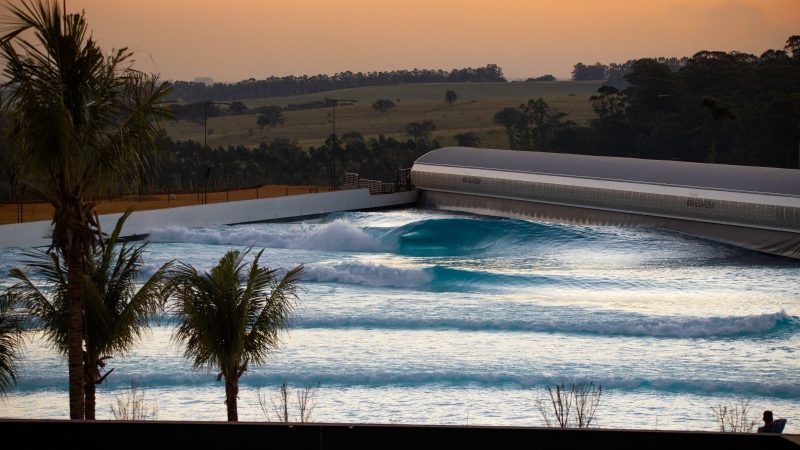 KSM Realty & Wavegarden Demonstrate Success Of Combining Housing With Waves
Wavegarden and KSM Realty, a Brazilian estate agent, have formed a 10 year partnership following the success of their experimental housing estate which combines housing with a purpose built wave garden & leisure complex.
Press Release:
WAVEGARDEN AT HEART OF SUCCESS FOR BRAZILIAN REAL ESTATE DEVELOPER
The accomplishment of Praia da Grama near São Paulo has led to the creation of a 10-year deal between Wavegarden and Brazilian KSM Realty.
With a Wavegarden Cove as its center-piece, Praia da Grama is considered a success story in the real-estate sector because it has created a new niche never explored until now.
Developer Oscar Segall confirms that the Wavegarden Cove is a powerful drawcard to drive property sales.
Located just 45 minutes north of São Paulo, the success of Praia da Grama – a real estate development with a Wavegarden Cove as its center piece – has led to the creation of a 10-year partnership between KSM Realty and Wavegarden.
Oscar Segall, KSM Realty CEO and Partner, is extremely excited about the success of Praia da Grama after a year in operation. "The demand was there, people understood the value of the Wavegarden Cove technology and the value of having an inland beach 1 hour from São Paulo," expressed Segall.
The implementation of Praia da Grama, a private condominium with the world's first tropical beach and Wavegarden Cove surfing facility, sent land sales skyrocketing while establishing a location to bring families together. This was the turning point for Segall, who decided his team had to continue investing time and resources to share this concept with the rest of the world. "Our team created a paradise on earth and the happiness of our clients is like nothing we have ever seen," said Segall, a visionary with 30 years' experience in project development.
In response, Wavegarden´s Co-founder and CEO Josema Odriozola, expressed his viewpoint. "The entire company is proud of the evolution of our wave-making technology and surrounding beach landscapes, which are improving the quality of life for many people who live inland."
Today, Praia da Grama is considered a success story in the real-estate sector because it has created a new niche never explored until now. Back in 2019, shortly after announcing the inclusion of a Wavegarden surfing lagoon, Segall witnessed property transactions rise from 10 to 60 in a matter of months. Before the final release of property allotments, he had a list of 500 client reservations – a good problem to have when you're in the real-estate sector. "I can guarantee that this amenity [a Wavegarden Cove] is very, very powerful."
Not only did sales escalate, but also property value. The land price rose from US$60 per m2 to US$220 per m2 after the announcement went public. In the following 18 months, land value continued to increase until it hit US$500 per m2, a hike that surpassed all predictions. "In all my years as a project developer, I have never seen the value of lots escalate as much as we have seen at Praia da Grama. It was beyond all our expectations."
The vision for Praia da Grama was to bring the interests of everyone into one unique place, to create a multi-generational destination with activities to unite kids, adolescents, parents and grandparents. And, while the restaurant, bars, volleyball, tennis, gym, swimming and spa facilities are teeming with residents each week, the real hub of activities is around the beach and waves.
"It makes me really happy to see families spread out along the beach and in the water, enjoying the waves and enjoying their time together. This is where they always gather," added a delighted Segall.
In parallel, Wavegarden continues developing public surf parks. The location of projects that are presently in the pre-construction and construction phases include Garopaba, (South Brazil), Sydney (Australia), Coachella and Virginia Beach (USA).
To receive more information or set up an interview, please contact Amaia Iturri at [email protected] or visit our website www.wavegarden.com