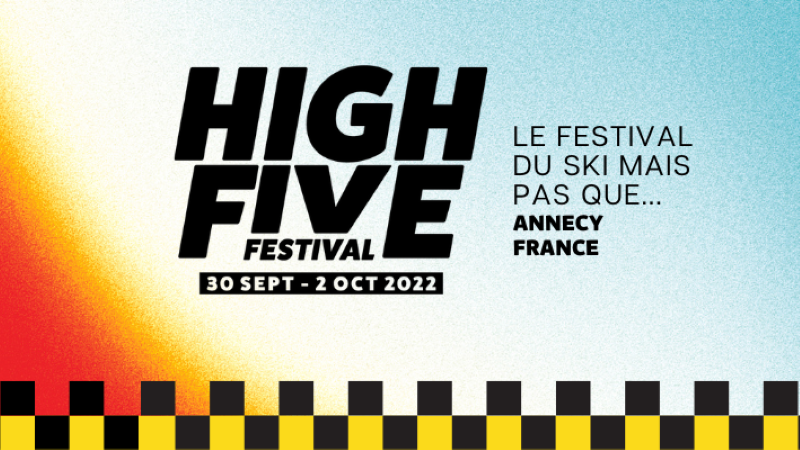 High Five Festival Bringing Over 120 Sports Films to Annecy, France
The High Five Festival in Annecy is back for its 12th year… and it's expanded. From skiing and snowboarding to now featuring mountain biking, climbing, paragliding, trail running, skateboarding and wakeboarding. 
Press Release:
OVER 120 SKIING MOVIES – AND THAT'S NOT ALL…
THE PROGRAMME IS ONLINE, TICKETS ARE NOW ON SALE
After a scorching summer, snow enthusiasts are feverishly awaiting the return to the slopes and hoping there will be no shortage of white gold this season… But before the peaks turn white again, fans are spending time to discover the previews of the winter skiing films that will mark the High Five Festival.
With over 20,000 visitors in recent years, the festival marks the end of summer and the start of the winter season and brings together the superstars of the international outdoor scene on the red carpet.
In more than a decade, it has become a reference for all those who are passionate or curious about the world of snow sports, skiing and the mountains.
In this 12th year, the festival is making a transition to a four-season event: skiing and snowboarding of course, but also mountain biking, climbing, paragliding, trail running, skateboarding and wakeboarding will be on the bill.
Over 120 movies will be shown in the indoor and outdoor cinemas in the presence of the athletes who feature in them from the afternoon of Friday, 30 September to early evening on Sunday, 2 October.
MESSAGE-BEARERS
The time has come when the great names of the outdoor world are preferring to use their fame to convey important messages rather than thrilling us with yet another amazing ride. This applies to, among others, the French extreme snowboarding legend, Xavier De Le Rue who, following a traumatic accident caused by an avalanche, talked with German pro snowboarder Elias Elhardt about the part they play as role models and their dedicated, and often risky, approach to freeriding.
Continuing on this theme, Part of Us, directed by Norwegian pro rider, Jacob Wester and his wife Sofia on camera, shows how the fears and doubts generated by the danger and risk of their sport sometimes put their love to a harsh test.
In Fragments Choisis (highlights), directed by Alicia Cenci, the twice world freeride champion Elisabeth Gerritzen looks back on her career while saying out loud what many women skiers secretly think. The woman who has always criticised the hyper-paternalistic and patriarchal aspect of the skiing industry gives us a glimpse of her daily life in a long and intimate interview interspersed with images of her skiing exploits.
In another style, the short film Beyond Begbie (named after the iconic peak overlooking the Revelstoke Valley), explores the notion of territory and heritage and puts them into perspective in terms of mountain sports.
COMMITTED ATHLETES
In this time of climate crisis, outdoor athletes have a front row seat from which to observe the impact of this change on their daily playground. Indeed, most of them are now approaching their sport with a much more conscious and responsible attitude, now demonstrating more humility and authenticity in contrast to their past, more careless and ostentatious, behaviour. Various athletes, directors and brands are taking this stance at the High Five Festival 2022.
Leading the way is director and pro skier Gaëtan Gaudissard, who meets athletes like snowboarder Mat Schaer and skier Victor Galuchot, who changed their usual approach to reduce their impact on the environment. The result is a series entitled Conscience, la Série (conscience, the series).
Moving on to something different, we come to Le Chemin (the route), a 54-minute documentary by surfer-director Arthur Bourbon who retraces his journey by bicycle from the Basque country to Brittany. Arthur meets surfers with inspiring commitment and fascinating journeys through life on the way.
WOMEN WHO PACK A PUNCH!
From the film Recipe, featuring Coline Ballet Baz and her gang of freestylers with personalities as forceful as their talent on skis is impressive, to a skiing expedition to discover the mythical routes in the fjords of the Arctic Circle (Polar Lines), via Juliette Willmann's logbook from the Freeride World Tour stage in Chamonix and the steep slopes of Norway (Making the Most of It)… Outdoor  portswomen are packing a punch, and how! Special mention also goes to Estonian snowboarder Ivika Jürgenson, who will present Vitamin, where she describes how a winter of (hard) riding allowed her to fight a post-traumatic syndrome. The result is an anthological piece of street riding that could be shortlisted for the Rider of the Year award.
In the world of mountain biking, a shout out to Overcome, the spectacular short film by rider Morgane Jonnier. We see her negotiating a huge gap in Veyrier, a feat only men have achieved until now. The 3-minute video reveals her stress, doubts and also the path to letting go and joy.
In short, in no way are the women here to make up the numbers and, above all, prove they don't need the guys to exist! They are (finally) taking centre stage and nobody can argue with their incredible standard; in any discipline…
PURE ACTION AND THE NICE GESTURE
Whether it's blockbusters courtesy of American mega productions or more modest projects from small collectives or the athletes themselves, High Five again has so much to offer to festival-goers. With stratospheric tricks, breath-taking landscapes and dizzyingly fast chutes, the 2022 High Five programme has lots of exhilarating movies in store.
The unmissable MSP, which celebrated its 30th anniversary in 2021, has once again chosen Annecy to screen its new work, Anywhere from Here, for the first time as preview before the world premiere. A heady mix of pure freeskiing featuring Sam Kuch, Markus Eder, Mark Abma et Emily Childs among others.
The same can be said of TGR with Magic Hour: 1 hour and 20 minutes in the company of past and present ski and snowboard megastars in search of the 'magic hour' when the light is perfect to capture unforgettable shots.
Look out for Level 1, who are presenting a teaser in the form of one of the segments of Full Circle to come in 2023, made by Trevor Kennison, the boss of freeride handiskiing. Trevor was left wheelchair-bound at the age of 24 after a serious snowboarding accident in Vail, Colorado in 2014, and in this film, he returns to the area of his accident to perform a masterful double backflip on a wheelchair ski.
Henrik Harlaut, one of the most influential freeskiers of his generation, bronze medallist in big air at the last Olympics, will of course be attending, as he does every season. He will present Pueblo, the second movie produced by his clothing brand, Harlaut Apparel, in which he co-stars with Isaac Simhon, Valentin Morel, Noah Albaladejo, Eirik Moberg and Morten Grape.
Many pro riders have chosen the High Five to present their latest video as a preview alongside these American giants, like the Finnish maestro Antti Ollila, the Norwegian Øystein Bråten, the Olympic slopestyle champion who is seen trying things out in his playground in the Arctic Circle, or the American Cole Richardson in British Columbia, or Frenchman Julien Lange whose film's title, Straight Line Project, says it all. Don't miss Alta, a spring freeskiing session in Utah immortalised by the Faction Skis, Deviate Project, the third movie from the collective formed by Torin Yater-Wallace and Jossi Wells, or Y from the Buldoz team who again join forces to shred everything in their path.
THE HIGH FIVE NEWBIES
The festival welcomes its share of unclassifiable films every year, and 2022 is no exception… starting with Punk… A documentary on the left-field of all the others, in the ski lines of Enak Gavaggio, one of the most successful French skiers and multi-medallist at the X-Games. He has been hiding behind pseudonyms for over 20 years: Rancho, Dark Lord, Têtard… A journalist who has followed him throughout his career investigates to discover his true identity. Through dozens of testimonies and almost as many sessions on the couch, she attempts to unravel the mystery of the skicross star, through his many quirks and traits. We end up with a true portrait of an athlete and an extraordinary person who has always managed to come back from his failures again and again…
Another nugget in the 2022 programme is a nod to the festival's '80s theme this year: Apocalypse Snow #1. Released in 1983, the first episode of the series celebrating snowboarding set the scene for an iconic phenomenon. Directed in Les Arcs by Didier Lafond and starring snowboarding legend Régis Rolland, it is based on a kitschy scenario: evil monoskiers try to capture a nice snowboarder to steal the secret of snowboarding. In the series of unclassifiable movies, we can't forget Lalodge TV, the series by Hugo Laugier directed by Jeremy Pancras which, for its 5th episode, invited Martin Fourcade to share his version of skiing.
BEYOND THE WHITE GOLD…
2022 marks the opening up of the High Five Festival to movies from more eclectic sporting backgrounds than just snow sports. Mountain biking in particular has a major film at this year's High Five Festival: South America, the new video that extreme mountain biking icon Kilian Bron brought back from his recent trip to Peru.
On a different note: the short climbing film, Pablo, charts the quest for the most beautiful 8a climbs in France by the young Belgian climber Florent Quint. This was environmentally responsible quest, as Florent travelled around France on a mountain bike.
The High Five Festival also features skateboarding movies this year, including Candy, a 60-minute documentary that looks back at the successful career of 30-year-old Dutch skateboarder Candy Jacobs, who broke all the barriers of women's skateboarding, right up to her participation in the Tokyo Olympics, where she was forced to spend the entire Olympiad confined to a room after testing positive for COVID.
The High Five will not forget to celebrate the top French mountain discipline: trail sport, by hosting the 5th episode of Fringale (craving) by the ultra-trailer Michel Lanne, winner of the UTMB. This time, we accompany him as he crosses the Aravis mountains via the crests where the landscapes are as dazzling as the performance of this exceptional athlete.
DREAM DESTINATIONS
Exploring the world is a popular pastime for outdoor enthusiasts and, after being stuck at home for two winters in a row, they once again set out to discover unknown territories in search of the ultimate playground. This is the case of skiers Maxime Aubry and Aurélien Lardy, who travelled to Peru with 6 other skiers to bring us Upurkushun, a 45-minute documentary full of humour and excellent riding.
Balkan Express, produced by Arcteryx, follows the adventures of Max Kroneck and Jochen Mesle in search of snowy slopes across eleven countries between Greece and Germany. 2,500 km on a mountain bike from Thessaloniki to Munich, more than 200 hours of travel, one flat tyre, nine unforgettable days on skis, and an infinite number of smiles!
French freeriders Oscar Mandin and Sébastien Varlet went off to explore the Georgian slopes and culture, meeting local guide Nick Phaliani on their way, who describes how skiing and tourism have changed his village. They returned with a heart-warming 20-minute film, Lukmed.
The Scandinavian region has always been a hot spot for skiers. It was one of the destinations of Team K2 last year, with Joss Christensen, Ferdinand Dahl, Johanne Kill and PK Hunder and Joona Kangas among others. SLVSH was with them, and produced 14-minute work, Trifecta, a compilation of their exploits in powdery snow, park and street.
72 movies at the Pathé d'Annecy cinema: 12€ a session
50 movies at the Pâquier outdoor cinema: entry with the High Pass 5€