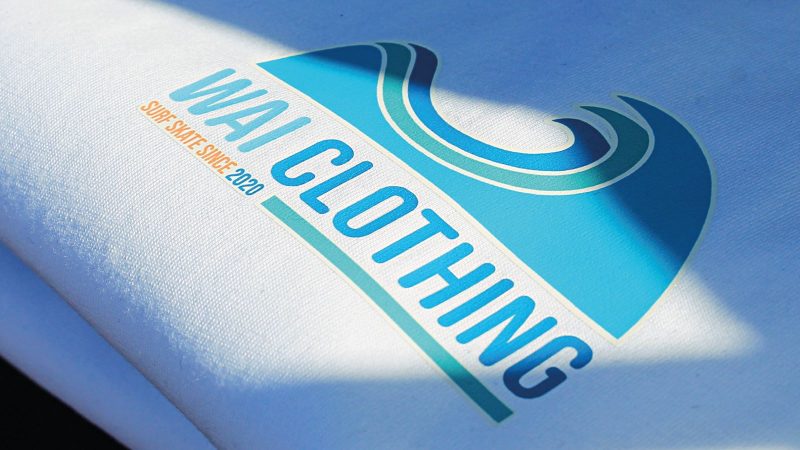 Newcomer To The Devonshire Surf Scene: Wai Clothing
Down in the home county of the UK's world surfing reserve, and during the first Covid lockdown, Wai Clothing was launched. Despite launching at a time when visiting shops was non-existent, the brand has endured and is making waves within the Southwest's surf scene. We caught up with Wai's Founder & Owner Sammy Kettell to see what they're all about and what they're gonna do next.
First off, please tell us a bit about Wai Clothing.
My name is Sammy and I'm the owner of sustainable surf/skate brand Wai Clothing. We have a wide range of products which includes t-shirts, crop tops, hoodies, jumpers, caps, beanies, and custom Paipo boards. Sustainability and supporting our local creators and community are at the forefront of our identity – it's something we pride ourselves on. We are based in Southwest England in a city called Exeter, which is the capital city of a magnificent county called Devon – home to some of the best countryside and surfing beaching in Europe.
Wai Clothing was launched in 2020 during the first lockdown and we design, print, press, and pack all of our own products. If we can do it ourselves, we will! And when we can't, we use local creators in our community to help us. I have a real passion and interest in Hawaiian culture and communities; this inspired me to create a brand based on similar values to these cultures and communities. "Wai" itself translates from Polynesian to "Water", and the symbols used in our logo represent key stables that we live by. The Square meaning Home, the circle means Sun and the wave means Sea.
Home, Sun, Sea, Wai.
What's your brand's USP and ethos?
To promote sustainable living and to support local creators in our community. Oh, and to make some rad clothing! We love meeting people who share the same values as us around sustainability, design, and surfing.
Our USP is that we try to be as sustainable as possible. We are always looking to promote and inspire people to live a more sustainable lifestyle. I think what we are trying to create is a lifestyle brand and to communicate that through our products. I feel we also are trying to be unique in our designs, to be original and creative, we will look to be different but have our core values leading our brand. Sustainability, community & creativity.
You mention community a lot. What do you do to build and support your local community? E.g. sponsoring athletes, competitions, collabs…
Where we can, we look to utilise the extremely talented people who live on our doorstep. We believe in creating relationships through our local community to help it thrive and to support charities, businesses, or people who share the same values as us. We have been involved in beach cleans, printing for local surf charities, and donating to local teams, clubs etc… We believe it is so important to support your community.
We are on the lookout for new sponsorships for talented up and coming surfers, and we are due to sponsor our first surfing competition. Connecting with talented people who we can help develop and see them on their journey is something Wai wants to be a part of.
We have worked closely with other brands and charities and are always open to exploring new collaborations. We have worked with the Wave Project previously and are excited for what is to come in the future. Collaboration is huge for us – we are here to help each other, not compete.
Could you tell us about your product lines? What's new for 2023?
We are always developing our designs and product styles. When it comes to our products, sustainability sits at the top and always will. The quality and how it's manufactured is our highest priority. We have some super comfy jumpers, hoodies, beanies, and caps on their way for Autumn 2023 with new colours and new designs.
What technologies and materials do you incorporate into your products to ensure they're both high quality and sustainable? We only use 100% Earth positive organic cotton for our T-shirts, hoodies, and jumpers. We outsource other sustainably made materials for our other products and we are always looking to be more sustainable. The more the brand grows and the more products we sell, the more we have available to us to source more sustainable materials and products.
What plans do you have for your brand over the next 5 years?
We dream big, and I would like to have Wai Clothing in major retailers across the UK and Europe. We would love to be involved in retailers such as Ann's Cottage, Two Seasons, Tiki Surf, etc… One area we are very interested in is event and athlete sponsorship so I would love Wai to be in a position to be sponsoring some big events and surfers. We want to be leading the way in sustainable fashion and to inspire creative minds to follow.
As we build our community and produce and sell more of our products, this will give us more accessible funds to either create or source higher sustainable products. I think goal for us is to be a plastic free brand and we want to lead the way in promoting this in our industry. We are cautious of what we use for example – replacing plastic packaging with recycled and reusable packaging, using sustainable ink stamps instead of plastic labels etc…
Why should retailers stock your brand?
I think we have a unique brand that promotes sustainability and community values along with great quality clothing and designs. Wai is a breath of fresh air. We challenge change and want to be recognised for our quality and community/family ethos. I think it is fantastic when big retailers invest their energy and time into small up-and-coming brands, and I feel we would be a great fit.
How are you marketing your brand within the UK & Europe?
We are trying our best to reach likeminded people in our local areas (Devon & Cornwall UK). Wai Clothing is a brand for people who value their community and understand the positive impact that sustainability has on their community. When it comes to surfing and skating, this is what we love, and you find a lot of people in these communities want to support up-and-coming brands. We need to spread the word within our local areas first and then look to branch out into the rest of the UK & Europe.
Find Wai on:
Instagram
Facebook
Website
Interview by: SOURCE Sub-Editor Sydney