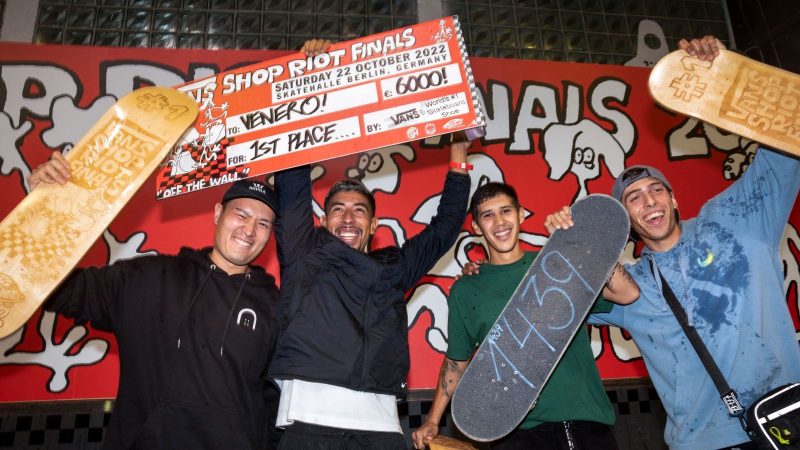 Spain's Venero Wins Vans Shop Riot For 2nd Year Running
They've retained their crown for the second year running: Spain's Venero wins 2022's Vans Shop Riot, pipping Switzerland's Skate CH to the post in a close-to-call final.
Press Release:
Spanish Shop Venero Crowned Vans Shop Riot Champions 2022 for the Second Year Running
Spanish shop, Venero, show no signs of retiring the Vans Shop Riot crown after their second win at the finals in Berlin this weekend.
The Vans Shop Riot Finals drew to a dramatic close this weekend (October 21 & 22) at Berlin's Skatehalle and it was Venero (ES), who overcame fierce competition from 13 of the best skate shop teams in Europe to be crowned Vans Shop Riot 2022 Champions.
First on the agenda was a 'cash for tricks' session in Skatehalle's bowl on the Friday. The jam kicked things off in true Vans Shop Riot style with riders from all 14 teams stoking each other up to go bigger and better.
The finals ensued on Saturday, the heats preceding the finals showed that every team was hungry to bring the Vans Shop Riot 2022 title home. After a hard-fought battle, it was Venero (Spain), Skate CH (Switzerland), Skateboutique (Belgium) and Ben G (Netherlands) who made it into the semi-finals. However, despite the best efforts of Skateboutique and Ben G, they didn't make it through to the finals, finishing third and fourth respectively.
The finals saw a head-to-head between the 2019 Vans Shop Riot Champions, Venero and the Swiss crew from Skate CH. Skate CH smashed out amazing synchronized runs while Venero retorted with a technical masterclass. With both teams skating so well, the final result was extremely hard to call but after careful consideration from the judges, it was Venero who were crowned Vans Shop Riot 2022 champions.
Guest appearances across the weekend included John Cardiel who manned the decks all weekend, the infamous AVE bench and Haku the husky who's beautiful singing entertained the crowd all day. A special thanks goes out to Stefan Marx, the 2022 series artist and all the competing skate shops who were involved in the 2022 Vans Shop Riot.
Vans Shop Riot Finalists
1st Place – Venero
2nd Place – Skate CH
3rd Place – Skateboutique
4th Place – Ben G