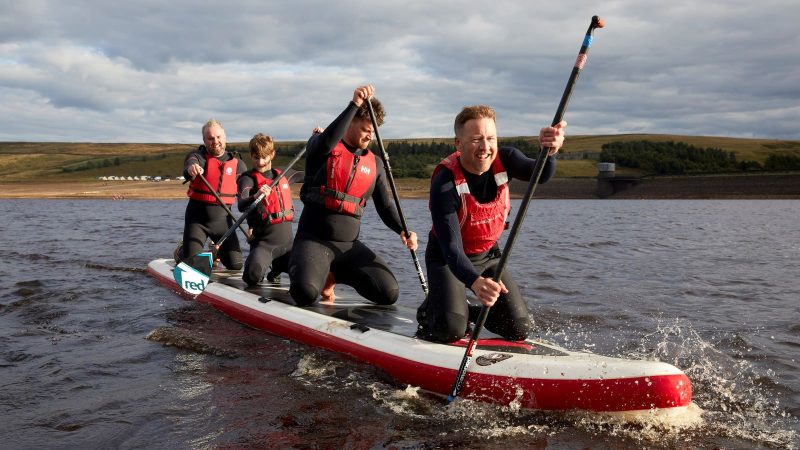 Hike Bike Paddle Event Raises Over £37,000 For Vulnerable Youths
The Youth Adventure Trust raised over £37,000 at their annual Hike Bike Paddle event in the Yorkshire Dales, where all the money will go towards helping vulnerable children get into the great outdoors.
Press Release:
Sports and Outdoor sector steps up to the challenge to help vulnerable youngsters get outside
On Thursday 15th September 2022, almost 100 participants from many different brands, companies and organisations in the sports and outdoor sector raised over £37,000 to help vulnerable children get outdoors. They took part in THE industry event of the year, the Hike Bike Paddle – an epic challenge course which saw participants taking on an 18km hike, a 50km cycle and a 2km giant stand up paddle board.
Participants included representatives from Brandwave Marketing, Ellis Brigham, Nike,  O'Neill, Ordnance Survey, Red Bull, Red Paddle, Rohan and Technogym, among others.  There was also an all female VIP team, led by the Youth Adventure Trust's Ambassador,  Belinda Kirk and including Louise Minchin, Jo Bradshaw and Lucy Gossage. The four women called themselves 'All guts, no nuts' and took on the challenge to encourage more women to participate in outdoor activities.
Joe, one of the event participants, says:
"Absolutely fantastic event. Great level of challenge, extremely difficult for someone like me who's barely even moderately fit, but still completable. There was amazing support and atmosphere throughout!"
In addition to some great brands and companies taking part, the challenge also had some awesome event partners supporting and powering the challenge including Brandwave (Marketing), Ordnance Survey (Maps), Red Paddle (Paddle Boards), Technogym (Training App), Buccaneer Sessions (Event App) and some fantastic prizes kindly provided by Fohn, dhb, Red Paddle and Overboard.
Mark Davey, the Youth Adventure Trust's CEO, says:
"At the Youth Adventure Trust, we believe that getting outdoors is more important than ever before. It's fantastic to see the sports and outdoors sector uniting behind the Hike Bike Paddle, getting outdoors themselves and raising funds to help give vulnerable young people outdoor opportunities that they otherwise would not have access to."
Helen, from Ordnance Survey, says:
"The OS team really enjoyed taking part in the Hike Bike Paddle. We all stepped out of our comfort zones and stretched ourselves which helped us understand how challenging young people through the outdoors can have such an impact on their lives."
The funds raised by the participants will go directly towards helping vulnerable young people to build resilience and develop confidence through the outdoors. In the same way that the Hike Bike Paddle participants were asked to step out of their comfort zones and really challenge themselves, the 11-15 year olds on the Youth Adventure Trust's three year programme are given outdoor opportunities and one-to-one support to help them realise they can achieve more than they think they can.
The Hike Bike Paddle will be taking place in 2023 and provides a perfect opportunity for team building and networking.  To register your interest in taking part with your colleagues or clients or sponsorship opportunities, please contact Philippa Cox – [email protected] or call 07956 934 100