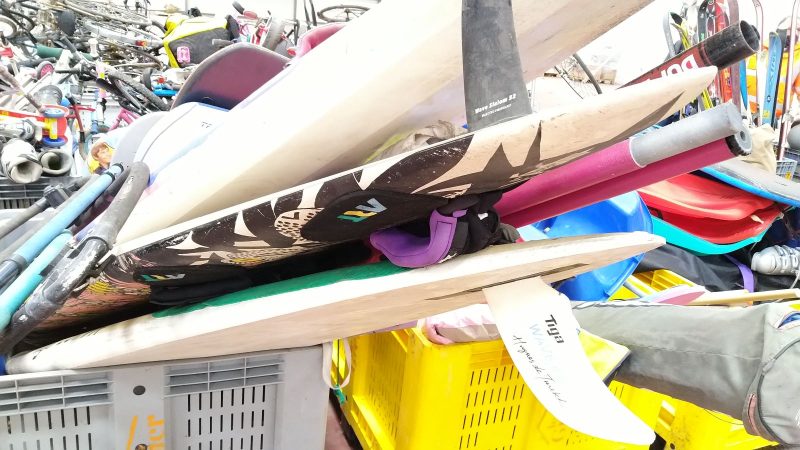 Ecologic: Government-Approved Collectors/Disposers Of Sports Equipment In France
In France, the recycling system for sports equipment is being steadily put in place. As of 1 January 2022, manufacturers, importers and distributors are all implicated in it. New challenges are to be met by sports industry players who are often already acutely aware of, and engaged in, environmental issues.
France's AGEC law (anti-waste law for a circular economy) has laid the framework for a new "Extended Manufacturer Responsibility" (EMR) system for sports and leisure equipment. So whoever puts the item on the market (manufacturers, importers, distributors), they are responsible for the proper management of the product's end-of-life. This is the "polluter-payer" principle. As with the vast majority of sectors (electrical and electronic equipment, packaging, etc.), the producer can pass on this responsibility to a government-approved eco-organisation. This is where Ecologic come in; the only eco-organisation in France to be approved for this type of product (Ecologic is also approved for the end-of-life management of electrical, electronic goods as well as power tools, etc), putting the system into effect on a financial, operational as well as a technical level.
A bit of background
Ecologic is an eco-organisation set up in 2006. It is a private, non-profit company that has been operating since its inception in the EEE sector (electrical and electronic equipment), gaining considerable experience in the field. The 'Extended Manufacturer Responsibility' that binds manufacturers and importers of sports equipment is a regulatory mechanism that makes the producer responsible for the proper management of their products' end-of-life. The manufacturer pays an eco-contribution to an eco-organisation (Ecologic) to provide for the collection and recycling of the equipment and accessories concerned (boards, wetsuits, masts, sails, surfboards, windsurfing boards, etc.).
It also provides support for the repair and reuse of products, as well as communication drives and R&D projects which are led by Ecologic.
And on the ground, how is it collected?
Containers will be placed at distributors as well as waste collection centres. Different types of containers are put at collection points to receive and store equipment brought in by the public.
Ecologic is currently setting up a whole network to be able to cover the whole of France in the long term. Similarly, event-style collections will be carried out to create a kind of national grid throughout the country.
Some figures
The ADEME (ecological transition agency) estimates that nearly 70,000 tonnes of sports equipment (excluding bicycles) are thrown away each year! The first objective is to establish 1,000 collection points by the end of 2022 – this figure should be easily reached. Then, in 2024, 2000 collection points will be placed at distribution centres and 2,500 points in waste collection centres, enabling the eco-organisation to meet its regulatory goals on collecting sports and leisure items, as set out in its mission statement (13,800 tonnes of bicycles collected in 2027, 40,500 tonnes of other equipment).
In addition to collecting and recycling, results are expected from the drives on repair and reuse. In a constantly evolving world, in the face of structural changes to our society and our habits, new behaviours are emerging.
In the same way as for "eco-design", which remains a major challenge for manufacturers, Ecologic is supporting industry players in their products' eco-recyclability, in using recycled materials from old sports products for new sports products and in sustainability in general.
With the launch of the Repair Fund, many small and medium-sized businesses will be able to position themselves throughout the country. When it comes to reuse, Ecologic is working with players from the social solidarity economy. Finally, as Public Affairs Manager Quentin Bellet states: "Unlike in other fields for whom recycling and other issues may be new, the world of sport has been engaged in these environmental and climate change issues for a long time, probably more than other sectors." A positive point that will only help Ecologic to achieve its goals.
Why and how to comply with regulatory obligations?
In order to comply, you have to join Ecologic. In the long run, manufacturers and importers who do not fulfil their obligations will be liable to criminal prosecution. If you join today, equipment put on the market in 2022 will be retroactively taken care of. This obligation also represents the commitment of an entire industry towards protecting the environment.