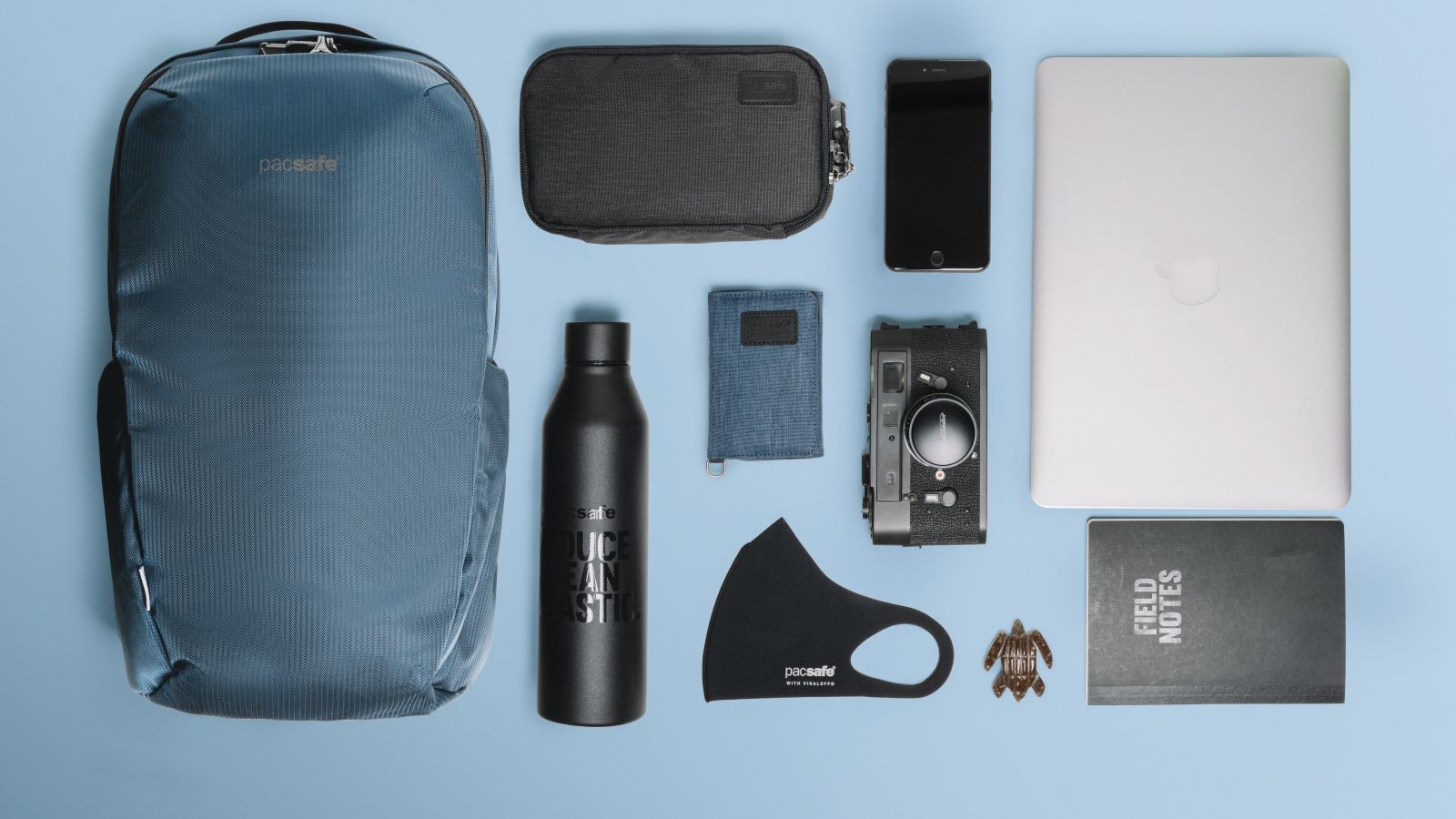 PACSAFE Talk Sustainable Tech Developments, Anti-Theft Solutions, & Product Lines
PACSAFE has become synonymous with heavy duty safety backpacks for travellers across the globe. Now with a renewed focus on sustainability, the brand intends to eliminate virgin plastic in their supply chain by 2025 and are now available in over 40 countries worldwide.
Tell us about the history of PacSafe. Who are the people behind the brand?
Pacsafe® was founded by two Australian globetrotters in 1998 – Rob Schlipper and Magnus McGlashan, who are still the owners of PACSAFE. Their own experiences, visiting more than 80 countries and those of other travellers convinced them of the need for no-nonsense travel security. Beginning with the invention of one product, the PACSAFE anti-theft backpack & bag protector – a lockable eXomesh® net to fit around any backpack to protect your valuables. This was followed by a series of award winning and patented technologies, that are the core of the world´s most acclaimed anti-theft travel gear.
2014 the Pacsafe Turtle Fond was launched with the aim of supporting the conservation efforts of endangered sea turtles globally. The turtle has been represented in our logo since the very beginning.
In 2019 we launched our first sustainable collections – one for which we created our top-selling styles by using ECONYL® yarn – made of recycled nylon waste, such as fishnets and other discarded nylon out of our oceans and landscapes. The other one was a brand-new urban style anti-theft collection which was made of 100% recycled PET bottles that would otherwise end up as waste. We are a group of thoughtful travellers dedicated to protect what is valuable – our belongings, our experiences and our planet.
How do you stand out with PACSAFE from similar ideas in the market concerning the anti-theft carry solutions?
Our anti-theft features are unique and patented. Our strong portfolio of innovative security features includes among other cut resistant materials, cut proof straps, lockable (interlocking) zippers, puncture proof zippers, pockets with RFID® protection preventing data skimming to keep your sensitive data secure. For more than two decades we have worked to create the best anti-theft travel gear using sustainable materials and processes along the way.
What efforts are you implementing towards sustainability?
The materials we are using are ECONYL® yarn and rPET. ECONYL® is made out of nylon waste from discarded fishing nets and other nylon waste, otherwise polluting the Earth, is collected, processed and turned into yarn. It's exactly the same as brand new nylon and can be recycled, recreated and remolded again and again. We will research the use of further new sustainable initiatives and how we can use these in our products. Our aim is to eliminate virgin plastic in the supply chain by 2025. We are well on our way of achieving this, as 80% of Pacsafe bags & wallets in the 2023 collection are now made from recycled materials. We at Pacsafe continue to pioneer and advance the technology by putting sustainability and people first, treating them as individuals, and servicing their needs through innovation, aesthetic, craftsmanship and the desire to always do better.
What has been the most popular product in the whole line and why?
There isn't just one specific product – but I would say the bestsellers are our versatile and sustainable "everyday" backpacks and shoulder bags that work in the city and on the go. Offering comfort, support, functionality with separate compartments to keep your belongings organized and secure.
How is Pacsafe distributed in Europe/worldwide?
We have a global presence which means that we are situated with PACSAFE® locations in HongKong (APAC), EMEA and North America. The locations in the different areas with distributions respectively wholesalers who are active as brick-and-mortar or online stores. Our store locator on our website assists the end-consumer to find a store nearby or an online shop in his country. We´re represented, through our distributions and wholesalers in more than 40 countries.
How do you support retailers who carry your brand?
Our retailers are supported individually, e.g., POS material, printed / digital material for marketing purposes resp. their websites.
Please tell us about your 2023 line
Our most sustainable collection yet will be launched in 2023 – our Pacsafe ECO – made from rPET as well as of ECONYL®. Approximately 75% of the components – webbing, zipper tape, labels, sewing thread, some buckles – are made from recycled materials.
The collection offers 5 different styles in 3 colours: Black/Canyon/Gravity Grey. This collection is also 100% PFC free.
Our popular Citysafe CX series will be available in ECONYL® and extended by further colours and by a new style: Citysafe CX Petite Backpack, a super convenient, lightweight and chic way to carry all our essentials to bring to work or while exploring a new city.
Popular classics like our Metrosafe350 backpack and Metrosafe LS120 Hip pack will also be available in ECONYL.