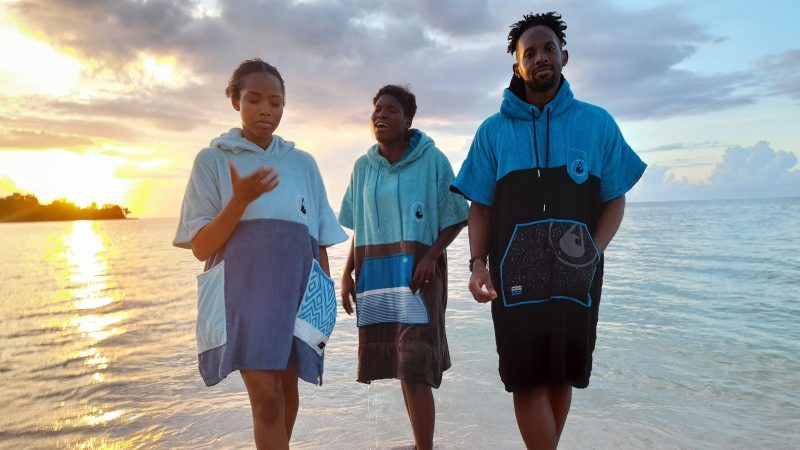 From Ponchos To Sunglasses: WAVE HAWAII Is Expanding Both Products & Markets
WAVE HAWAII started six years ago as a brand specialising in bamboo poncho's, to take advantage of the materials many desirable qualities. Now they have added sustainable sunglasses to their expanding range. Following their mantra "Life Is Great" , CEO and Founder Carsten Raphael gives us all the details.
How did Wave Hawaii start and what's the ethos behind the brand?
In the fall of 2017, we started with our first 3 bamboo ponchos, because we couldn't find ponchos anywhere that we thought looked chic, were sustainable, and felt nice and fluffy at the same time. We quickly realized that we weren't the only ones who felt the same way. So we had to make more poncho models. That's where it started. Other products like towels and bathrobes followed. But above all, polarized sunglasses, which we also developed under the premise of sustainability. The glasses are now our second strongest product group and are made from wood, acetate and brand new for us: recycled fishing nets. We want to offer feel-good products that people enjoy. True to our motto: Life is great!
Tell us about your product range, what have been the two best performing products over the last year?
Our product range consists roughly of ponchos, bath and beach towels, sunglasses and accessories. The most important product group is our ponchos, which are available in different designs. Made of bamboo, cotton, AirLite (- more on that later -), small pack size (travel ponchos), zippered, long sleeved and storm ponchos for the cold. Our best-selling poncho is model Air – with a teeny lead over some other models.
When it comes to sunglasses, the wooden ones are ahead of the acetate ones, as the selection of wooden models is also much larger. The unbreakable sunglasses made from recycled fishing nets are already experiencing a lot of demand, but we have these new in the program, so we are not yet meaningful here. Our bestseller overall is the model Aik.
The environment and sustainability seem important to the brand by the fact you offer customers a free pair of wooden grippers and a recycled garbage bag in order to encourage waste collection – how else is the company promoting sustainability?
Exactly, that's worth a lot to us, to also encourage our customers to perhaps achieve great things with small actions. The response to this has been very positive throughout. What else do we do? Our products are usually shipped in sustainable packaging. For example, the ponchos currently come to the customer in reusable paper bags. However, we are currently working on an even more sensible and compostable solution. In addition, we send our parcels CO2-neutral and always pay attention to energy-saving measures. Since we have been developing our company without external financial support since the beginning, we always pay attention to cost-conscious working and acting, which also benefits the environment. This attitude is part of our brand DNA.
How do you distribute Wave Hawaii products across Europe?
In Germany, we take care of sales and marketing ourselves. In addition, we usually work with distributors who fly the flag for us in the now more than 30 countries. In the last five years we have built up a great distribution network with dedicated and ambitious partners in the different countries. This has given us a market leading position in our niche. Last year, we established a distribution company in the USA to serve the market there. For some countries, such as Spain, Portugal and Italy, we are currently looking for distributors who want to join a growing brand with a lot of upward potential. We have big plans – and our journey has just begun.
What can we expect for the future from Wave Hawaii?
We will of course remain true to our roots, but will always be open to new markets – both geographically and in terms of products. In the foreseeable future, the focus will still be on our ponchos and sunglasses. And with good margins for our dealers and distributors, who are after all the backbone of our brand. Plans for completely new products have not only been made, but are already being implemented. We are looking forward to sharing our WAVE HAWAII world with many people.