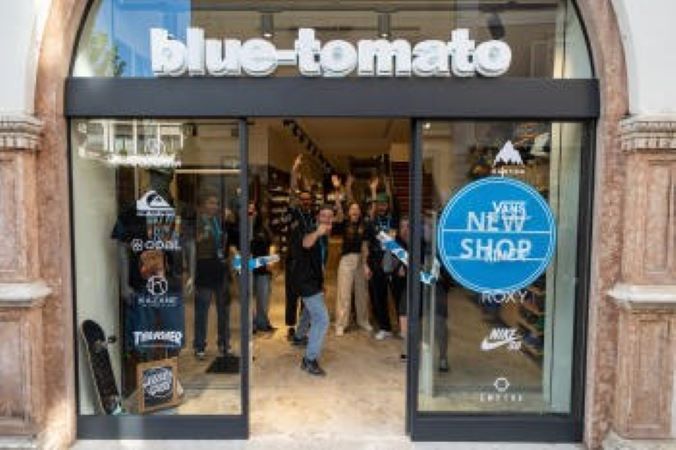 Blue Tomato Opens Up First Shop In Italy
Press Release:
Austrian boardsports and lifestyle specialist expands to Italy for the first time
Blue Tomato opened a new store in the centre of Trento
The company already operates more than 80 stores in Germany, Austria, Switzerland, the Netherlands, Norway, Sweden and Finland
International boardsports and lifestyle specialist Blue Tomato has opened its first store in Italy. The Austrian company moved into Via Paolo Oss-Mazzurana in the old town of Trento last week with a store measuring around 250 square meters. Blue Tomato is one of the world's largest online retailers in snowboarding, freeskiing, surfing, skateboarding and street style, with nearly 850 employees and more than 450,000 products. In recent years, the presence in the stationary trade has also been greatly expanded, Blue Tomato already operates more than 80 stores in Germany, Austria, Switzerland, the Netherlands, Norway, Sweden and Finland. Blue Tomato was founded in 1988 by former Austrian European snowboard champion Gerfried Schuller.
"We are very excited about the opening of our new store in Trento. The decision for Italy as a new target market for our network of locations has been on our agenda for a long time," says Tillmann Ruprecht, Director of Sales & Service at Blue Tomato. "We register a large number of online customers from this country, and many Italians also shop in our stores throughout Europe. In addition, many have contacted us with the desire for a Blue Tomato store in their city, which of course made us very happy. Trento has now gotten the ball rolling, and perhaps we will soon be able to satisfactorily answer the multiple requests from various other cities – such as Modena."
Omnichannel retailer with special service
The blue-tomato.com site registers up to 125,000 visitors a day – and the trend is rising. The online shop has been available in 14 languages for some time. Orders can also be placed via smartphone, via live chat with the international Blue Tomato Customer Service, or directly in a store if the product is not in stock locally. A special service offered by the omnichannel retailer is that customers can have their online order delivered free of charge to one of the Blue Tomato stores and pick it up there. If an item doesn't fit, the order can be exchanged right there in the store.
"Great place to go for boardsport and fashion enthusiasts throughout Trentino"
Tiziano Taglianozzi, Shop Manager at the new store, which is very centrally located near Trento's Cathedral Square, is happy about the opening, together with his four employees: "The new store is something very special. I, as an avid snowboarder and skateboarder, am proud to welcome the community with us. With our unique, authentic vibe, we will be a great place to go for boardsport and fashion enthusiasts throughout Trentino. In the assortment our customers will find a great selection of streetwear as well as everything related to snow, surf & skate."
All information about the new shop in Trento can be found online at bluetomato.com/shop/trento, facebook.com/bluetomatoshoptrento and on instagram.com/bluetomatoshoptrento.
By the way: on July 9th, Europe's biggest amateur skateboard tour, the Best Foot Forward Europe Tour, will also make a stop at the Trento Skatepark. The tour, organized by Blue Tomato, brings together skateboarders from all over Europe and offers amateurs an international platform to prove their skills, creativity and passion and to compete with like-minded people. There is no entry fee for the tour, anyone can participate, you just have to register in advance. All information is available at blue-tomato.com/bff.