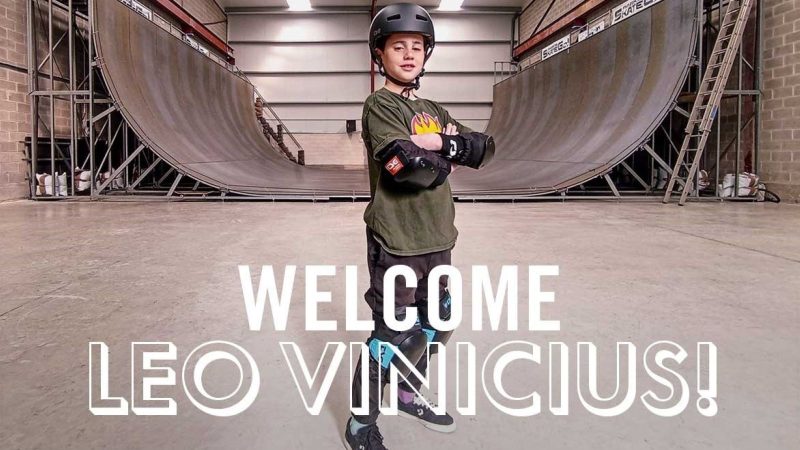 Junior Skateboarder Leonardo Vinicius Joins TSG
Press Release:
TSG is over the moon at signing the vert skate prodigy, Leonardo Vinicius, to the team. From now on he'll be rocking TSG protection. Welcome on board Leo!
Leonardo may only be 11, and in the words of Jason Ellis pushing "three foot high", but his mastery of vert and prodigious pop have certainly put the cat among the pigeons in the world of skate. "To be that little and go that high with the body power he has … It's incredible …" blurts Ellis on Hawk Vs Wolf. And he's even blown Hawk's mind, with enough airtime for double airwalks which Tony once thought just were the stuff of THPS.
"In 5 years I've gone from riding a skate for the first time to competing with the best in the world," says Leonardo proudly of his meteoric rise. Last year he was invited to the World Skate Games in Argentina and scored a 16th place; and in May 2023 Leonardo will compete for the first time at the XGames, in Chiba, Japan. "Since I began skating I always watched videos of XGames to motivate me," Leonardo writes on his Instagram account. "I could never have imagined being there so soon. But I am and now I'm going to enjoy it."
Hopefully he will be able to enjoy it that little bit more, now he's ripping in a TSG Kraken Helmet, Force III A Kneepads, Elbowpads and Crash Pants. "TSG has been a very good discovery," says Leonardo of our new partnership. "In a single brand, I've got all the protection I need." TSG are very proud to offer an incredible range of helmets and protective gear for young skaters that are made from the same materials and deliver the same performance as the adult version.
We are thrilled to have Leonardo as a new member of the TSG team," says Nadja Herger-Bondarenko, from TSG. "He is a young talent with balance and dedication that is second to none. We are here to support him right at the beginning of his promising career and look forward to the journey together!"
According to Leo, his skating is mainly self-taught, although his dad assumed the role of coach pretty early on and moved the family to the neighbourhood of the Burgos vert ramp so Leonardo can train daily. "Sport is a way of understanding life," says the young Brazilian and Spaniard, sounding beyond his years. "My goal is to set milestones in skateboarding." He is already well on his way to doing that and we at TSG are stoked to keep him safe as he keeps on ticking them off.
Stay tuned to www.ridetsg.com for more news and products and give Leonardo a follow on Instagram at @leonardovinicius.skater