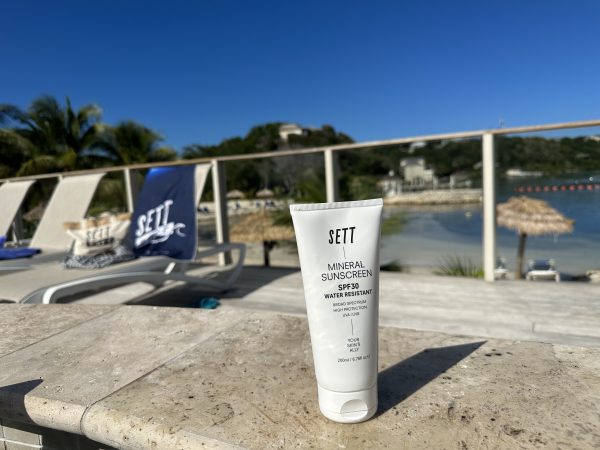 SETT Surf 2023 Sun Cream Preview
Retail Buyers Guide: Sun Cream 2023 Retail Buyer's Guide
Brand: SETT Surf
Interviewee: Jane Belcher, Managing Director
How do you target the action sports client?
We target sports customers typically through social media and surf shops.
What ingredients are you using? Any innovations to talk about?
100% mineral UV filters (zinc oxide and titanium dioxide), no chemicals, so SETT won't harm ocean life like chemical sunscreen does. Water-resistant – obviously. We're launching a new SPF50 formulation this year, which is very water-resistant and rubs in super well. It'll be launched in the US first, then here in the UK and then the EU. It'll be available in 100ml pouches to start.
How do you address sustainability/eco friendliness in your products?
The product itself is far kinder to our skin and the environment than chemical sunscreens, plus we are focusing on recycling by partnering with Enval to fully recycle our pouches and tubes. Future batches will use 100% recycled plastic for the tubes and not have unnecessary packaging like outer boxes. We'll keep developing pouches and aluminium bottles too. Our anti chafe rash cream is made from all natural ingredients in the UK and is available in aluminium tins as well as tubes.
What other benefits, apart from sun protection, does your product offer?
If you have sensitive skin, our mineral sunscreen won't cause skin irritation, which is common with chemical sunscreens. It won't sink into the deeper layers of your skin and get into the blood stream like chemical UV filters can. We use nano, so the sunscreen stays on top of your skin. Our Anti chafe rash cream called ACTIVE not only prevents painful chafing for surfers, runners and cyclists (or anyone who suffers from chafing) but it is soothing to the skin and promotes rapid skin repair if skin does chafe.
Why should retailers stock your brand & your latest collection?
We are a small UK based business with great products which can compete with much larger corporations. Stocking SETT not only provides their customers with top quality product, but they'll be supporting a small business which exists to make great sunscreen and natural skin protection products.
What POS are you helping retailers out with?
Bamboo display units which can sit by the til or on shelves and A5 posters with holders to sit next to the display which provide more info on the products.
Best Sellers
SPF50 mineral sunscreen pouch – our 100% mineral, non-chemical, water-resistant sunscreen comes in a handy pouch that you can take anywhere and squeeze every last drop out of before recycling with SETT. Offers broad spectrum UBA and UVB protection and is suitable for all skin types including sensitive and kids. Vegan friendly and won't leave a greasy white cast either!
SETT ACTIVE anti chafe cream – with all natural ingredients, comes in tubes or aluminium tins and helps prevent painful chafing rash. Simply rub into a typically affected area and off you go. Natural protection with tea tree oil to even help soothe and repair skin that has chafed. Keep in the fridge for an extra soothing feeling.
SPF30 mineral sunscreen 200ml – offers broad spectrum UVB and UVA protection but in a larger tube for a larger tribe! Water-resistant so you'll be protected in the ocean, running or when sweating lots. Suitable for all skin types, including sensitive and kids. Vegan friendly and won't leave a greasy white cast either!