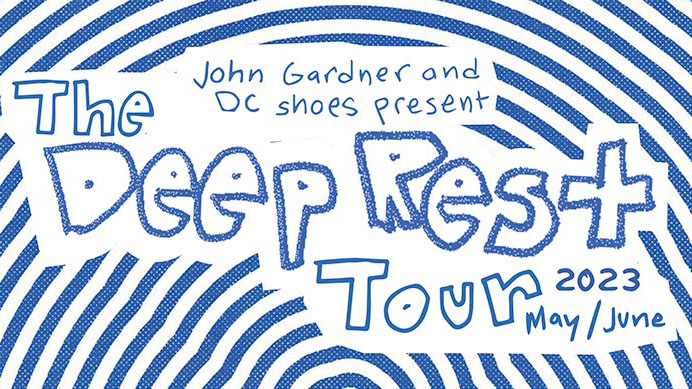 DC Rider John Gardner Starts Deep Rest Tour, From May 19 – June 7
DC Presents: DEEP REST TOUR
The Deep Rest tour is a natural continuity of John's mission to shine a light on suicide and mental health awareness within the skate community, started in 2021 with his documentary This Too Shall Pass. In it, John opens up about his own mental health struggles and experiencing suicidal thoughts.
John talks about how he uses meditation, breathing, and skateboarding to help deal with depression.
From 19th of May until beginning of June 2023, John is coming to Europe to meet with the skate community in France, Spain, and the UK to share his own experience and give tools and tips to help manage mental health.
Of course, several DC riders will accompany John during the tour:
Leo valls, Andrea Dupré, Sergio Cadare, Joan Galceran and the Spanish Team in BCN, Josh Arnott and the UK team In London.
And more…
Come and meet, talk and skate with John at your local skateshop and skatepark!
Deep Rest tour dates
Bordeaux
May 19: Riot Skate Shop
Saint Jean de Luz
May 22: Skatepark 162 Boardriders Campus
Limoges
May 24 and 25: Petit Plateau Skate Shop
Paris
May 26, 27 and 28: Léchoppe skate Shop
Lyon
May 29 and 30: Wallstreet , ABS
Marseille
June 1 and 2: Bud Skate Shop
Barcelona
June 3 and 4: Amigos skate Shop, Boardriders Barceloneta
London
June 5, 6, and 7: Ben Raemers Foundation, Slam city skate shop
More details & timing click HERE