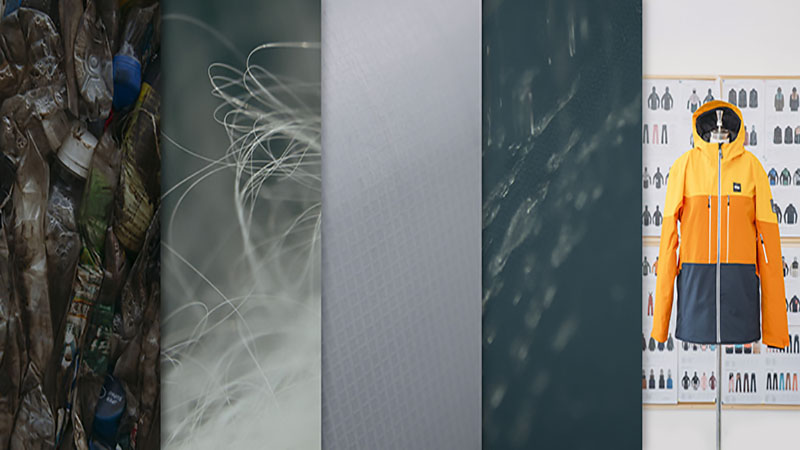 A Greener & More Collaborative Future Is In Picture's Sights
At Picture, working to be a better version of themselves – constantly improving their technologies, employee satisfaction, business efficiency, products and sustainable practices to name a few –  is the way forward, the way towards using business for good, in every aspect. By 2023, Picture is striving to receive 120 points in their B Corp certification: a high aim, but with their new Xpore technology, bio-sourcing their product materials, stopping the use of polybags entirely, working with other businesses to make their practices greener and restructuring their working week to increase flexibility, Picture are on well track to reaching that goal. Julien Durant, Picture CEO, explained to SOURCE more about Xpore, their 2020 and goals for the future. 
Can you give us a timeline of the company's history highlighting what you consider to be the key innovations along the way.
Sure, please see below: "Picture key innovations along the way"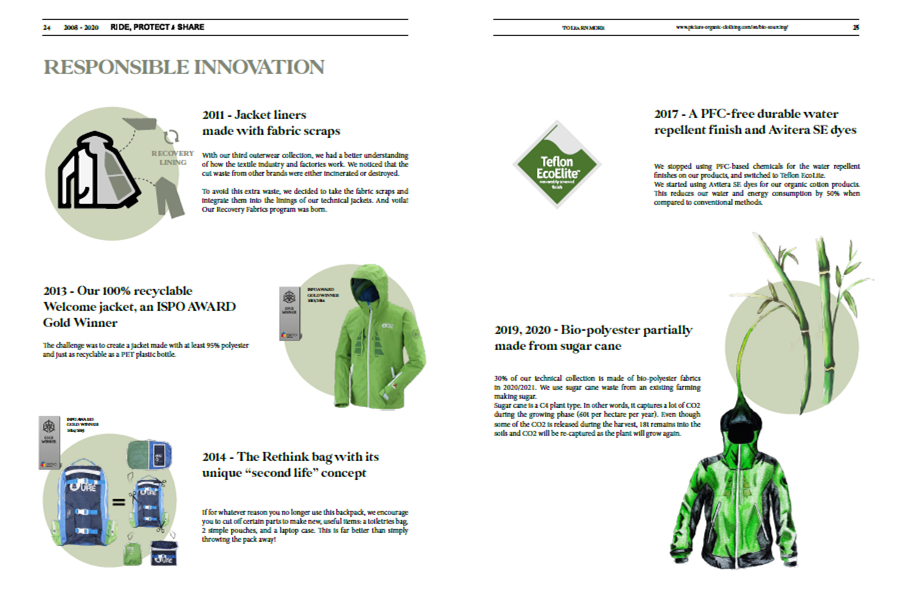 Please tell us how 2020 has been for Picture? What have been the biggest wins and the biggest lessons learnt.
2020 has been very weird. Lots of worries when the first lock down started. Ski resorts have been closed day after day, stores have had to keep all their inventories, and they've had to cancel their pre-season order.
At Picture, we had to adapt ourselves and change the 2021 FW collection to move some products (which were planned to die) to carry over last season's styles and cancel some new designs. In addition to that, we had to re-adapt ourselves to working from home. A new way of working started without there being any certainty on how it could work.
When the lockdown ended, we realised people had worked so well during lockdown that we decided to continue working in the same way after lockdown as well. We gave the option of 2 days working from home to every employee and it has improved motivation, efficiency, free time, and lowers our footprint.
The biggest lesson we took from this crisis is the importance of flexibility, you must be able to adapt yourself every day in order to face any issues. Also, we can change our approach to consumption by consuming less but better and investing into more durable & sustainable products for every product category.
Let's talk about your commitment to the environment – just how much work was it to become B Corp certified?
To become a B Corp certified company hasn't been very hard, because most of the requests the certification has are totally in line with what we've been doing since day 1 at Picture.
Now, the more challenging part is how we can get a better mark. If you remember, B Corp gives you a mark of 200 points, if you want to be certified you must reach 80 points (which can look low but is still very challenging). Only 3000 companies worldwide are registered, covering many different kinds of business.
Our goal is to move from 86 points to 120 points in 2023, and to do so we have defined a clear road map which involves all Picture staff helping to improve everything we do at Picture; from energy topics, to product, to management, gender equity, salaries, footprint management, etc,…
Thanks to B Corp, we were able to present all our team with the challenge of being a company which uses efficient business as a force for good.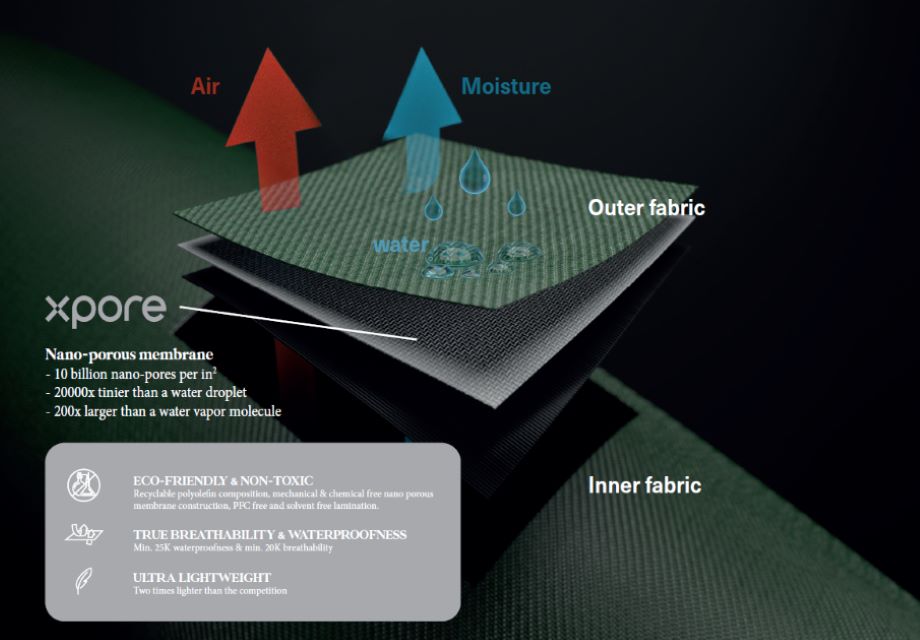 Xpore is a game changer and a big competitor for Gore-Tex. Can you explain how you've worked to develop the material and how you hope other companies will adopt its tech in the future?
There are 2 categories of membranes on the market, hydrophilic and microporous. Hydrophilic works by absorbing moisture and desorbing by evaporation. Microporous, in addition to absorbing moisture, has pores which increase the efficiency of the membrane's breathability. To conclude, microporous membranes are much more efficient, but we also have to consider that they are much more expensive and are therefore dedicated to high end and elite products. Gore-Tex is the leader of that category.
We have never been able to fight against Gore-Tex Pro performance in the past with our standard membrane (hydrophilic), and we have never wanted to use Gore-Tex because the material is composed of PTFE which contains fluorine and Teflon.
We have challenged most of our suppliers to develop something with the same level of quality as Gore-Tex Pro, but made of sustainable components.
With BenQ, we've found a real opportunity to use their patented membrane technologies, from their experience in medical care and batteries, into the outdoor textiles. This is how the Xpore membrane was born.
Made of Polyolefin, fully recyclable, with pores created by pulling the membrane instead of the use of solvent, and a solvent-free glue for lamination, we are offering the outdoor market a true alternative to Gore-Tex. We can now offer the best-balanced product on the market which balances a very, very high level of performance and a very high level of sustainability.
Talk to us about bio-sourcing, its merits and how you're pushing this forward.
Conventional technical polyester fabric (PET) consists of mono-ethylene-glycol (30%) and terephthalic acid (70%), both of which contain petro-chemical compounds.
Thankfully other solutions exist. It goes without saying that Picture has been using recycled polyester made from used plastic bottles since the very beginning in 2008. However, we are always looking for new solutions so we can directly, or indirectly, wipe out our dependence on fossil fuels. Bio-sourcing represents one of these solutions.
Reorienting our strategy towards bio-sourcing represents a major commitment to the environment and to wiping out our extremely polluting dependence on fossil fuels: oil in this case. Our short-term goal is to expand the use of bio-sourced materials throughout our line of technical apparel. 30% of our technical collection is made of bio-polyester in 2020/2021. 60% for 2021/22.
Sugar cane is a C4 plant type. In other words, it captures a lot of CO2 during the growing phase (60t per hectare per year). Even though some of the CO2 is released during the harvest, 18t remains in the soils and the CO2 will be re-captured as the plant grows again. Including sorghum, corn, and millet, C4 plants represent approximately 30% of CO2 captured by natural carbon sinks, according to the Royal Society. These are true allies in the fight against climate change.
However, deforestation is the main issue when it comes to farming. That's why we don't (and will never) use new land only for textile purposes. We just use sugar cane waste from existing sugar-making farms.
In 2020/2021, we will make some of our jackets using both recycled (from plastic bottles) and bio-sourced fabrics as the next step in our move away from using conventional, petroleum-based polyester.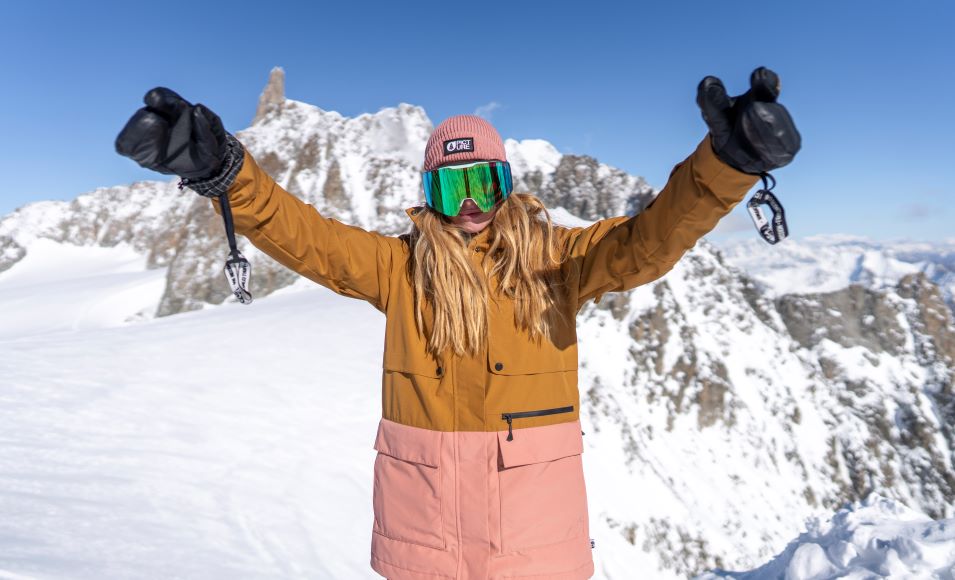 Please explain how you work with retailers to educate them on your transparency and sustainability methods.
We have 2 approaches with retailers to educate them, the most common and the most simple is clinic, and the second one is trade marketing related to that point.
Even if clinics are almost impossible nowadays due to lockdowns, talking face to face to the staff, and taking time to answer all their requests and questions is the best way to inform. At the end of every meeting we give to all of them a sustainability book which summarises all our actions.
Here is the link to download our Eco/Sustainability Book.
Trade marketing is important, because it's the best way to include the end consumer and the retailer in your instore marketing actions. All our actions are sustainability oriented and we try to be inclusive in all our actions to ensure the end consumers understand our entire process. In addition to that, POP really helps to explain more of the basics.
How can the boardsports industry adapt any pre-existing supply chains and work flows to improve overall sustainability within the industry?
First of all, it has to be a brand priority because it costs money. Brands have to decide to invest to move forward, most of the brands are the king of greenwashing.
Then, we all have to work together to create changes. For example, what we do in Turkey with Decathlon. We push our yarn suppler over there to move towards using sustainable energy because when we all work together, our voice is bigger and far more powerful.
Another great example is to remove polybags from our product's life-chain entirely. We have to partner with other brands and stores to guarantee that this project can happen. As you know, removing polybags means that our products will not have protection during the logistic process, and if we want the end consumer to receive clean products, brands, warehouses, and stores have to set up a clean area (especially for digital stores) to make sure they keep all products in good shape. We have launched that project with REI in the USA, Prana and Ten Tree. Collaboration is the future!!!