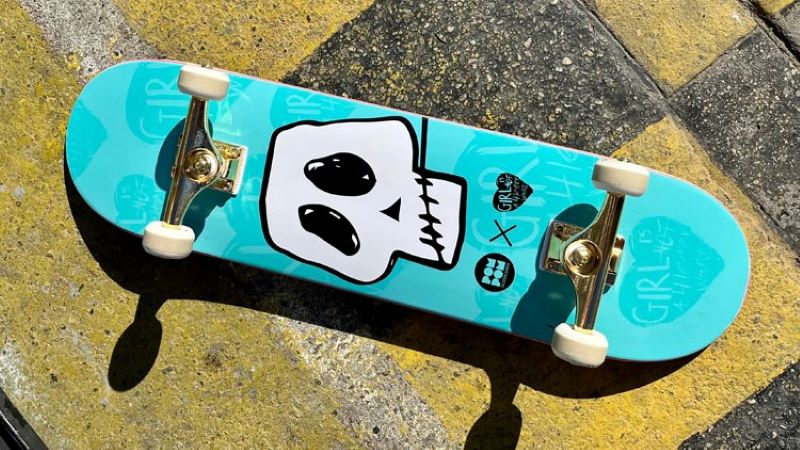 Girl is NOT a 4 Letter Word x POM POM Release Limited Edition Skate Deck Collab
Press Release:
Girl is NOT a 4 Letter Word Collaborates with POM POM Skateboards to Release the First Girl is NOT a 4 Letter Word Skate Deck!
Girl is NOT a 4 Letter Word (GN4LW) has been known for its extremely successful collaborations in the skate industry since 2013. These collabs have included cruiser skateboards, longboards, and helmets, but until now, there has not been a GN4LW popsicle skate deck.
"We have been asked so many times over the years by skaters to do a traditional skate deck," said Cindy Whitehead, GN4LW founder. "This limited edition collaboration with POM POM was the perfect fit, and now is the time." With Cindy's original artwork reconfigured into an entirely new look, the board carries on the slightly edgy aesthetic that GN4LW is known for. As with all the GN4LW collabs, this one gives its proceeds to the fiscally sponsored GN4LW Movement to help non-traditional skaters.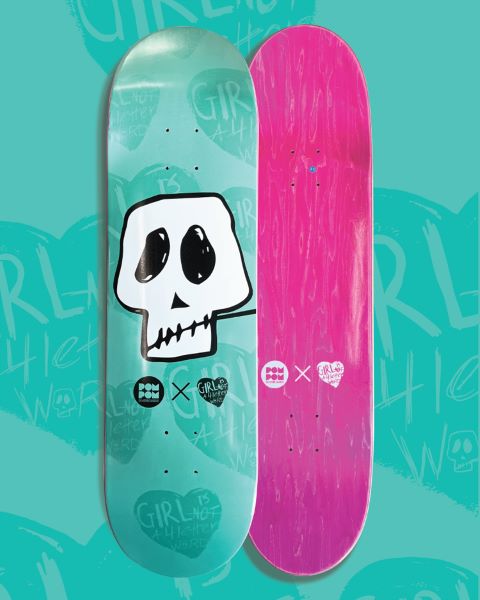 The GN4LW x POM POM skate deck is 8. 5" wide, with a 14.25" wheelbase, a 7" nose, and a 6.75" tail, and is made with 7 Ply Canadian Maple. The deck has a beautiful hot pink stain, and the top features the GN4LW x POM POM logos. The bottom of the deck has a teal graphic that includes the GN4LW skull and a fade underlay of the GN4LW heart logo throughout the length of the board.
"We feel that the mission of Girl is NOT a 4 Letter Word is a great one, and we couldn't think of a better way to partner with Cindy and give back to girls and womxn in skateboarding," said Sarah and Roger Cameron, founders of POM POM Skateboards. "We reconfigured Cindy's original artwork in a new and fresh way that combines the GN4LW look and feel with POM POM'S to truly make this limited edition deck a joint collab."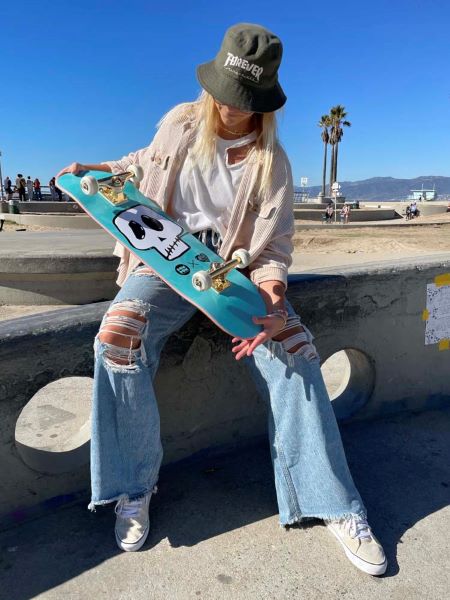 Cindy has led the fight for women's equality in skateboarding ever since she conquered the male-dominated profession of pro-vert skateboarding in the 70s. To this day, she is the only female to be featured in the centerfold of a skateboarding magazine with a two-page article. Her skateboard history has been taken into the Smithsonian's National Museum of American Sports History collections, and her TEDx talk has empowered women everywhere. Cindy was inducted into the Skateboarding Hall of Fame on May 13, 2016, with an introduction by legendary rocker Joan Jett. Cindy is also the author of "It's Not About Pretty: A Book About Radical Skater Girls."
POM POM Skateboards has been encouraging and inspiring skaters with their co-ed, co-shred team and premium collection of boards since 2008. They continue to deliver on their mission of creating an inclusive skateboarding community and building equity for those who have been ignored. POM POM believes everyone has a place in the skateboarding community, and unlike most skateboard companies, they believe that girls can lead a co-ed team.
The POM POM x Girl is NOT a 4 Letter Word skate deck is available now exclusively through POM POM'S online store.