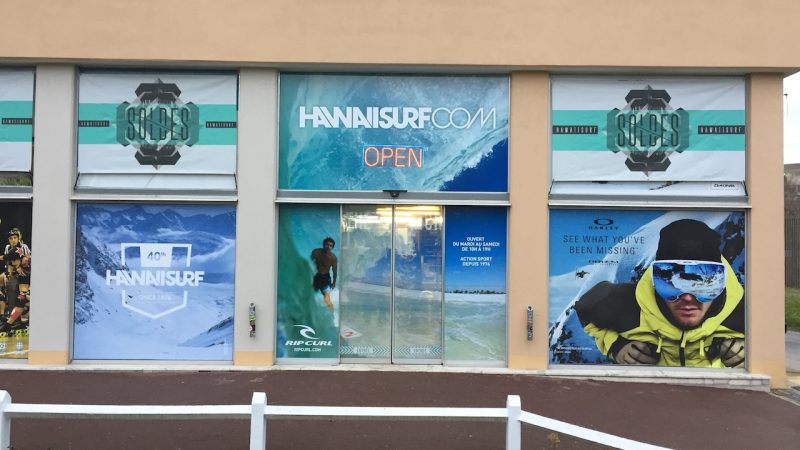 Retailer Profile, Hawaii Surf, Paris
Hawaii Surf has been selling action sports goods since 1976 from their location in Ivry-sur-Seine near Paris. Initially focusing on skateboards, it has since evolved into a multifaceted destination store selling products across a range of disciplines. For the team at Hawaii Surf the focus has always been about providing a passionate and informative service to all customers through their team of knowledgeable consultants. SOURCE has profiled the store with Founder, Eric Gros.
Please give a brief history of your store.
I had just failed my Baccalaureat, I was skateboarding and didn't want to work in an office calculating water flow or dilation coefficients so I set up a little skate shop called Skateboarder's House where I started off selling French Rollet and Banzai skateboards. Then I went to the USA and started importing brands like Ampul, G&S, Kryptonics and Alva. We quickly opened up to rollerskating and three or four years later we were selling speed sails, skateboard sails and brought in windsurfing equipment too. We then changed the name of the shop to Hawaii Surf to create more of an action sports image and bit by bit the shop grew.
I was snowboarding and brought my board to the shop and customers wanted to know what it was, so we naturally expanded our range of sports gear while maintaining this common action sports thread that I myself was following and that I was passionate about. In 1983 we imported the first Burtons and quickly moved onto manufacturing Hawaii Surf snowboards. 1997 marked the creation of our very first Internet site and still today we have the same passion and I am still snowboarding, rolling and surfing at almost 60 years old.
What percentage of your sales are from online business compared to your brick-and-mortar sales?
It's almost equal between the shop's turnover and the website's turnover (50:50).
What are five products couldn't you live without right now?
The quad roller, snowboards (small brands), freestyle skis, carving skateboards, Picture.
Did your store's sales increase or decrease over last year?
Our turnover is pretty stable thanks to a huge amount of effort on the internet side (6th website version) and on retail prices (internet and shop).
What makes your store different and in what ways does your store excel beyond your competition?
We are all passionate riders and we know what we are talking about. We have real credibility. Hawaii Surf is like a toy shop for adults.
Please could you explain how different categories are performing for you.
We are recognised as hardgoods specialists, unlike many of our competitors. The rest are accessories for us. We will forever be a boardshop!
Which brands do you expect to perform best this summer?
Catch Surf, DC, Jart, Skate Yow.
What kind of advice can you give other independent retailers who are trying to compete against the big box megastores?
Small is beautiful, be passionate, and get involved in the local scene.
Does your store sponsor athletes and competitions?
We sponsor quite a few riders, which has knock-on benefits for the shop because they get loads of people to come down. Alongside this, they advise us on purchasing which helps us to target the good stuff to stock.
If you could go back five years what would you do differently?
I would have gone to Japan to snowboard in Hokkaido. I'd have gone surfing in Raglan, New Zealand and I would have gone to Woodward in Tahoe to skate – I've spent too much time working instead of riding!
My motto is, "If you slow down you are a coward."
Which trade shows do you attend, and why do you find these shows important?
In my opinion, trade shows don't bring anything other than wasted time and money for shops and distributors! Having meetings with brands is much more interesting and it means they get to spend decent time and efforts on their customers to really build relationships.
If you could ask brands for more support – what would it be for?
We can no longer sell at the recommended retail price, we have to establish a new pricing policy with our suppliers. Customers aren't buying products – they are buying discounts and we have to assimilate the discount into the recommended retail price. E.g. a product at €199 retail, put it at €239-20% = €199. We are all being strangled by discounts and we have no margin left, which means no more cash flow. This is the demise of the small retailer and importers in the medium term.