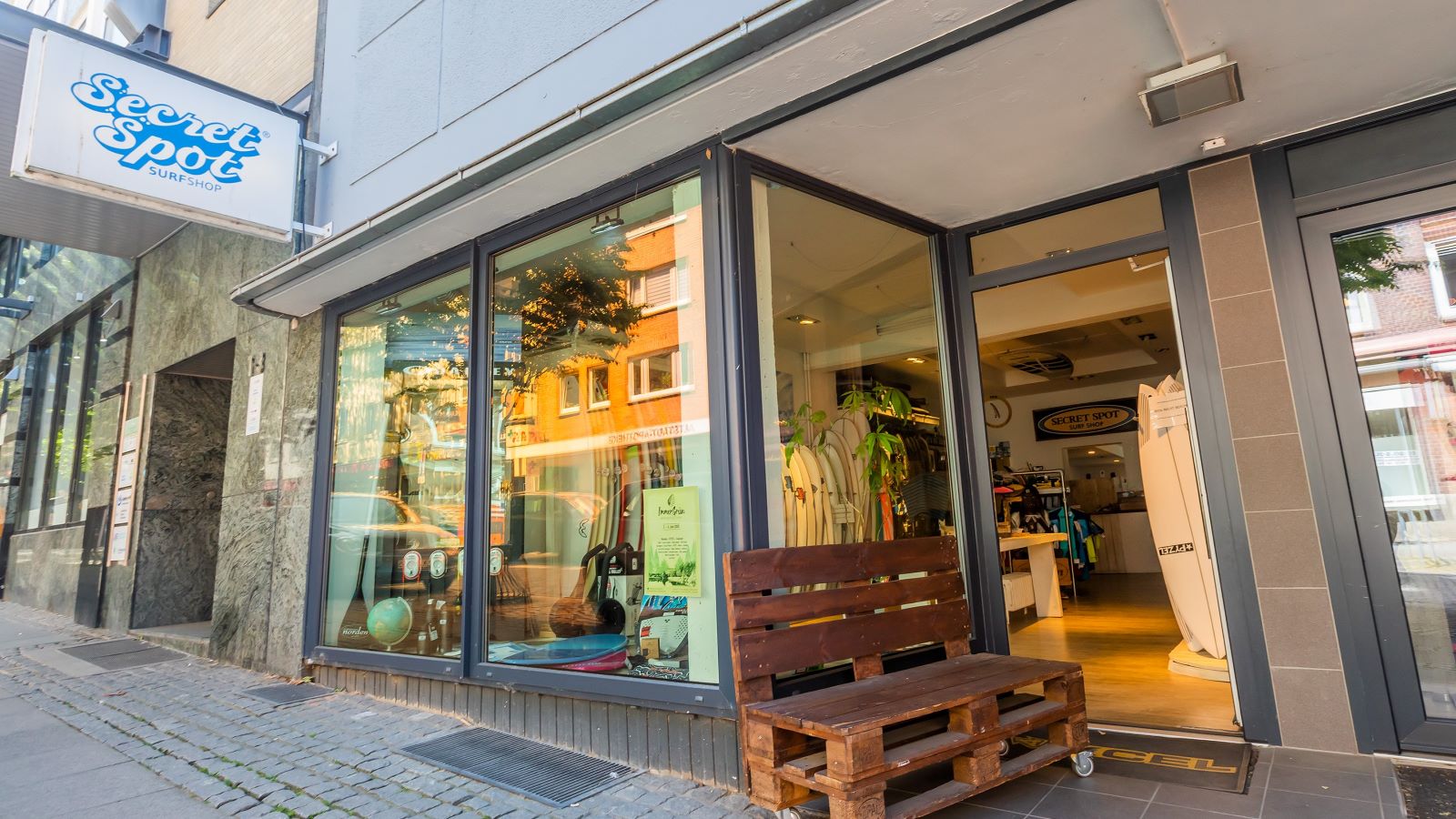 The Turn Towards Staying & Buying Local Boosts Biz for Secret Spot
Secret Spot Kiel in Germany is a surf hardware and apparel specialist located in the country's booming northern surf district. With fuel prices rocketing, the store is seeing more and more locals opt for thicker wetsuits and surfing closer to home. We catch up on their business and talk products and brand performance with a retailer celebrating its 25th anniversary.
Please give a brief history of your store.
In 1997, everything started at a different location. A bit hidden just before the cemetery, which is where the name Secret Spot comes from. At that time, we had 37 square metres with a colleague. We even still had windsurfing in our range. In 2000, we moved to the city centre. In 2009, we added the board shop. So now we have two shops, one for clothing and the other for boards, hardware and so on. We now have 140-150 square metres per shop and since 2014 I've been running both shops. But of course, not alone, we are a team with about 10 people. Mostly more towards the summer because that's when our season really starts.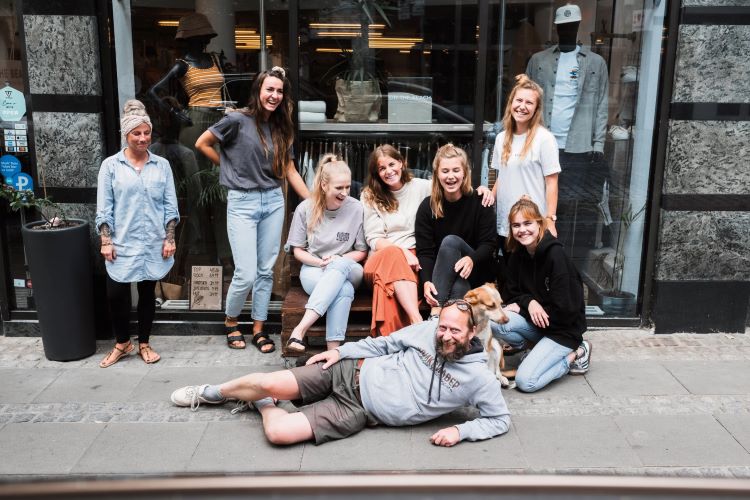 What percentage of your sales are from online business compared to your brick-and-mortar sales?
Most of it is sold locally. I would say 40% clothing and then 40% our hardware shop. 20% is from our online shop, which has grown a bit recently. We would like to work on it even more, but it's hard to keep up with the big companies, because they all have their own shops and can do a lot with discounts that we can't do. We are also lucky to have many water sports enthusiasts in Kiel. That's where our shop can score points. However, our online presence also serves as a shop window, and you notice that the next day when people rush into the shop. We are also active on Instagram, which is very noticeable.
What are the benefits of having a physical shop over simply having an online store?
We can respond much better to our customers and give them better advice. Especially in the board shop, it works much better with hardware. It's very difficult to do that online. You chat for a couple of hours and at some point, the customers also chat with each other. That's where the advantages of such a shop become apparent. It's very similar with clothes. How soft is the fabric, etc., is not possible online. Take boards in your hand. Fashion fits and which fabric.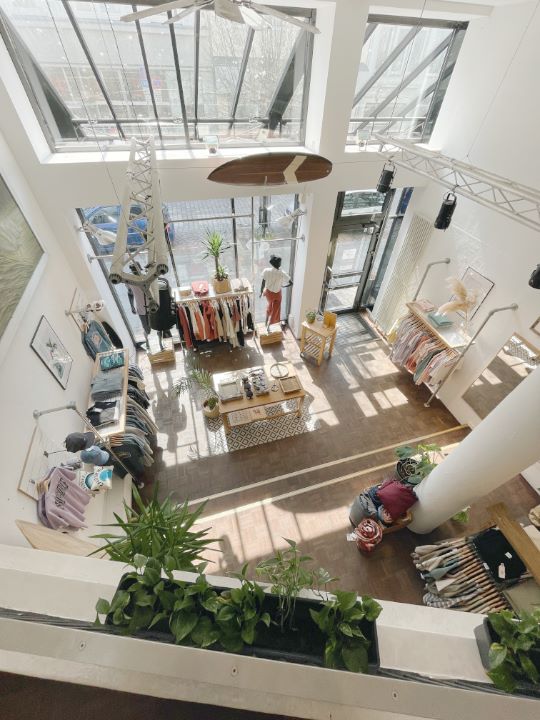 How have you been promoting and nurturing the local scene?
We know many good athletes and like to support them. For example, we supported a student to make a film on the Spanish coast for his university. We also give some special discounts for good surfers. So we don't have any team riders ourselves, if that's what you mean, but rather we support where we can. Otherwise, you'd have to weigh up who gets what and that's not so easy. Above all, the brands usually support the riders themselves.
What were some of the best things surf brands have done for you since the start of the pandemic?
The big distributors mostly relaxed their billing deadlines. And they merged seasons, so you had less problems with overdue rebates. It really wasn't easy because the orders arrived much later. The winter orders only came in December or January. We had to turn away a lot of customers.  
All the winter suits and accessories that we actually wanted to sell in autumn and winter arrived in December and January are now available. That's good, of course, because the things ordered for spring are currently delayed again and will probably not arrive until May. So despite the situation, we currently have a good selection in stock for the start of the season. Chinese ports were closed again, but that's the way it is. Pre-financing was also necessary. But we are still at it.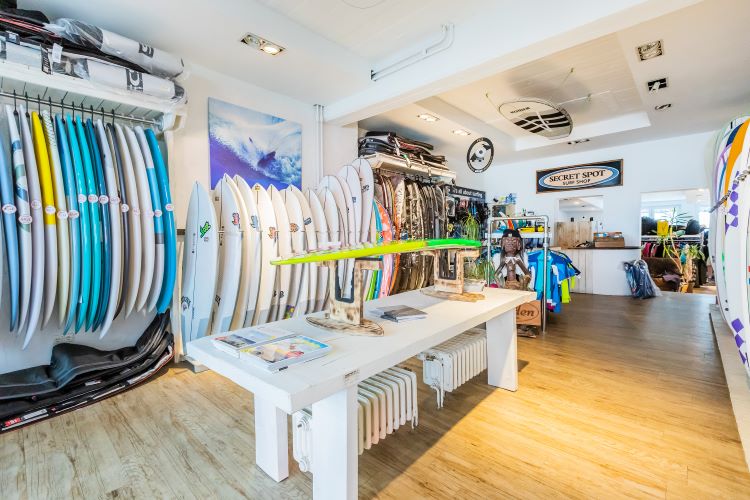 Which brands and products have you had the best success with in the past 2 seasons?
O'Neill, Rip Curl, Xcel continue to work great in wetsuits. There is something for every type, whether kiter, windsurfer, surfer, we have a wide selection as every brand has something special for every activity. C-Skins have developed their high quality segment a lot lately. The Hyperfreak from O'Neill is still one of the most flexible suits, the Rip Curl Flashbomb is really warm and fast drying. Sooruz Oysterprene is on the rise as sustainability is also becoming much more important for our customers. Wetsuits for children are in high demand as well, especially the high quality ones.
In terms of boards, longboards and mid-length boards are currently in high demand, and in Germany there is also growing interest in more special shapes, construction methods and designs, such as the boards from Thunderbolt or tinted designs, etc. Softboards for beginners are also important. In the meantime, there are many high-quality models that give beginners a more secure feeling and still deliver good performance. Boards that also work well in our area, such as the Norden First Rides or Time Machine, which are designed here in Kiel and therefore fit well with the needs of our customers, always sell well. When it comes to shortboards, we always try to have a selection of exciting models to look at in the shop, and in the end we order them together with the customer as a custom order so that everything fits exactly.
What opportunities do you see on the horizon for the German surf scene this summer?
Above all, longboarding is becoming more and more popular. There is clearly high interest. Wingsurfing and foiling are also becoming more and more popular. People are surfing closer to home, for example Denmark instead of northern Spain or France due to the current fuel prices. So, there are still a few uncertainties, but basically everyone is on fire!