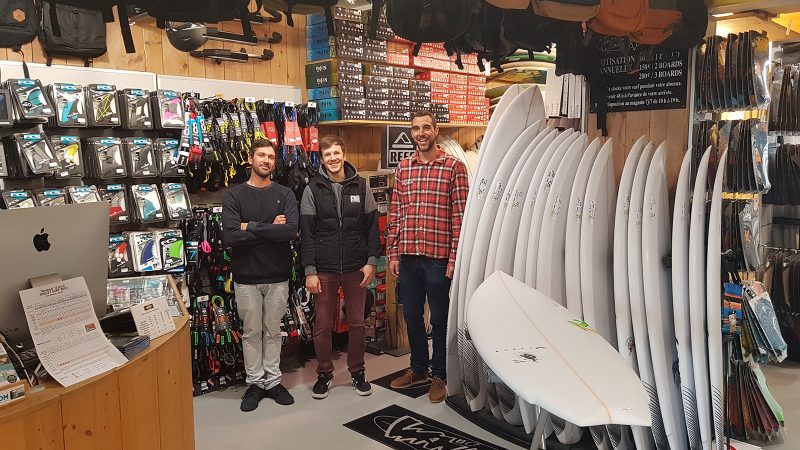 Europe's Oldest Surf Shop Profiled: Waimea, Anglet (FR)
The oldest surf shop in Europe. Quite the title. Xabi Anton from Waimea shop in Anglet SW France took some time to talk us through the shop's current setup, and backs up just why so many people refer to Waimea as the most legitimate surf shop in the region. As with many successful businesses in 2018, Waimea have chosen to do one thing and do it well; surf. In the past the store sold SUP, kite, snowboard, skate, women's and kids clothes, but now they focus purely on the surf category and are thriving. Anton's shop staff are key local opinion leaders and the shop works through exclusive partnerships with some of the industry's best-respected brands.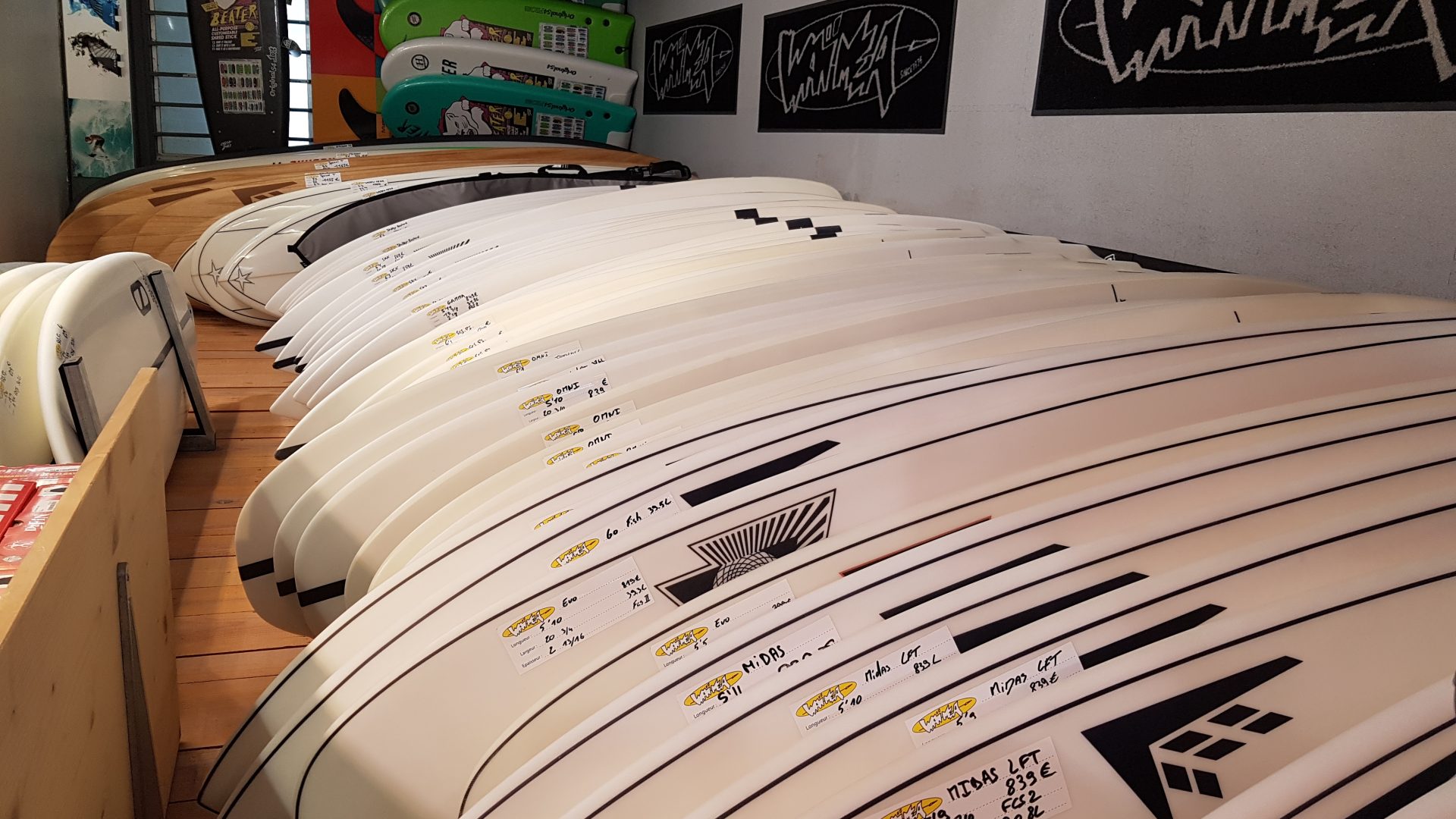 Please could you give us a brief history of Waimea.
Jacky Dupin founded the shop in 1976. It was the second surf shop in Europe, after the one by Jo Morais in Biarritz. Now, we're the oldest surf shop in Europe. I'll be turning 47 in 2018 and I've been working at the shop for 25 years: my life has been all about the shop. I started out as a salesman in the board section then I became part owner with 50% of the shares 14 years later, and I bought my partner's shares eight years ago. Today, Waimea covers 95m2 and does 700,000 Euros in sales, of which 20% are online. We have four full-time employees including myself, and one part-time employee seven months of the year.
Could you explain your product category breakdown (% surfboards, wetsuits, apparel etc)?
15 to 20 years ago it was possible to have a large number of categories: surf, skate, snow, kite surf, women's textile, etc. But trying to do a little bit of everything was a recipe for disaster. Little by little we stopped skateboard, first kids' textile, then women's, SUP, kite surf, bodyboarding, and this winter snowboarding.
I'm much happier today, but when I decided on a drastic cutback, I also took about 200,000 Euros off my year-end sales figures, VAT included. I freed up space and cash flow, which I transferred into a more abundant offer of shortboards, which are products that I know how to sell.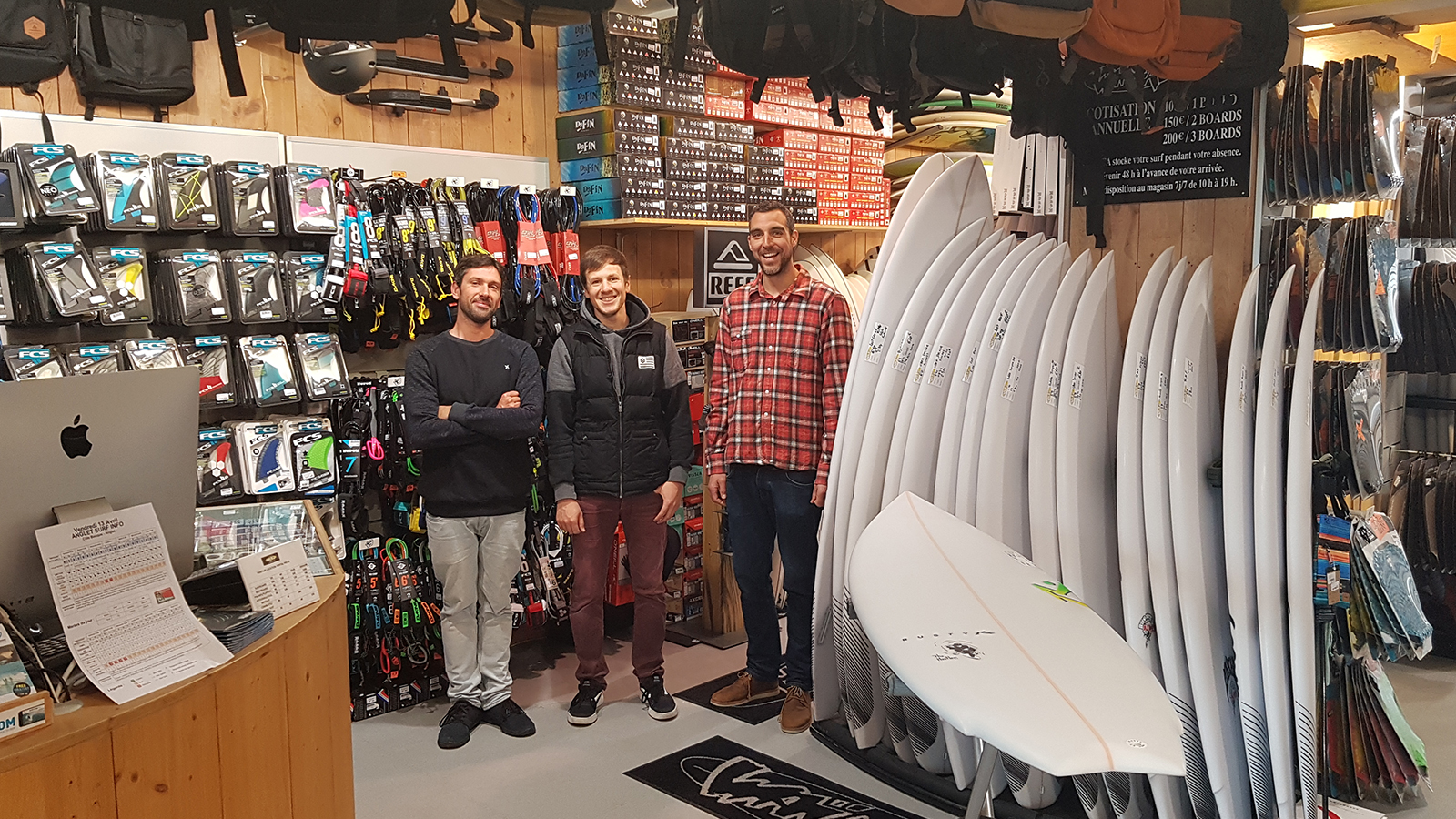 With which brands do you work the most and why?
Half of the inside of the store is devoted to textile, including a partnership with Hurley in a branded corner. We also stock Vissla, because I like the spirit of the brand, as well as Rusty. Waimea's policy is small, confidential brands not widely distributed.
In the other half of the store there are just surfboards: Firewire and Slater Designs, Channel Islands, …Lost, Pyzel, Rusty, JS Industries, Hayden shapes, Chilli, and Stretch made in the US. We only sell high-end shortboards between 600 and 900 Euros. As for wetsuits, we sell Hurley, O'Neill, Vissla, Billabong, Picture Organic, ION and Xcel. As far as accessories go, we sell everything on the market.
How do you make sure you stay relevant with brand/product selection?
The shop is open everyday. I surf whenever there are waves. I'm fully immersed in the market. All of my sales people are opinion leaders, who know how to surf. They have a certain aura about them and the clients who come into the store listen to what they have to say. I don't follow new trends on the Internet at all. Our online sales don't come from us being good at social media. We're surfers, not Internet technicians. Hashtag this, hashtag that… Whatever!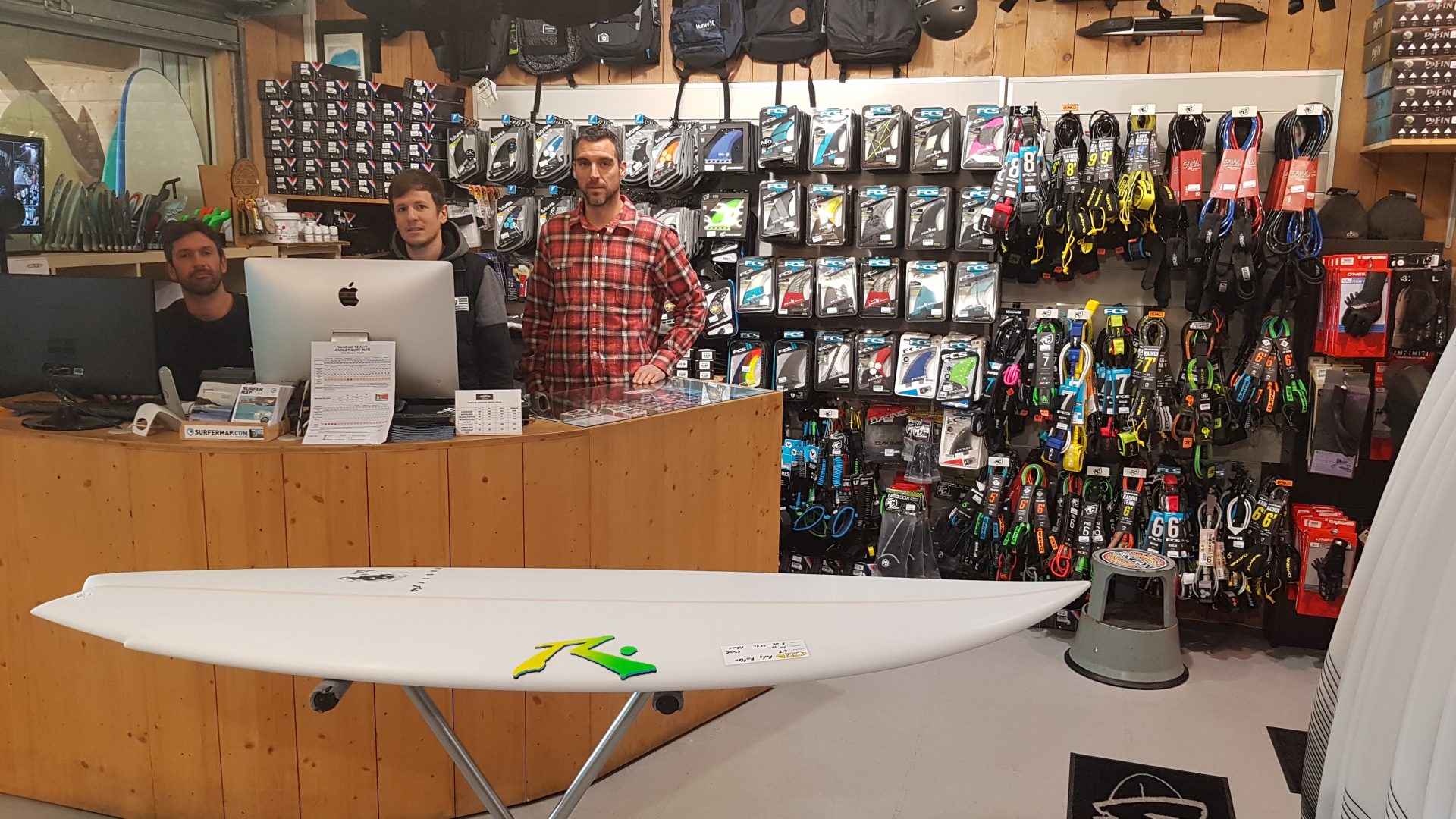 What do you predict for the future of surfboard retail?
There are more and more people in the water. The sport itself is just fine. It's the manufacturer – importer/distributor – store supply chain that doesn't work anymore. One of the links will end up being taken out, because there's no longer enough margin in it for everyone. Either the importer/distributors will start selling directly to the consumer or the shops will start buying directly from the manufacturers… Both of which are already happening, actually.
In your opinion, what does the European surf industry a) do best, and b) need to do better?
The good thing is that there are still a few interlocutors who surf. One surfer can still talk to another. But ¾ of my interlocutors don't surf. They are people from mainstream distribution channels who don't really know the market. They don't care about the manner in which they grow: overproduction, overstocking stores, -50% sales everywhere, lots of private sales, Amazon and Co… They don't worry about it. The surf market is sick. You have to have faith to stick with it.