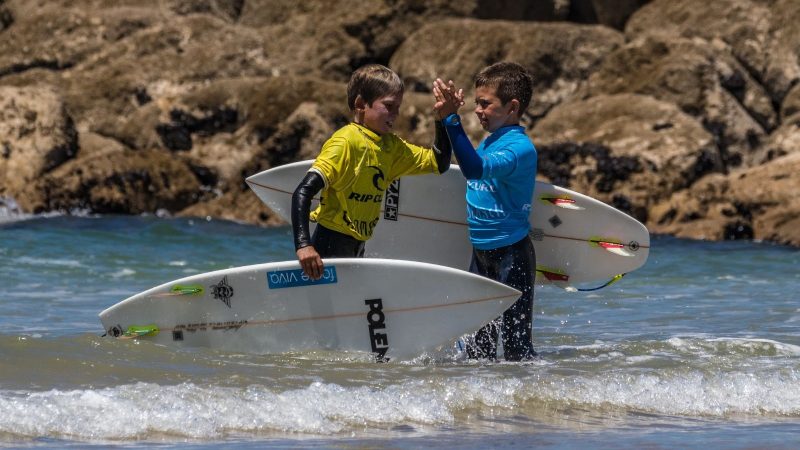 Vid Submissions Open For Rip Curl Euro GromSearch
Youngsters (U16s) can enter the 2020 Rip Curl European GromSearch by submitting 2 vids of their best waves- one lad and one lass each from the UK, Spain, France, Portugal & 'Other Euro Countries' will be invited to compete in the Grom Final at The Wave in Bristol.
2020 RIP CURL EUROPEAN GROMSEARCH: THE BEST EUROPEAN GROMS WILL BATTLE IT OUT VIA VIDEO SUBMISSIONS TO WIN A SPOT FOR THE FINAL AT "THE WAVE" IN BRISTOL!
Attention all Euro Groms! In true 2020 fashion, this year's qualifying series have gone digital, but with a real final in real waves at The Wave in Bristol, UK!
Rip Curl has decided to run the Rip Curl GromSearch 2020 no matter what! This season, all the participants will enter by summiting videos of their 2 best waves, starting August 21st and closing on September 15th via the link: https://www.clippero.com/ripcurleurope
Rip Curl is partnering with the best European judges and they are already getting ready for your best moves and style.
For the under 16s, one boy and one girl from the following countries, UK, Portugal, France and Spain, and "Other Euro Countries" will win their ticket to the Euro Final at The Wave in Bristol (https://www.thewave.com/). This will be the first European Grom event ever in a wave pool – a historic final, which you have a chance to be a part of!
Rip Curl will also award 4 wildcards for 2 boys and 2 girls in the categories "Deepest Barrel" presented by SMITH and "Biggest Air" presented by FCS! On top of that, the wildcard winners will have the opportunity to receive a one-year sponsorship with Smith and FCS!
The European Final at The Wave will take place on October 2nd, 2020* where the 14 qualified Groms will battle to earn 2 tickets to the International final at Bells Beach in April 2021*.
The Wave is an inland surf destination powered by Wavegarden Cove technology, which can roll a fantastic variety of waves. It is an amazing opportunity to show your best tricks and win the 2020 Euro Rip Curl GromSearch!
The Rip Curl GromSearch in Europe is supported by its longtime partners SMITH and FCS. Their partnerships have greatly helped the improvement of the Euro Rip Curl GromSearch throughout the years!
2020 Sponsors: Rip Curl, FCS, Smith Optics, Fatboy and Hydroflask
About the GromSearch:
Created in Torquay, Australia, in 1999, the Rip Curl GromSearch is a competition exclusively for young surfers under the age of 16 with its own unique character. It is held in various regions of the world at the same time: Brazil, Australia, Indonesia, South Africa, New Zealand, USA and Europe, leading to an international final which traditionally takes place "Somewhere" in spring. The Rip Curl GromSearch is a real hotbed of young talent, having uncovered future World Champions such as Stéphanie Gilmore, the Brazilian prodigy and WSL World Champion Gabriel Medina, and many others.
About The Wave:
The Wave is creating inland surfing destinations that will bring the joy of surfing to people of all ages, backgrounds and abilities. Its first site is in Bristol, UK.
For more information visit www.thewave.com.
*Rip Curl reserves the right to cancel the Rip Curl GromSearch European Final and International Final if deemed unsafe for its competitors. If for safety reasons due to COVID-19 Rip Curl cannot run the European Final, the winner will be chosen according to their best recording waves.
Series Schedule:
Qualifier Europe: UK, Spain, Portugal, France & Other Countries: Submission Dates: August 21 – September 15 on https://www.clippero.com/ripcurl_europe
Judging day: September 16
Results release and finalist announcement: September 18
European Final: The Wave, Bristol (UK) October 2 (1-day event)
International Final: Bells Beach, AUS 2021