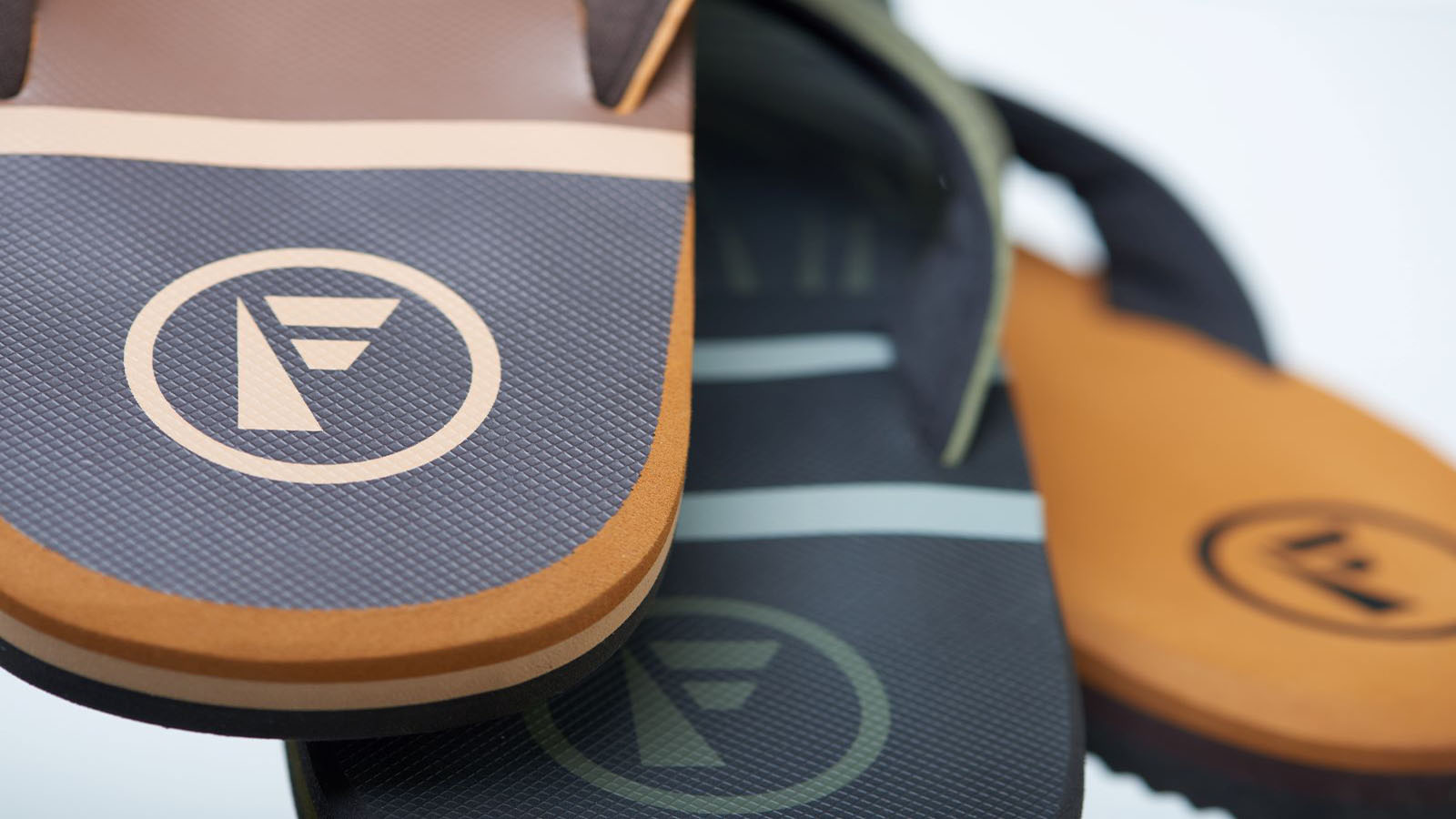 3 Industry Lifers Look To Shake Up Flip Flop Market With FoamLife; The Next Big Thing
Over lockdown in the UK, three friends and industry lifers with eclectic backgrounds in action sports, music, design and street art got together to start something new.
Launching in Spring 2021, FoamLife is a new flip flop brand heavily tipped for the top by some of the industry's key players. With many pre-launch details still under wraps and the rumour mill working overtime, we sat down with the founders; Timo Mullen, Daniel Macaulay, and Karl Read for an exclusive interview to find out what the buzz is all about.
Please tell us about your backgrounds and your journeys leading up to the creation of FoamLife.

Definition: FoamLife | Noun – A smarter way of thinking or alternative state of mind. An irreverent approach to challenge the conventional.
DM: I grew up coaching and competing in a pretty broad variety of water sports in Ireland. I trained in marketing, spent a bit of time in Hawaii and California, did a post-grad, and finally settled in the UK, where I worked as European Marketing Director of O'Neill for four years.
After that, I set up Brandwave; a specialist sports marketing consultancy based in the UK and Germany. We've spent the past fourteen years advising everyone from adidas to The North Face on strategy and creative and we're still going strong. My team are amazing, our offices are by the beach, and it's a fun solution to avoid ever working a 'proper job'. Music is also a huge part of my life. If I'm not in the water or with my family, I'm usually off somewhere making noise on my guitar.
TM: I grew up working in my parents' water sports shop in Ireland and ever since, water sports has been a central part of my life. I competed on the Windsurfing World Tour and won a few titles along the way, but the highlight so far was definitely riding Jaws in Hawaii.
At University, I gained a degree in Law and Business, but career-wise I chose to pursue my passion for action sports and work in sales. My first job was working for Gul in Cornwall before I moved to Animal, where I worked in various sales roles for nearly 25 years. During that time, I also set up my own clothing brand, which I built up from scratch and eventually sold to one of the biggest brands in our industry. I've introduced several brands to the UK market including Skullcandy and House of Marley and also first brought Deus Ex Machina into the UK with my good friend, Peter Caldwell.
More recently, I got involved in the cosmetics industry as co-owner of a natural skincare brand called WiDEYE, we make all the products in the UK and now have three very cool stores along the south coast. I've never smelt so good!
I have been extremely fortunate to have worked and surfed with both Karl and Dan throughout my career, I have always considered them my dream team.
KR: I grew up on the UK's south coast where surfing and living a beach lifestyle was, and still is, an integral part of my life. My other two passions are art and design, so my primary goal after I left University was to try and combine those three passions into a career. I worked at Animal for over seventeen years, ultimately as Design & Creative Director, leading a brilliant and diverse team of talented individuals.
About fifteen years ago, I decided I needed another creative output outside of work. I was really inspired by street/ urban art, how it transformed urban environments and how it was used as a vehicle to communicate a message in an intelligent way, through imagery alone.
I started painting outdoor murals, which I still do today. Ironically, I started out with no intent or desire to make money from it, but I've now sold-out canvases and limited-edition screen prints. My latest sold-out print, created during lockdown, was part of The Amplifier Global Call for Art campaign to promote wellbeing and positive mental health in response to the COVID-19 pandemic. I donated all the profits from the print to charity. This image appeared on skyscrapers in New York, large store fronts in London, NBC News and has recently been selected to be acquired into the Library of Congress to mark a historic moment and movement in the US.
For me, lockdown was a time to take stock, reflect, and get creative and that's when FoamLife was born.
"A great product combined with a great team. I believe FoamLife has the commitment, passion and vision to become a leading brand. Globally."
Harry Hodge – Founder | Quiksilver Europe, and Senior Partner | Hodge Consulting Group
Why is now the right time to start the brand?
DM: For me, the temptation has always been there, but I've never found quite the right combination of team and product until now. I have huge respect for Karl and Timo, both as athletes and with what they have managed to achieve professionally. Karl is a phenomenally talented artist and designer and Timo has built some of the most successful brands in the business. Like a lot of people, I guess lockdown gave me a bit of an opportunity to step back and open my mind to new opportunities. When the guys approached me with the early FoamLife concept, I just knew it would work.
TM: I've followed the flip flop market since I was a kid. My dad's watersports shop stocked the very first batch of Reef flip flops into the UK. I remember how excited we were seeing this new brand approach a relatively boring market in such a compelling way. If you think about it, there has been no considerable shake-up of the flip flop market in a really long time. I saw a gap in the market for a brand with a focus purely on flip flops, but also a gap for a brand that embodies all the key elements and influences on youth culture, outdoor lifestyle and our love of surfing and the ocean.
Some people may question the timing of our launch, but for some of the most successful founders and investors, the worst of times were the best of times. Their decisions to launch their brands where others only saw risk have proven to be some of the most iconic in the history of business such as Airbnb, WhatsApp, Uber and Microsoft. At FoamLife we've chosen to 'Live Less Ordinary', so the timing in our eyes is perfect. It's no secret that starting a new business is incredibly difficult and challenging times create additional obstacles between you and success. We enjoy navigating the obstacles and creating opportunities in places others may have overlooked or written-off, we see a perfect window of opportunity for a new brand with new ideas to emerge and succeed.
KR: For me, I've always dreamt of starting a brand, but the timing was never right. The more experience and knowledge I gained in the industry, the more I put it off as I learnt just how hard it is. Lockdown was the catalyst of change; the perfect time to take that step, put pen to paper and start sketching some ideas for something fresh and new. I think, the right team is imperative to making a brand work so it's an honour to work with Timo and Dan; a couple of real industry pros at the top of their game.
It was crazy starting things during lockdown over Zoom meetings, but the process was really fun, and it went surprisingly smoothly. We just all seemed to be on the same page.
"The FoamLife guys are a rare breed – talented and ambitious with a long track record of producing products that sell. Expect this brand to reach Global iconic status fast."
Jan Michaelis – European Marketing Manager | O'Neill
What is the 'FoamLife'?
DM:  We get asked that a lot… At the heart of it, I guess it's a collective reflection of the way we live our own lives. It's less about doing the daily grind and more about finding your own path. One thing we all agreed on from the start is that a life lived in flip flops is generally a life better lived.
TM: I think it's a state of mind. It's about standing out rather than fitting in. Whether you are working in an office or just chilling on the beach, slipping into a pair of flip flops turns on a mental 'feel good' switch in everyone's brain. Living the #FoamLife is all about stepping away from the normal and 'Living Less Ordinary' lives.
KR: For me, it's definitely about keeping your passions alive. Keeping the fire lit. Growing older, but never growing up. We're not just selling a product; we're subscribing to an ideology that we genuinely believe in. I think that idea is attractive and broadly accessible. It also transcends a multitude of demographics. For some people, just slipping on a pair of flip flops after work flips that non-conformist switch.
What's the company's MO and sustainability approach?
DM: Our brand mantra is 'Live Less Ordinary'. It's our principal call to action but it's also something that we endeavour to apply to the business on every level.
TM: I recently watched a clip with Elon Musk showing Jay Leno the new Tesla Cybertruck, and Jay Leno asked Elon, why have you made the car bulletproof? Elon's simple response was "because it's badass and super cool". I'd love to mirror that response when it comes to what stands FoamLife out from the rest. I know that's subjective and I'm probably biased, but it's true.
KR: When we started out, we had a clear design philosophy that there should be 'nothing not to like', that concept transcends in everything we do. We spend our lives in the ocean and the outdoors, so obviously sustainability is a massive consideration.
However, sustainability has become an all too common phrase; brands stating they are sustainable like it's an endpoint. That said, we are definitely sustainability focused. We are using a recycled EVA foam on the majority of the range and all of our styles are vegan. We have a few styles that are made from a TPE foam from recycled yoga mats, with other materials made from recycled plastic waste.
One of the issues we have is all the packaging waste we see in the industry, so we will be using plastic free, recycled, and biodegradable packaging. As future ranges evolve, true sustainability will become a much bigger part of the range. We are also planning on offering a recycled flip flop program further down the line.
Ultimately, I believe consumers still make their purchasing decisions based on the aesthetic in the first instance, so along with sustainability, the product still needs to be really visually appealing. That's something where I believe FoamLife has found that happy balance for the end consumer.
"It's rare to see a best-seller before it's even launched. FoamLife is that product. Brought to life by a dream-team of the best in brand, design and sports. This is the right product with the right brand at the right time".
Simon Hill-Norton – Chair & Co-Founder | Sweaty Betty
What can you tell us about the product at this stage?
TM: Obviously it's amazing! Having sold flip flops for over 20 years now, I've developed a pretty keen sense of what sells and what doesn't. Part of my input into the product is working with Karl to identify not only what the consumer wants, but also what the retailer selling FoamLife wants. As a result, we have developed an evergreen line that will not change from year to year. An all-black flip flop this year should be no different to the all-black flip flop in years to come. This reduces the pressure on retailers to discount the price of the product at the end of the season to clear 'old' product. Yes, we will still introduce freshness to the range and seasonal trend-colours, but our 'Core' collection will remain largely unchanged year to year. This not only gives the shop owner confidence in placing orders but also gives the end-consumer the confidence that they haven't bought an 'old' design.
We've done a lot of listening to what our shop owners and buyers have asked for with regards to price and margins. I believe we have struck the balance just right on this; a competitive entry price point, yet still offering good margins. We spent a large part of our development process benchmarking our product on all levels so everything we have done product-wise has some science behind it.
KR: In terms of design, comfort is absolutely key. We've put a lot of work into creating a unique fit and refining the ergonomics of the product, you can feel that difference as soon as you put them on. For both the Men's & Women's collections, we have the classic Core colours you would expect, with on-trend highlight colours that will update seasonally. We have some great prints and materials utilised across the range, from vegan nubuck and leather in menswear to vegan leopard skin uppers and metallics in women's.
We will also be introducing the 'Wild Card' collection. Collaboration is an integral part of this collection; primarily with artists, athletes, and musicians. Flip flops are a great vehicle to showcase art and prints so you can expect to see a lot more of this in future ranges. We will also have limited special edition runs and promote collaboration with other brands in other spaces. On that front, we're currently having some very exciting conversations with some brands that I've worn and respected my whole life.
"Flip flops. Nothing new there! And I guess that's the point, right… The market has become dull and unexciting.  I was lucky enough to recently get a sneak-peek into the development of FoamLife and their products. I'm 100% sure the team have both the brand and product to inject some much-needed energy and freshness into the category".
Rich Philip – Brand & Marketing Director | Stance
Through which channels will you be selling? And which markets?TM: Initially, we are only looking at wholesale and D2C in the UK and selected European partners and we're keeping the wholesale distribution pretty limited. The retailers that we have chosen so far match perfectly with the premium nature of the product and the core ethos of our brand.
Our sales team begin wholesale sell-in for Summer 2021 from August to the end of October 2020, we don't want to grow too fast, but we're also aware that at the moment there is a large gap in this market.
Our market is a reflection of our own interests; surf, lifestyle, art, music and street culture. Despite our water sports roots, we don't consider ourselves a one dimensional 'surf brand'. We aren't focussed purely on that market and we see FoamLife sitting equally well in a Selfridges in London and at a core surf shop in Cornwall.
Based on our collective experience, we have tried to tick all the boxes for the customer, we are conscious that we have been given a blank canvas to deliver everything a retailer could possibly wish for, from POS right through to a simple B2B reorder system.
One of the big goals for me is to finally bridge the gap between D2C and B2B, these two channels should work in harmony together, not in competition. We're very conscious of this and are striving to make FoamLife the industry benchmark on how this can be achieved successfully.
How will you be marketing the brand? Ambassadors, PR campaigns, social etc.
DM: In-store marketing is vital to the wholesale retail success of the brand; we hope that our retailers buy into the whole package. We have designed what we believe to be the ultimate flip flop stand that allows varied merchandising depending on the stores' stock levels. We've always been conscious that a stand left half empty is bad for business, so we've developed a racking system that adapts to the stock levels of the store.
Ideally, we want the retailer to restock the stand as soon as possible, but we're also aware that it's not always possible to do that. We want the product offering to look amazing all the time and have window displays that can be tailored to our retailers' requirements, as well as an across the board option.
With ambassadors, we are aligning ourselves with thinkers, makers, and doers that transcend sport, music, and art. For us, it's definitely not about championship titles or Instagram followers. It's more about working with inspirational men and women who maintain an unconventional approach and lead 'Lives Less Ordinary'. Our ambassadors are simply the personification of our brand ethos and we will be investing in them on many levels. We'll be making a few very exciting announcements on that front and a few others closer to launch.
For all inquiries email: [email protected]